We were "totally lucky" enough to call the top July 11th. We saw oil (NYSEARCA:USO) (NYSEARCA:OIL) (NYSEARCA:UWTI) turn from an uptrend to a downtrend. The news followed thereafter. We think the news could get worse in the near term.
Here's the oil chart. We continue to still see it in a downtrend. Until it breaks the downtrend we're staying bearish.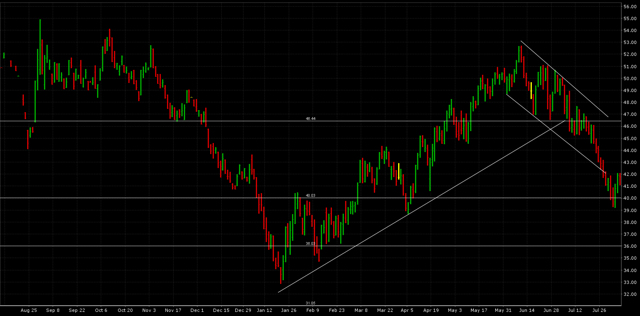 Oil price (above) is far from forming an uptrend. It's still in a downtrend. Until it breaks that downtrend, we don't see reason to get bullish.
OPEC Meeting Maybe "Pushed Up" To September
It looks like OPEC is getting nervous. There is a scheduled OPEC meeting November 30th. That's too far out for some smaller players who are struggling. Several nations are calling for an audible meeting September 26th.
Our gut says OPEC members are going to let production rip into that meeting. If there is a production freeze, a cut will hurt everyone's struggling economy shorter term until oil bounces. To plan ahead they better get all the production they can now.
We think that will cycle production higher in the near term pushing prices lower.
Even if OPEC comes to a consensus, they may need Russia to agree. Russia is the world's third largest oil producer. Russia has been raising production and looks to increase for years to come.
Russia has been a main reason OPEC has had to compete and drop prices. If Russia is not part of a production consensus, that would mean the US and Russia (2 of the top 3 world producers) would still push production supply higher.
That could cause a lack of OPEC consensus.
US Rig count continues to tick up week to week although it is still down big year over year. We do not see US producers letting up on production until they go out of business. If they slow production, many will not be able to pay their debts. Therefore US producers are incentivized to run their business at max levels in the hopes oil prices pick up.
Inventories Up
US oil inventories have been unseasonably picking up from a few weeks ago. Last week showed some let up but was still above levels from the reported week of July 8th. You can see below that inventories are still well above the last 5 years (grey range).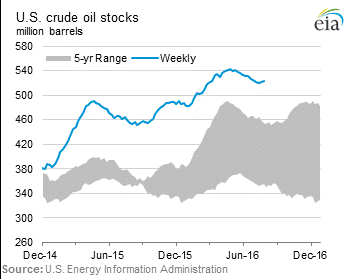 The above chart shows that US oil inventories are still far above the last 5 year range and also shows that inventories are unseasonably going up of late. While the blue line ticked up the grey is typically pointing lower in this same time-frame.
Natural gas storage levels were below expectations last week and helped support oil prices. That said, gas inventories are also still above the last five years.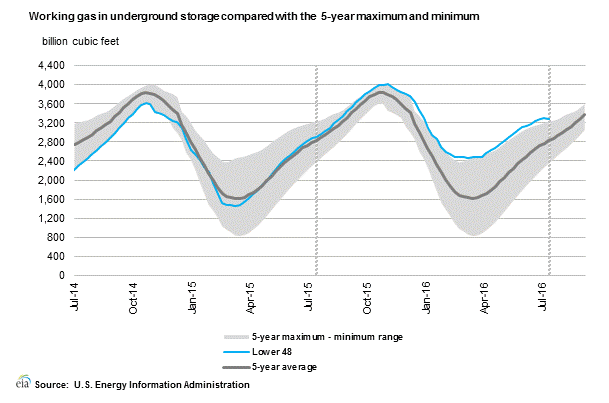 Above you can see that gas storage levels are still above the last 5 year average.
We think the slow US and slowing global economic climate is dragging demand. While production has been moving up demand has been slowing. Demand lower than supply is leading to lower oil prices.
OPEC Production Out Wednesday
OPEC will have a new report out Wednesday August 10th.
Reuters has called for a pickup in production based on its surveys.
Bloomberg called for a drop in production based on its surveys. They said Nigeria production was hurt by militant actions.
We'll find out Wednesday. Bloomberg's call could have been one of the reasons that oil prices held $40.
The Dollar
The dollar went up on Friday's jobs report. A strong dollar can hold back oil prices.
Here's the euro (NYSEARCA:FXE) versus the dollar (NYSEARCA:UUP). A down chart means strong dollar.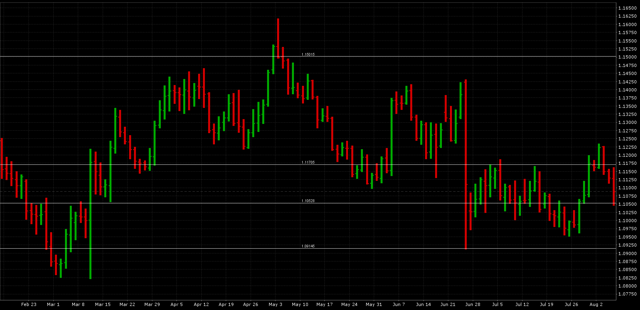 The recent move on the right shows euro versus the dollar going down. That means the dollar strengthened. That can usually coincide with a weaker oil price.
$40
We recently showed that $40 was a key 40 year level. If oil breaks $40 it can go to $36. It's a major testing point and will define a new level of bearishness if it holds below.
Our take though is that $40 was not the main reason for oil's bounce in the last few days. We think the main reason was that the market was overdone on the downside and the price needed to get back within a normal downtrend.
You can see on the first chart (way above) that oil broke below the downtrend that we drew. We think that just meant oil was overdone on the downside. It does not mean to us, yet, that oil is now going up.
Conclusion
Our main indicator still shows oil is in a downtrend. Due to the nature of the commodity we think price can tell the story ahead of the news. We continue to hear that the supply/demand picture is weakening.
We'd expect a final production push by OPEC ahead of their proposed September huddle-up. In the meantime we'll get a key read this Wednesday how OPEC's production looked for July.
We're still bearish.
Check out Your Trading Team to get Elazar Advisors, LLC's short term market calls along with help handling the moves, risk and mind games of the market in the short, medium, and long term.
If you want Elazar's analysis on Seeking Alpha, scroll to the top of the article and hit "Follow." Elazar also writes real-time pieces as news is reported. If you want to be among the first updated check the box for "Real-time alerts on this author" under "Follow."
Disclaimer: All investments have many risks and can lose principal in the short and long term. This article is for information purposes only. By reading this you agree, understand and accept that you take upon yourself all responsibility for all of your investment decisions and to do your own work and hold Chaim Siegel, Elazar Advisors, LLC, bestideas, their related parties, and its authors harmless.
Disclosure: I/we have no positions in any stocks mentioned, and no plans to initiate any positions within the next 72 hours.
I wrote this article myself, and it expresses my own opinions. I am not receiving compensation for it (other than from Seeking Alpha). I have no business relationship with any company whose stock is mentioned in this article.