Subscribers to "Income From Covered Option Wrting" got an early look at this material.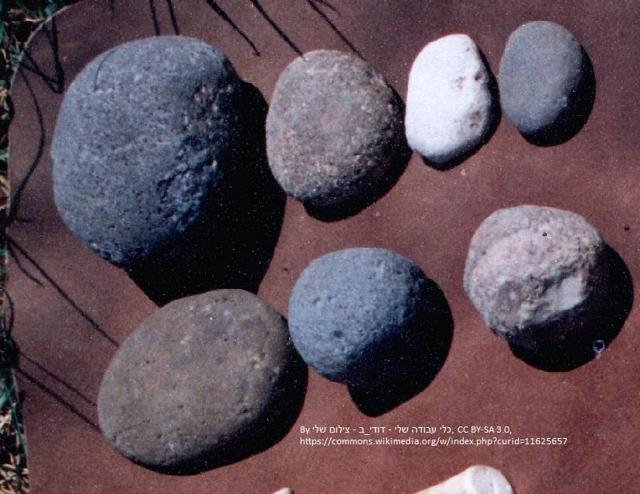 Neolithic artifacts such as the hammer-stone may be difficult to recognize as our earliest machine that moved us out of caves and set us on a course building machines that take us to the moon and out of our solar system. Even as a professional geologist, I did not recognize them when I began my first field work in Africa way back in 1972. Only after months in field did I finally get a personal lesson from a Swiss paleontologist that pointed out the 1000s of artifacts at my feet and how to recognize them.
Tools are what give us and other intelligent beings mastery over our environment. The development of man and of machines is almost inseparable. Engineered Income is a machine giving us the power to improve the investment market place and thereby transform our lifestyle.
Today, we'll look at how to Engineered Income from Ventas, Inc. (NYSE:VTR), one of America's largest health care REITs. For a more detailed understanding and explanation of what Engineered Income is, see the opening article of this on-going series.
Briefly stated, E.I. is an arbitrage using a dividend capture and a covered option premium to generate income in investment cycles of two to six weeks. This enables the synthesis of dividend driven income 8 to 24 cycles per annum instead of just the usual 4 quarterly dividends typical for income investors. Furthermore, the absolute cash income is approximately 1X to 2X the size of the dividend payment of the ticker being arbitraged. That is to say that Engineered Income using tickers with quarterly dividends of $1 is structured to generate $1 to $2 of cash income 8 to 24 times per year instead of the $1 quarterly. Clearly, this magnification of cash flow is large. Because of the nature of the arbitrage construction, market risk is actually reduced during the short duration holding period of a few days to 6 weeks.
Ventas, Inc.
Current Market Price: $74.45
Next ex-Dividend for $0.73 expected for about 9/2/16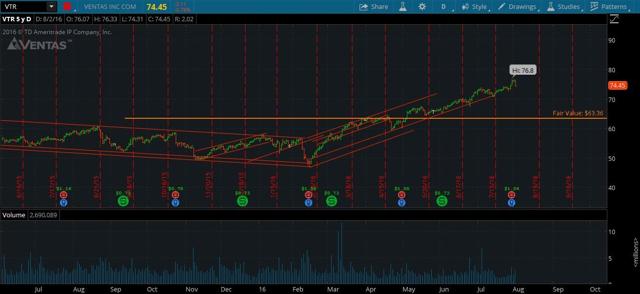 Engineered Income Opportunity: Buy-Write using the calls for 9/16/16 $65.00 @ $10.10 premium. Net Debit: $64.35. Net Premium: $0.65.
WARNING: The arbitrage must be entered so as to have your purchased shares of record before the ex-dividend close of market. Most brokers require 5 business days, making the deadline to initiate the trade 8/25/16. If in doubt, check with your broker for your latest available buy date to capture the dividend.
Breakdown for an approximate $40,000.00 trade:
The catalyst for this opportunity is built into the structure of the engineered trade, which is essentially an arbitrage between the option premium and dividend over the short term time frame built into the trade.
6 contracts: $38,610.00 cash investment for target sized investment.
6 X 100 X 0.65 net premium = $390 premium income.
Call Strike is $9.45 in the money, very likely to be called on expiration in 44 days. Likely to be called early before ex-dividend by 8/26/16 (just 23 days).
Result of early call before ex-dividend is to earn $390 on $38,610 investment, an absolute gain of 1.01% for less than 13 days invested. This short term allows for 24 investment cycles per annum, calculating to a 24.24% adjusted annual net return (before compounding).
Result of call at expiration adds the $0.73 dividend to the $0.65 Net Premium, for a total $1.38 with 44 day holding period. An absolute gain of $1.38 X 600 = $828 (2.14% absolute gain for our $38,610 investment). The hold period allows 8 investment cycles per annum, for a 17.16% adjusted annual net return (before compounding).
Downside risk only exists if shares are not called away at all. This happens if shares fall steeply over the next 44 days so that they close below the $65.00 strike. This would require them to shed almost 13% in just 44 days, more particularly within the next 23 days before any exercise for early call-away so the option owner can capture the dividend.
The company has already reported 2nd quarter results just in the past week and so there are no known potential surprises that could trigger the downside risk potential to this structured trade. Even a black swan event such as a major market crash triggered by a global geopolitical or economic event is unlikely to create such a large fall in such a short time so as to expose us to non-call-away trade risk.
Engineering has insured us almost the full dividend (a minimum $0.65 net premium compared to the $0.73 dividend while we only need wait 23 to 44 days to realize one or both these gains instead of the 90 day cycle for the quarterly dividend that a retail investor in VTR faces. Thus, our highly accelerated investment cycle of 8 to 24 periods instead of just 4, generates Alpha through engineering. This can be thought of as a low risk arbitrage between the dividend and premium.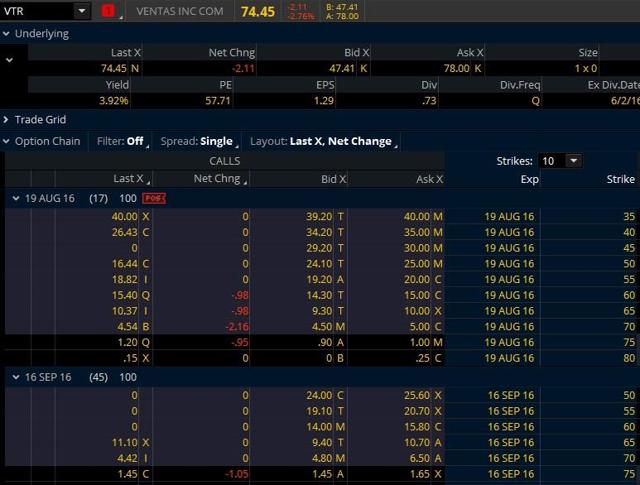 The Engineered Income Returns of 17% to 24% adjusted annual total net return compares to a 10 year average net total return of 11.10% for VTR and 6.71% for the S&P 500 as represented by the SPDR S&P 500 Trust ETF (NYSEARCA:SPY).

Closing Thoughts:
This is part 4 in an ongoing series of Engineered Income arbitrage opportunities. All investors should keep in mind that some options trade thinly and may not be suitable for this technique. Small traders (generating under $250 net premium income per trade) may find a significant portion of their returns eaten away by transaction costs even if using a discount broker.
Additionally, be advised that the basic due diligence as to suitability of the investment and quality of the company, including fundamental value analysis, momentum, technical support levels, and liquidity need to be carefully considered for each opportunity. If you are not prepared to do all this foundational work, then I caution you to pass by this strategy or use a service to help gather and present the information for you to begin from.
If you find this article thought provoking, please consider becoming a follower by scrolling back to the top and clicking the <FOLLOW> link next to my name. This insures you get a notice of all my work as it is published and gives me feedback to know what readers find of interest. You will find a full index to all published Engineered Income articles HERE in my blog. Thanks for taking the time to read. Join the comments section below to continue this discussion and share your thoughts and experience.
Income oriented investors are invited to consider my exclusive premium research by subscription, offered in Income From Covered Option Writing through Seeking Alpha's MarketPlace
Disclaimer: I am not a licensed securities dealer or advisor. The views here are solely my own and should not be considered or used for investment advice. As always, individuals should determine the suitability for their own situation and perform their own due diligence before making any investment.
Disclosure: I am/we are long VTR, SPY.
I wrote this article myself, and it expresses my own opinions. I am not receiving compensation for it (other than from Seeking Alpha). I have no business relationship with any company whose stock is mentioned in this article.