Drive by a construction site and you will likely see huge yellow machines pushing massive piles of dirt or giant yellow trucks hauling debris. Those ubiquitous yellow machines are made by Caterpillar Inc. (NYSE:CAT), the world's leading manufacturer of heavy construction and mining machinery, industrial turbines, diesel and natural gas engines and diesel-electric locomotives. The Company operates through three primary segments: Construction Industries, Resource Industries and Energy & Transportation. CAT also provides financing services through its Financial Products business. CAT machines have been digging, pushing, and hauling earth at the world's largest construction projects for the past 90 years - the Golden Gate Bridge, Panama Canal and the Three Gorges Dam in China - to name a few. With operations in every nook and cranny around the globe, Caterpillar has become a bellwether for the world's economy. In fact, today, the majority of the Company's sales are generated outside the United States. This analysis will show that Caterpillar's fundamentals are trending downward alongside the global economy at the same time that the Company's stock price is trading near all-time high valuations. Many stocks today are in a similar position as the nine-year bull market plods on. CAT is a great company, with a proud heritage, but investors would be well-advised to wait for a better entry point into the Company's stock.
This analysis examines financial data beginning in 2005 in order to see the Company's cyclical nature, as well as its performance since the end of the financial crisis. All company data, unless otherwise noted, is sourced directly from SEC filings. Caterpillar's revenues increased steadily from $36.3 billion in 2005 to $51.3 billion in 2008. Beginning in 2009, as the global economy came to a dramatic halt, the Company's revenues plunged 37% to $32.4 billion. At the same time, the world GDP declined about 1.7%, according to The World Bank. But, as economic activity rebounded and global central banks began providing mass liquidity, revenues began a fairly rapid recovery, increasing each of the next three years, reaching a peak in 2012 at $65.9 billion. However, as global economic growth has stalled, particularly in Latin America and Asia, sales have since declined each year to $47 billion in 2015. Sales in the Asia/Pacific and Latin America regions were hit particularly hard, with 2015 sales lower by about 47% in both regions from the 2012 peak. It is plainly evident that Caterpillar has relied heavily on sales from developing nations. But, as these countries' economies have slowed in recent years, sales have been impacted quite severely. Nevertheless, 10-year CAGR for sales has been a decent 2.6% annual rate, yet growth has slowed slightly over the previous five years to just 2.0% annually.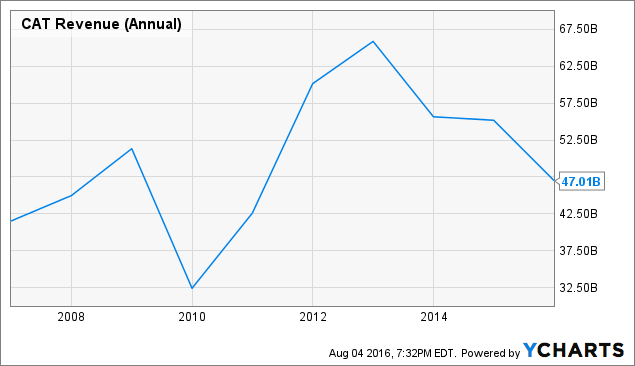 CAT Revenue (Annual) data by YCharts
Given the cyclical nature of the global construction business, Caterpillar must be very diligent in controlling its costs. From a gross margin perspective, management has done a tremendous job managing its Costs of Goods Sold. Gross Margin has actually increased in the past 3 years to 24%, which is slightly higher than its 10-year average. However, SG&A expenses have increased in recent years to 10.5% of sales in 2015. In addition, restructuring costs have increased as the Company has tried to maintain a much leaner operating structure given the decline in revenues. Restructuring costs in 2015 totaled $908 million, and management has announced that restructuring costs should total about $700 million in the current year. Headcount at the end of 2015 was about 15% lower than its peak in 2012. While these costs are necessary to position the Company to be more efficient when the next cyclical upturn begins, it does impact the current financial situation. Management remains committed to research and development, as is consistent with its operating legacy. Despite the slowdown in the top line, management has expressed confidence that a continued commitment to R&D will benefit the Company when the economy rebounds and help it to maintain its competitive position as a market leader. Total costs and expenses have increased slightly more than revenues in recent years. Clearly, though, if this trend continues, the Company's bottom line will continue to be impacted negatively.
Moving down the income statement, we can see that because of the aforementioned increase in expenses in recent years, operating income has been negatively impacted. The 10-year CAGR for operating income is flat, while the five year CAGR is -0.9%. Net income is not much better, with a 10-year and 5-year CAGR of -1.2% and -1.8%, respectively. Net margin was 5.4% in 2015, compared to a peak of 8.7% in 2012. Investors should expect the Company to generate net margins around 6.8%, which is the historical average margin. It should be noted that net margins bottomed at 2.6% in 2009. So, while the past few years have been very difficult for CAT, and it does not appear that 2016 will be much better, we are still quite far from the lows of 2009.
| | 2012 | 2013 | 2014 | 2015 |
| --- | --- | --- | --- | --- |
| Gross Margin | 25.4% | 22.7% | 23.7% | 24.0% |
| Net Margin | 8.7% | 6.8% | 6.7% | 5.4% |
Additionally, the Earnings per Share (EPS) story paints a similar, albeit slightly better, picture. EPS growth is slightly positive over the same time horizons, but clearly the decreased share count has helped in this regard. On a fully diluted basis, EPS has increased 0.3% over the past ten years, slightly better than actual income growth. Obviously, with a lack of growth in actual net income, this growth in EPS has been driven entirely by a lower share count. In fact, CAT has decreased its outstanding shares by about 2% annually (or about 10% total) over the past five years. The Company has repurchased about 91 million shares since 2013, with about $5 billion remaining on the current repurchase authorization as of the end of Q2 2016. Interestingly, the Company did not repurchase any shares during the period 2009 - 2012, which coincided with the recovery and run-up to the 2012 peak.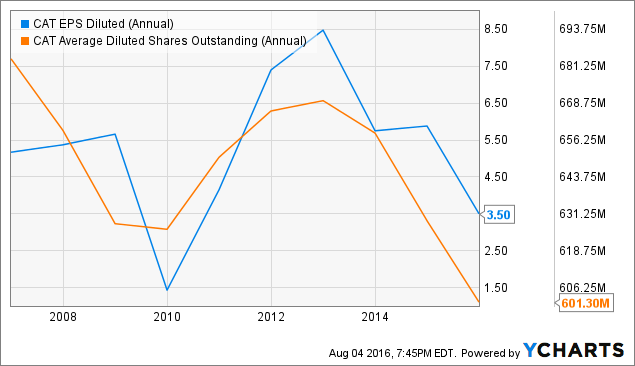 CAT EPS Diluted (Annual) data by YCharts
The balance sheet remains solid, but less so than several years ago. Total assets peaked in 2012 at $89 billion and have declined over the past several years. Most of the decline in the past several years is due to a reduction of inventories, which now represent about 12% of total assets. Overall, total assets have increased about 5% annually for the past ten years. On the other side of the ledger, total liabilities have decreased since the 2012 peak, as well. Most of the decrease in liabilities has been in accounts payable, which is consistent with trend leading into the 2009 bottom. It does bear watching to ensure the Company is managing its working capital properly during this difficult global economic environment. Finally, shareholders' equity has also declined recently, primarily due to the continued dividend payments and stock repurchases in recent years.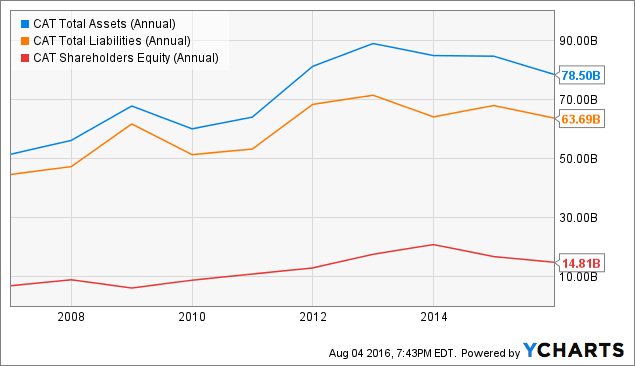 CAT Total Assets (Annual) data by YCharts
Despite the challenge to top-line revenue growth, the Company's cash flow remains very strong. Caterpillar has consistently produced very strong operating cash flow and has used this cash flow to pay dividends, fund smaller acquisitions and, recently, repurchase common stock. Since 2005, Caterpillar has paid out $12.5 billion in dividends and has repurchased $17.4 billion in common stock for a total return to shareholders of $29.9 billion. The average historical dividend payout ratio is 41% of net income; the Company paid out nearly 84% of net income in 2015. Over this same period, the Company has generated $37.9 billion in net income and has produced an astonishing $70.1 billion in operating cash flow.
The Company's short-term liquidity ratios all look stable. The current ratio, while slightly lower in recent years, remains healthy. The defensive internal, a measure of days to cover expenses, has actually improved recently. One area that does raise a slight concern is their inventory turnover, which has decreased in recent years to 3.1 times, which is well below the long-term average of 3.8 times. This is indicative of a weakening economy, as potential customers are either delaying major purchases or canceling purchases outright. This is not a major issue yet, but investors should keep an eye on this trend to see if it reverses itself in the near future. Solvency, as measured by debt to equity and debt to assets, has worsened slightly as total debt has increased and stock repurchases have decreased the Company's equity balance. Return on assets and return on equity have both declined recently with the decrease in profits over the past few years. Not surprisingly, given the decline in income in recent years, many of these ratios have deteriorated slightly. Overall, these ratios paint a fairly healthy picture of Caterpillar's financial position.
Now that we have determined that the Company's financial position remains solid in a slowing economic environment, let's look at the recent stock price performance. Since 2005, CAT has traded from a low of $22.17 in 2009 to a high of $116.95 in early 2012. The LTM P/E ratio has ranged from a high of 43x to a low of 6x, while the average P/E ratio over this time period has been about 17x earnings. Currently, at a recent price of $82.56, CAT is trading at about 44x earnings, well above its average P/E multiple. Based on history, the stock is quite expensive. Even if we look back just five years, the average P/E is still about 16x earnings. Based on an average P/E multiple of 16x earnings and current year EPS estimates, CAT should be trading around $58 per share, which is 30% lower than the recent price. Alternatively, a fairly generous discounted cash flow analysis values the stock at between $60 and $65 per share, which is 20 - 27% lower than the recent price.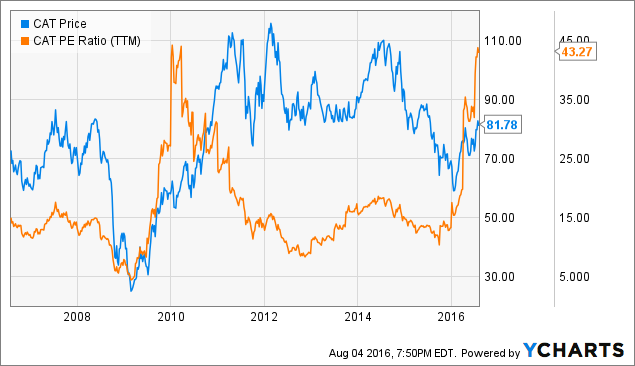 I believe Caterpillar is a great company. Its heritage is great and its products are tremendous. For better or for worse, it is inextricably linked to the global economy. When the economy is humming, CAT does very well. When the economy stalls out, CAT bears the brunt of the decrease. Presently, the US economy is growing, albeit quite slowly. European growth is questionable at best, particularly given the recent UK vote to leave the EU. Latin America remains weak, with Brazil having many challenges. China is arguably greatly over-extended and over-leveraged, and it could be years before things completely shake out there. Commodity prices remain weak, especially oil prices. Given this backdrop, why is CAT valued at about 44x earnings? Earnings peaked four years ago, they are expected to remain down this year, analysts currently expect earnings to be flat in 2017 and management itself does not see many catalysts for growth for the foreseeable future. Yes, the dividend yield is a sporty 3.76%, which is well-above the 10-year US Treasury yield. Long-only investors should avoid CAT at these prices. I would wait until this stock is more attractively priced, which, by my estimates, is close to the $55 - $60 range.
Disclosure: I/we have no positions in any stocks mentioned, and no plans to initiate any positions within the next 72 hours.
I wrote this article myself, and it expresses my own opinions. I am not receiving compensation for it (other than from Seeking Alpha). I have no business relationship with any company whose stock is mentioned in this article.