This article follows my previous article about Parker Drilling's (NYSE:PKD) Q1 results published on May 5, 2016.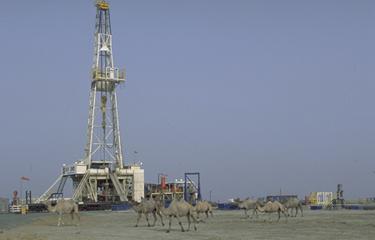 Source: Parker Drilling Rig 114.
Conference call transcript Q2 2016, click here.
Q2 2016 Financial Snapshot (Seven Consecutive Quarters)
Q2 2016
Q1 2016
Q4 2015
Q3 2015
Q2 2015
Q1 2015
Q4 2014

Total revenue

in $ million

105.29
130.50
148.75
173.42
185.90
204.08
243.21

Total combined drilling revenues

$ million

72.991
90.704
98.997
116.62
121.817
128.0
150.835

Total rental tools revenues

$ million

32.296
39.799
49.751
56.80
64.124
76.1
92.378

Total operating income

in $ million

(51.491)
(23.269)
(20.718)
(4.547)
(7.927)
15.87
27.714

Net income

in $ million

(39.822)
(95.835)
(35.646)
(48.62)
(14.03)
3.222
7.75

Cash and Cash equivalent

in $ million

109.034
108.427
134.294
104.65
116.94
113.2
108.46

Long-term debt

in $ million

575.55
575.17
574.80
585.0
585.0
585.0
605.0

Net Debt estimated

Ratio netCap

in $ million

476

52%

467
441
480
468
472
497
Earnings per share in $(excluding special item/with)
(0.32)
(0.78)
(0.29)
(0.40)
(0.11)
0.03
0.06

Share outstanding

in million

124.101
123.090
122.952
122.934
122.48
121.89
121.76

CapEx

in $ million

8.4
8.0
15.7
-
-
-
-

EBITDA

Adjusted EBITDA (excluding special item)

in $ million

7.769

8.097

15.037

12.605

10.943

28.578

34.187

35.422

28.802

32.766

54.657

53.413

-

65.162
CapEx Guidance for 2016 - M. Chris Weber in the conference call:
Capital spending in the second quarter was $8.4 million, we now expect our full year 2016 capital expenditures to be approximately $35 million to $40 million, down from our prior guidance of $40 million to $50 million as we continue to adjust the business to market conditions.

Total debt outstanding at quarter end was $576 million, which included a principal amount of $585 million less $9 million of unamortized debt issuance costs. Our net debt position was $476 million or 52% of net capitalization.
Commentary:
Parker Drilling released its Q2 2016 results on August 3, 2016. Revenues for the quarter were $105.287 million, down 19.3% quarter over quarter. It was a difficult quarter overall and a grim outlook.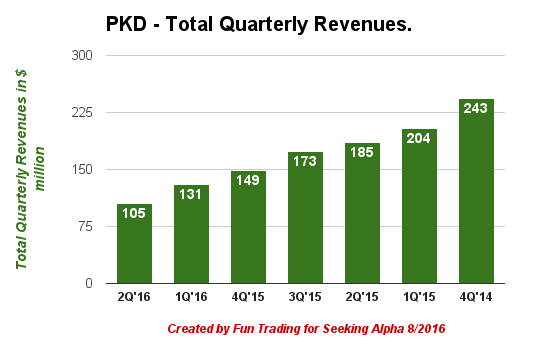 The company is showing an alarming trend in revenue and revenue loss due to a continued depressed oil environment, even if it appears that oil prices have bottomed recently. The graph above shows clearly this rapid degradation of the business climate.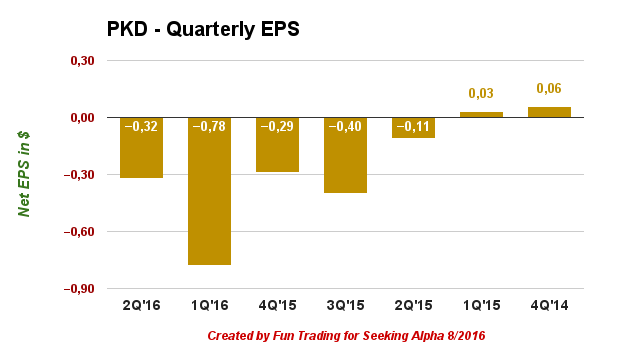 Consequently, due to the rapid degradation of the market outlook, the covenant relief negotiated in September 2015, allowing covenant relief until 2017, was not sufficient and needed some new accommodating.
PKD began preliminary discussions with the banks in Q1 2016 regarding further covenant relief and needed flexibility.
Finally, on June 1, 2016, PKD announced that it has secured an amendment to credit facility. With key elements:
1 - Elimination of the Company's Leverage Ratio covenant until the fourth quarter of 2018 when the covenant reverts to 4.25x, and remains at 4.25x thereafter;

2 - Elimination of the Company's Interest Coverage Ratio covenant until the fourth quarter of 2017 when the covenant reverts to 1.00x and increases 0.25x each subsequent quarter until reaching 2.00x in the fourth quarter of 2018, and remains 2.00x thereafter;

3 - An immediate increase in the Company's Senior Secured Leverage Ratio covenant from 1.50x to 2.80x until it decreases to 2.20x in the second quarter of 2017, 1.75x in the third quarter of 2017, and 1.50x in the fourth quarter of 2017 and thereafter;

4 - Total lender commitments reduced to $100 million from $200 million; and

5 - The allowance of up to $75 million of Junior Lien Debt.
M. Gary Rich, CEO, expects lower revenues and margin compression in Q3 2016, and added in the conference call:
In closing, let me give you our thoughts about the third quarter outlook. Overall, we expect sequentially lower revenues and continued gross margin compression due to continued weak demand in a difficult pricing environment for the industry.
The outlook is still negative and the company is not seeing a net recovery despite an increase of the oil prices. M. Gary Rich was clear about that:
I'd like to say that although we've seen a nice improvement in commodity prices during the second quarter, prices have experienced some recent weakness and it remains to be seen whether confidence in the underlying fundamentals can reach the critical threshold needed to drive a material increase in the E&P spending in the second half of this year.

We've not yet seen a meaningful increase in inactivity.
On the positive side, PKD secured a few good contracts during Q2 2016, which is encouraging and shows some resilience.
PKD was awarded an extension of Sakhalin O&M contract, which was originally set to expire in the third quarter of 2017, but now extends through June 2019.
PKD was awarded a 7-year O&M contract for the Hibernia platform, located in the North Atlantic Ocean, close to Newfoundland.
PKD has reached an agreement to keep an Arctic-class drilling rig in Alaska contracted through its original term of December 2017.
Conclusion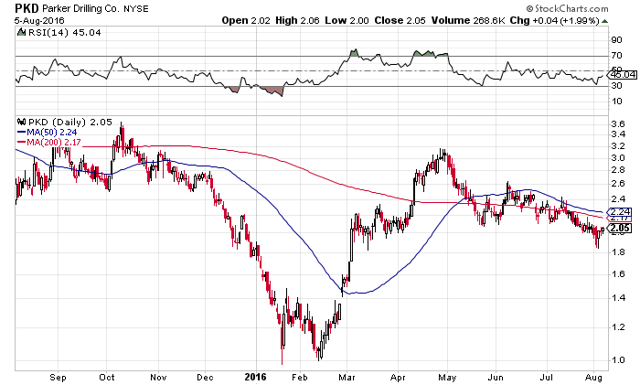 It is apparent that the situation remains extremely challenging for PKD and I do not see a rapid recovery for probably another few quarters at least. I was glad to read that PKD amended its credit facility in June.
The company has argued that the Q3 2016 may be worse than the Q2 2016, which is not really encouraging for the stock's future performance. However, oil prices have definitely bottomed and revenues will show some stabilizing soon, in my view. This basic idea makes me think that PKD may have established a new support around $1.60-$1.70, and should be slowly accumulated from this level again.
I recommend a hold right now.
Important note: Do not forget to be one of my followers on PKD and the oil sector in general. Thank you.
Disclosure: I/we have no positions in any stocks mentioned, and no plans to initiate any positions within the next 72 hours.
I wrote this article myself, and it expresses my own opinions. I am not receiving compensation for it (other than from Seeking Alpha). I have no business relationship with any company whose stock is mentioned in this article.