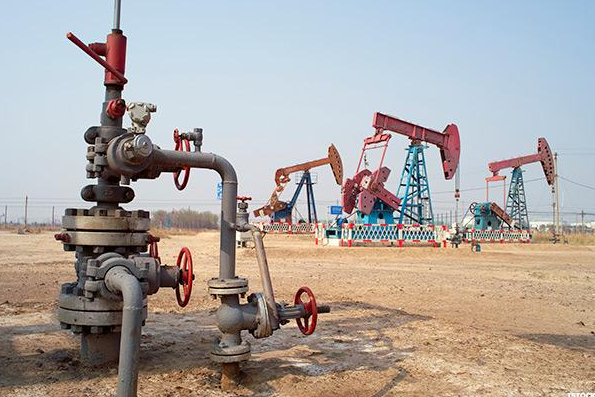 Image sourced from thestreet.com
Weatherford International (NYSE:WFT) reported soft Q2 earnings. Overall, we remain negative on this space as pricing activity is vicious and commodity analysts still remain negative on the cycle in general. Global rig utilization, as one factor, did show some stabilization in the most recent quarter, but projected spending from O&G exploration and production businesses appears to still be down moderately quarter over quarter. Management displays that cost cuts in the downturn will be their saving grace, but the environment remains critically weak as revenue was down 41.4% year over year and adjusted net income (backing out one-time losses) was -$253 million (much lower than -$77 million for the comparable period last year). Most importantly for this levered firm, it reported a quarterly free cash flow figure of -$160 million.
The Guidance
Interestingly enough, management expects that they will yield a positive free cash flow figure of approximately $125 million by year-end. Not only is this sharply down from their previous estimates of nearly half a billion, but also this target could be too optimistic. In Q1 and Q2, the firm generated -$216 million and -$160 million, respectively. For the company to reach its target for the year, it will need to obtain $500 million in the 2H FY16, or some variation of $250 million per quarter. In such a terrible contract environment, it would be difficult to believe that the firm can offer such a powerful sequential improvement: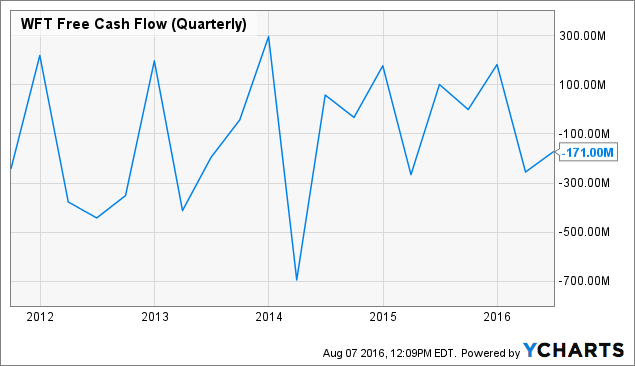 WFT Free Cash Flow (Quarterly) data by YCharts
As shown above, the firm has not achieved a quarter that has generated more than $200 million since 2013.
Management also detailed some important commentary related to the drivers of weakening cash flow:

Service users are clearly struggling as crude oil still stands in the low $40 per barrel range. Although, it is particularly worrisome that management emphasized that "key customers" are experiencing difficulty paying cash to Weatherford. This is unsurprising, however, as most offshore E&P activity around the world cannot operate profitably under current pricing conditions.
Digging Deeper
We think Weatherford could be stepping into an environment of much lower sales, particularly less than what most of what Wall Street has anticipated. Last year, the consensus stood in the ball park of approximately $8 billion; now it has pushed to the lower end of $7 billion. Moreover, based on current assumptions from management, they are looking to spend $250 million in capital expenditures this year. This outlook rhymes to the early 2000s: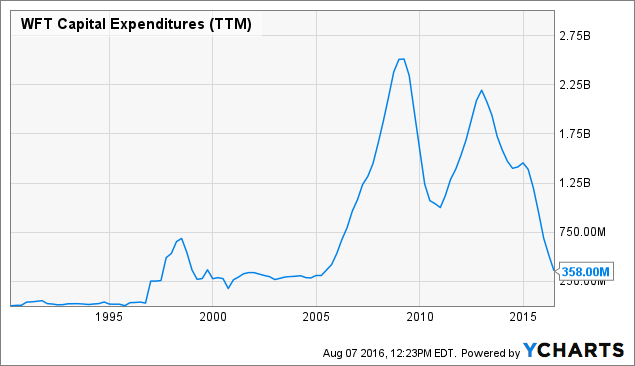 WFT Capital Expenditures (TTM) data by YCharts
They do think, however, that in the following years, they should be able to inflate it somewhat closer to a figure of $500 million. The issue, however, is that in order to maintain a contract base, the company must spend a certain threshold. Typically, the spend varies from year to year, but in order to be conservative with our assumptions, we have used an input of just 10%. From that estimation, our favorable projection puts the firm at approximately ~$5 billion in annualized revenue going forward, about 30% lower than LTM revenue of $7.23 billion.
Refinancing
Analysts are still rating this company a buy given high liquidity (via bond refinancing) and a proposed eventual recovery. In the last month, three analysts have rated the company a buy with an average price target of $8, implying 40% upside. Unfortunately, it doesn't remain clear how such a price target is reached.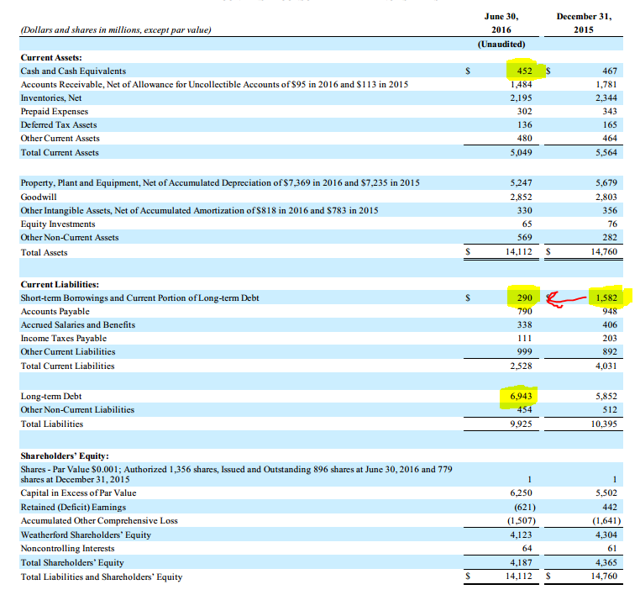 Currently, we are working with an enterprise value of $11.85 billion. If the firm can manage its target of $500-$700 million in cash flow, that puts the stock at roughly 8x earnings and 20x enterprise value. We find this to be slightly attractive on an absolute basis, but extremely unattractive relative to peers.
In our view, the real motive of these positive ratings is so that management can raise equity for a better price: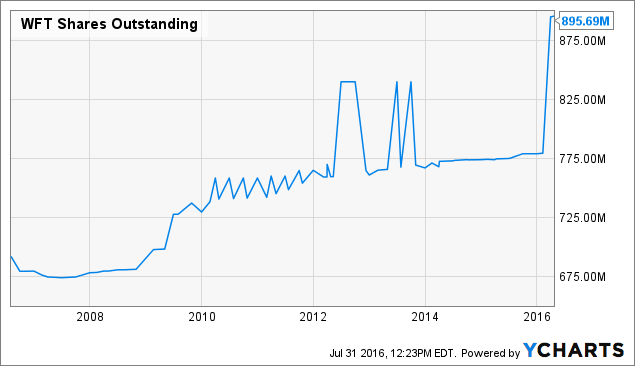 WFT Shares Outstanding data by YCharts
This theory appears plausible given that the firm conducted a series of capital shifts to protect liquidity. Yet at the same time, the firm has simply weakened its balance sheet by making this transition: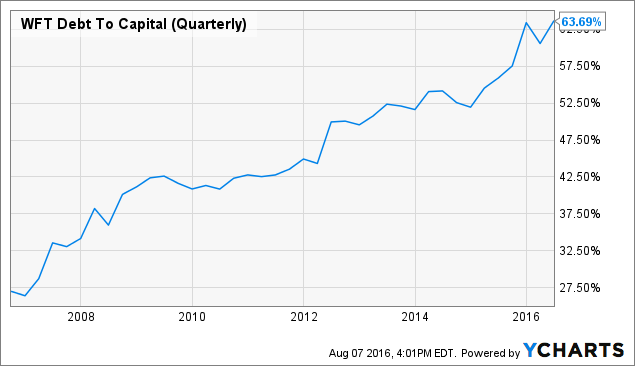 WFT Debt To Capital (Quarterly) data by YCharts
Bottom Line
If interim cash flow weakness is primarily related to timing, i.e. receivables are slow and headcount reductions are not factored in, then the business is much better off than it stands at face value. Unfortunately, however, the poor operating environment in tandem with such a weak capital structure puts shareholders at extreme risk with limited upside. Counter the Street consensus, we recommend investors avoid the equity until management can offer more palpable results. Positive cash flow in Q3 primarily related to a recovery in the bottom line would be a good start.
Disclosure: I/we have no positions in any stocks mentioned, and no plans to initiate any positions within the next 72 hours. I wrote this article myself, and it expresses my own opinions. I am not receiving compensation for it (other than from Seeking Alpha). I have no business relationship with any company whose stock is mentioned in this article.