Illumina
A few years ago, we wrote an article on Illumina (NASDAQ:ILMN) before the stock broke out in 2014-2015. Since the stock peaked in 2015 at $239.71, it has come down to $166.53 as of August 5, 2016. This is the same level we recommended buying ILMN back in February 2014. Illumina is a leading innovator in next-generation sequencing (NGS). NGS enables researchers to study biological systems at a much greater capacity than traditional DNA sequencing technologies. This technology cost researchers $1 billion just 10-15 years ago, making this testing available to very few labs. In 2014, NGS become more accessible and affordable for the average researcher willing to pay an average of $10,000. Today, the cost has come down even more significantly and is available to the broad consumer for affordable prices. As the leader in NGS, ILMN has invested in the future and will be the leader in this technology for decades.
There are many relevant applications for next-generation sequencing that will change the future of agriculture, medicine, science and more. Illumina points out key areas of interest in its financials, so let's focus on a few to see the real potential for NGS and the company.
Agrigenomics
Agrigenomics is the application of genomics in agriculture. Population growth and climate change create challenges in maintaining food supply. Through NGS, agrigenomics will be the answer to world hunger and the falling food supply. NGS allows agriculture researchers and breeders to identify desirable traits in plants and animals at complex levels. Being able to identify positive and negative traits will provide healthier, more efficient, crop and livestock. Illumina is continuously innovating ways to use this technology, and a few applications include finding reproductive traits to make planting more efficient, determining the best climate for sustainable growth and finding complex pathogens and what causes food allergies and disease. This science is becoming available to more labs as Illumina continues its innovative research to reduce the cost of NGS. This science can soon be available to all farmers and individuals concerned about what they eat. This will lead to higher scrutiny in the food industry, as the food products being sold will be more transparent with affordable testing.
Cancer and Genetic Disease Genomics
Before DNA testing, people relied on family history to determine whether or not certain cancers were a genetic risk for them. This raised awareness in hopes that regular testing would find cancer in the early stages. Today, NGS takes testing for cancer to a whole new level. Using NGS, people can test their genes to see the probability of cancer customized to their genetic makeup rather than relying on family history. This allows individuals to take precautionary measures to remove the possibility of cancer before it even appears in the body.
Individuals can also benefit from NGS if there are any other genetic diseases they are susceptible to. Even if no genetic disorders are known in one's family, it can identify any mutations that lead to a number of diseases or conditions. Early identification can save lives and make living more sustainable for millions of people. NGS provides custom medicines designed for an individual's specific genetics for effectiveness, and thus, the future of medicine will be completely different, as no two pills will be alike. Today, this testing has become a reality for many people, as the costs are continuously being reduced due to advancements in the technology. NGS will soon be a standard for medical screenings, and Illumina will be the leader in providing this technology.
Illumina is the leading innovator of NGS, and as regulations and availability becomes more accessible, the company will be the major supplier for testing equipment. Investing now in a company that will have its footprint in the future of agriculture, medicine, science and much more is a great opportunity.
Illumina Current Economic Conditions
After trading down for about a year, Illumina has bounced back with a great earnings report, which was released in July. Many analysts have set price targets above $180, and we believe it will go even higher. ILMN is in a nice buy position after a few sessions of consolidation after the earnings report; since reporting earnings in late July, the stock has maintained a trading level between $165 and $170. ILMN has a long-term support level at about $135, and it hit that bottom a few times since early 2014. We believe the stock could be forming an upswing in a "cup and handle" pattern. This would mean it has much room to grow, and new highs above $250 may be only 1-2 years away.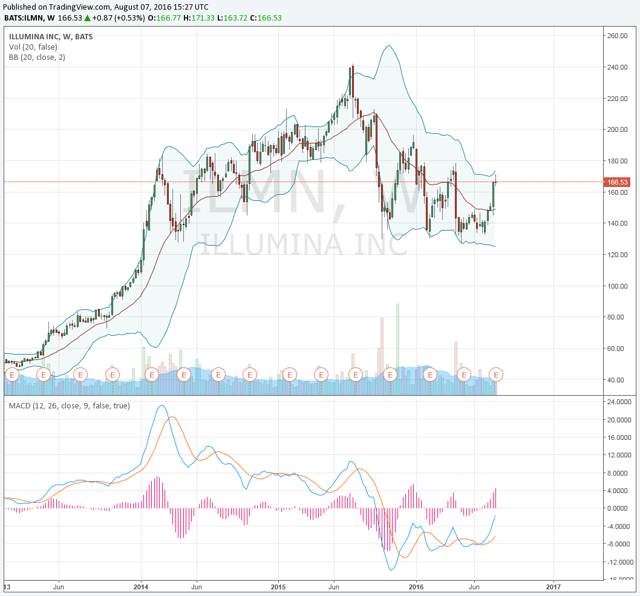 Source: TredingView.com
We are buyers at current levels and will accumulate at lower levels. ILMN is becoming relevant to the average person, and so should its stock. This is an opportunity to invest in the future at the beginning of a new technology. The company's long-standing clients are large labs and medical offices offering expensive, time-consuming tests. Once Illumina's NGS equipment is the standard, offering economically and efficiently attractive tests, the company will grow exponentially along with the stock.
As always, do your own research and read ILMN's latest 10-K to learn more about the science behind this great company.
Disclosure: I/we have no positions in any stocks mentioned, and no plans to initiate any positions within the next 72 hours.
I wrote this article myself, and it expresses my own opinions. I am not receiving compensation for it (other than from Seeking Alpha). I have no business relationship with any company whose stock is mentioned in this article.