Investors are yield-starved. This is not a groundbreaking statement; in fact, it has been emphasized by the financial media for the past year or so. There are no doubts that this is true, though: central banks around the world have forced interest rates so low that investors are flocking from bonds to stocks to find yield. However, because negative interest rates have become the new tool of the central bank trade, some investors are buying bonds in droves, too. Basically, they're trying to lock in the best interest rate that they can get before they're pushed down even further.
The conditions described above have had the effect of bolstering those stocks that can deliver yield. This makes perfect sense -- many investors are looking at the current rate environment and thinking about what contrarian move may unlock value for them. They might decide that dividend stocks can replace low-yielding bonds, creating long-term value for their portfolios. However, this mode of thinking is fundamentally flawed, because it overlooks the entire basis of why we're in this interest rate limbo in the first place: corporate capital conservation via dividends and share buybacks is not really a result of low interest rates, but one of the causes! Let me explain.
Economist Larry Summers wrote a fascinating article about the topic, which can be read here. In it, he points out that central banks are having to push rates down further because previous interest rate reductions haven't had much of an effect. To understand where he's coming from, we need to look at one of the goals of monetary policy: to keep inflation steady and in the "Goldilocks zone," or in other words, not too low and not too high (i.e., below the "natural rate"). In the U.S., the Fed has determined this to be at or around 2%. The conundrum is that no matter how low interest rates go, inflation is nowhere to be found. How is this? Shouldn't lower interest rates stimulate spending and thus, increase inflation? This used to be the case. But then the financial crisis of 2008 happened, which spooked the average consumer into saving as much as he or she can, not spending. These savings are being shoveled into existing assets, not new investments, so we do indeed have inflation, but not where we want it (consumer goods and services). Making this worse is the "corporate capital conservation" that I mentioned above. It isn't just the consuming public that is saving, but companies, too. It's just that they're using a few unconventional vehicles to save capital; the two most common ways are dividends and share buybacks. Their reasoning is simple -- they want to attract investors by offering yield.
Of course, this is just a simplified overview of a single piece of the secular stagnation puzzle. But long story short, companies are a part of the problem! And in what is surely a twisted positive feedback cycle, investors are flocking to dividend-yielding stocks when they should be looking elsewhere. Where they should be looking will be the subject of this piece, but before I get into my ideas of what stocks make good investments in this new age of secular stagnation, I want to show that dividend stocks have potentially become overvalued.
I'll be using the iShares Select Dividend ETF (NYSEARCA:DVY) to represent the performance of a broad base of U.S. dividend stocks over the past year. I think this is a better gauge than the SPDR S&P Dividend ETF (NYSEARCA:SDY), because SDY tracks the S&P High Yield Dividend Aristocrats Index, which is comprised of those stocks that are not only high-yielding, but have also increased their dividends every year for the past 25 years. DVY, on the other hand, includes those stocks with more recent changes to their dividend policy relative to SDY (5-year dividend growth vs. 25-year dividend growth). Therefore, the DVY is more likely to reflect the impact of recent changes in monetary policy.
In the chart below, we can see that not only has DVY outperformed the S&P 500 on a returns basis for the past year, but the spread by which it does so has grown significantly, especially since the turn of the year:

As of market closing on August 5, 2016, the cumulative average YTD P/E ratio of the top ten holdings in DVY is about 30.0; in contrast, the cumulative average YTD P/E ratio of the S&P 500 is about 22.0. One outlier among the DVY stocks is Chevron (NYSE:CVX), which has a P/E ratio just below 150.0; nonetheless, it exemplifies a stock that has attracted investors with its dividend yield of about 4.3%. (I should also note that many investors have bought in to CVX due to its relative outperformance during the recent oil crisis.)
Going forward, I suggest that investors take a second look at companies that are investing the majority of their capital in new projects, not dividends and share buybacks. This can be quantified by a low payout ratio, which measures the percentage of earnings paid out as dividends. However, it's important to emphasize that said projects are actually profitable, or that they deliver increasing return on invested capital (NASDAQ:ROIC). Not only does ROIC growth indicate that the firm has invested in decent projects, but it also shows that firms have taken advantage of the low interest rate environment to reduce their cost of capital. If sensibly levered, firms can certainly realize magnified returns over the long run.
Before identifying a few stocks that fit the aforementioned criteria, I would like to bring attention to research by Clyde Rossouw and Simon Brazier for Investec Asset Management. In their analysis of companies within the MSCI All Countries World Index with above-average ROIC, they found that the majority of these companies were able to avoid reversion to the mean and sustain high ROIC over time. In the sample period, companies with high ROIC achieved average outperformance of 4.5%.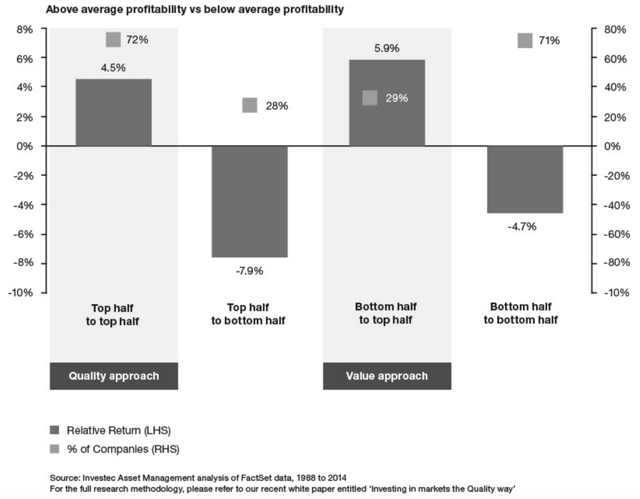 Additionally, they point out that such companies tend to operate capital-light business models, or those that rely more heavily on intangible assets than PP&E. As a result, they're able to grow their dividend over time. This brings up an important distinction: I'm not advising investors to completely avoid companies that pay dividends. I'm merely making the argument that on average, dividend stocks seem to be overvalued, and companies that are pursuing dividend policies on the basis of share inflation alone are more likely to underperform when rates rise in the long run.
Finally, below I've highlighted some low P/E, low payout ratio, and high ROIC tickers that are currently at or near their 52-week lows (admittedly, I'm a value-tilt investor):

In conclusion, investors with relatively long time horizons may be better-suited to invest in some of the companies featured above as opposed to those chosen solely for their high dividend yields. With low P/E ratios, these companies may be undervalued, and their high ROICs indicate that they've invested in profitable projects. The importance of capital investment in this low growth environment cannot be stressed enough.
Disclosure: I/we have no positions in any stocks mentioned, and no plans to initiate any positions within the next 72 hours.
I wrote this article myself, and it expresses my own opinions. I am not receiving compensation for it (other than from Seeking Alpha). I have no business relationship with any company whose stock is mentioned in this article.