We will provide you with a weekly update and analysis on what is happening in our all-LatAm sample: ADRs - or at least the most traded ones and country ETFs. Comments are based on closing prices for the previous week (i.e., Friday, August, 5, 2016).
Positive performance for LatAm equity markets

Brazil´s EWZ (NYSEARCA:EWZ) led gains posting a weekly return of 2.7%, followed by Mexico´s EWW (EWW) up 1.4% and Argentina´s ARGT (ARGT) up 1.2%. Chile´s ECH (ECH) was the only loser in our country-ETF sample down 1.0%. Andean markets, Colombia (GXG) and Peru (EPU) edged up 0.8% and 0.5% respectively.
The ILF (NYSEARCA:ILF) posted a weekly gain of 2.1% with strong traded volume, outperforming the SPY (SPY) which ended up 0.5%. The ILF´s 1-Month performance accumulates a 12.0% return.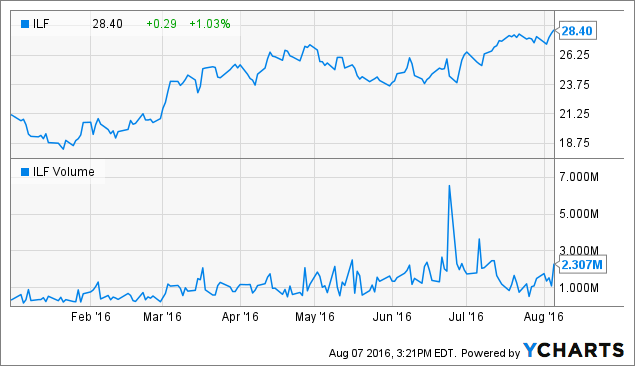 Samba continues in Brazil EWZ up 2.7%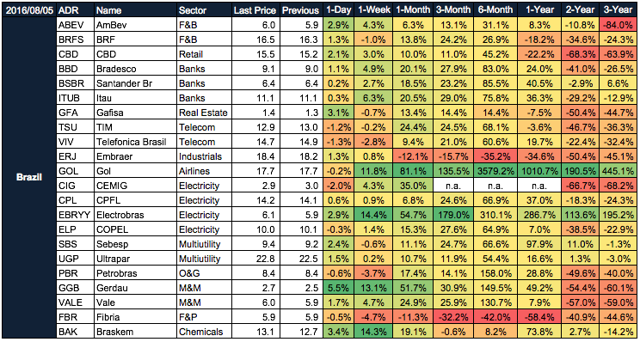 Brazil´s EWZ closed 2.7% up last week with a cumulative 6-Month return of 70.1%. Electrobras (OTCPK:EBRYY) posted the largest gain up 14.4% followed by Braskem (NYSE:BAK) +14.3% and Gerdau (NYSE:GGB) up 13.1%. Fibria(NYSE:FBR) led losses and shows the worst 3-Month performance in our sample of a 32.2% decline.
Braskem (NYSE:BSBR) shares increased 14.3% on improving 2Q16 results. Revenues were 3.0% up YoY, EBITDA increased 15.0% YoY and net income declined 73%.
ITAU (NYSE:ITUB) posted a weekly return of 6.3% on better-than-expected 2Q16 results. NII increased 2.5% YoY, total loan portfolio contracted 5.8%, adjusted NPLs stood at 4.1% and earnings were 6.8% down YoY.
VALE (NYSE:VALE) closed 4.7% higher YoY on sale agreement with Silver Wheaton. VALE will receive a US800 million upfront payment for a sale agreement of 25% of its future gold stream from the Salobo cooper mine, in addition to $400 per oz.
PETROBRAS (NYSE:PBR) shares declined 3.7% following oil prices lower. Despite its negative performance as oil prices declined, S&P announced it may upgrade PBR´s credit rating if PBR´s asset sale succeeds to lower indebtedness.
Santader Brasil (NYSE:BSBR) shares closed 2.7% higher as Santander bids for Citi´s retail unit in Brazil. Citi is expected to announce the buyer by September, other bidders include ITAU, Safra and Chinese banks.
CEMIG (NYSE:CIG) shares increased 4.3% last week as it moved forward with its divestment plan. CEMIG announced its intention to sell its stake in the transmission company TAESA.
Mexico's EWW up 1.4% despite soft economic data

The EWW is the worst performer in our country-ETF sample. The ETF is up a mild 6.9% in a 6-Month period. The EWW ended 1.4% higher last week despite soft macro data.
KOF (KOF) continues downtrend. KOF´s shares fell an additional 5.1% to the previous week as results don´t support valuation. The shares are down 10.6% in the last 3 months.
Simec (NYSEMKT:SIM) on the green following iron ore prices. The shares outperformed all of the stocks in our Mexican sample recording an 8.2% weekly gain.
Analysts lowered GDP growth estimate. The analysts´consensus (Banxico survey) now stands at 2.28% growth in 2016 and 2.61% in 2017 down 8 and 9 bps from previous estimates. FX is expected at 18.43 in 2016 and 18.17 in 2017. Interest rates are expected at 4.61% in 2016 and 5.25% in 2017.
Consumer confidence declined in July. The Consumer Confidence Index fell 3.3 units YoY to 88.9, this is the lowest reading in three months and the sixth consecutive month of a YoY decline.
Gross Fixed investment remained weak in May. Gross fixed investment grew 0.7% MoM and declined 0.1% YoY due to flat investment in machinery & equipment and construction.
Shallow waters oil fields auction in March 2017. The CNH disclosed the information of the 15 blocks for auction in the Round 2 bidding of shallow waters to be held in March 2017.
Chile´s ECH down as economic activity weakens

The ECH closed 1.0% down underperforming all of the country-ETFs in our sample as economic activity weakens. Corpbanca (NYSE:ITCB) posted the largest weekly loss in our Chilean sample down 2.6% followed by Concha y Toro (NYSE:VCO) down 2.3%
Banco de Chile posted a weekly gain of 1.2% as asset quality remains strong. The bank released 2Q16 results showing a NII decline of 5.8% YoY, total loan portfolio expanded 9.0% YoY, NPLs stood at 1.3% and earnings contracted 4.5%.
Economic activity slows down in June. Economic activity posted a soft increase of 0.8% YoY in June due to a slump in manufacturing and mining. The 2Q16 growth stood at 1.1% YoY, which negatively compares to the 2.0% growth in the 1Q16, the lowest rate since 2009.
Chilean Pension funds´AUM posted 2.2% return in July. All of the funds posted positive returns supported by foreign investments and domestic equities and fixed income.
Argentina´s ETF up 1.2%

Argentina´s ARGT (NYSEARCA:) ended the week 1.2% higher with 9 out of 16 stocks from our sample closing in the red.
On the green side Ternium(NYSE:TX) posted the largest weekly gain increasing 6.2% followed by Arcos Dorados (NYSE:ARCO) as the company reported better than expected 2Q16 results. Edenor (NYSE:EDN) led losses declining 6.9%.
Andean markets flat weekly returns
The Peru fund, the iShares MSCI All Peru Capped ETF (NYSEARCA:EPU), closed the week 0.5% higher with Cia. de Minas Buenaventura (NYSE:BVN) posting the largest gain in our Peruvian ADR LatAm sample up 3.3%.
Colombia's GXG (NYSEARCA:GXG) increased a mild 0.5%. Tecnoglass led gains increasing 4.9%.
Disclosure: I/we have no positions in any stocks mentioned, and no plans to initiate any positions within the next 72 hours.
I wrote this article myself, and it expresses my own opinions. I am not receiving compensation for it (other than from Seeking Alpha). I have no business relationship with any company whose stock is mentioned in this article.