By Parke Shall
It's not often we make investment cases based simply on ethics, without considering the financials. We think Insys is one of the few that warrants a look of this nature.
We have not written about Insys (NASDAQ:INSY), the controversial company that sells fentanyl spray Subsys in months. It was reported earlier this week that Subsys sales started to stabilize when INSY reported financial results that were well received by the market,
Revenues: $67.1M (-13.5%)
Operating Income: $4.3M (-64.2%)
Net Income: $4.4M (-39.7%)
EPS: $0.06 (-40.0%)
Non-GAAP EPS: $0.13 (-38.1%)
Quick Assets: $158.4M (-0.4%)
But wait. Subsys continued sales rely on regulators making a finding of how much has been sold off label and any potential penalties the company may face as a result of ugly sales practices from the past.
The results and resultant financial stabilization had the stock up this week, continuing a run from lows near $11 back in June, months after we warned investors to question the company based on its alarming history of business practices. The company is still well off its 12 month highs near $43.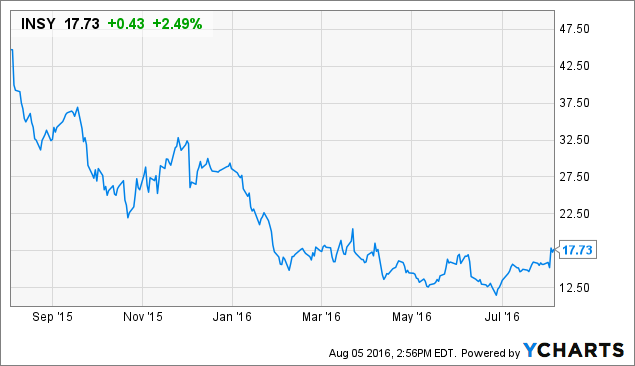 The financial results come almost two months to do the day after the FDA approved the company's Syndros for anorexia associated weight loss in certain patients. Seeking Alpha noted,
Insys Therapeutics (NASDAQ:INSY) is up 21% premarket on robust volume in response to its announcement that the FDA has approved its dronabinol oral solution, Syndros, for the treatment of anorexia-associated weight loss in patients with AIDS and the treatment of chemotherapy-induced nausea and vomiting (CINV) in patients who have not responded to conventional antiemetic treatments.
It is the first dronabinol solution approved in the U.S.
Syndros is a liquid formulation of the pharmaceutical cannabinoid, dronabinol, a synthetic version of tetrahydrocannabinol (NYSE:THC). It is awaiting scheduling by the U.S. Drug Enforcement Administration.
This shows promiThere is no doubt the company has steadied after this last round of skepticism about its business practices. However, some of its past transgressions as liabilities may still hang in the balance for the company. For example, SA Samuel Rae recently wrote,
Where do the risks lie? Well, those familiar with the company will be aware of the furor surrounding off label administration of Subsys. For those that aren't familiar, Insys CEO Michael Babich stepped down as CEO in November last year on the back of allegations that the company had promoted off label use through various channels. The allegations seem founded, and Insys has since paid out various settlements relating to this off label promotion, while a number of its sales reps have plead guilty to pharmaceutical sales fraud in what seems to be a pretty expansive network of sales channels. What does this mean?

Well, it makes it difficult to accurately assess the future sales of Subsys, because we aren't sure just exactly how much of the Subsys revenues to date was derived from above board issue, and how much was derived from off label administration.
We have written about INSY numerous times in the past, claiming it was not a name we wanted to be in due to the company's questionable ethics and reliance on a drug that has cost many their lives.
Going back to an article we first wrote about INSY some months ago, we pointed out that the company was being very cavalier with peoples lives.
Becuase of these contingent liabilities for INSY, we simply do not want to be involved with the stock. Remember a couple of month ago, former Insys employees were charged also for illegal kickbacks,
Two former employees of Insys Therapeutics, Jonathan Roper and Fernando Serrano, were arrested on Thursday for allegedly participating in kickback schemes involving doctors who prescribed the company's main drug, Subsys, a pain medication containing fentanyl.

Headlines linking Prince's death to a fentanyl overdose have raised the profile of the opioid; however, CNBC has previously reported on the dangers of these highly addictive drugs and the alleged illegal tactics some pharmaceutical companies have employed to drive sales.

These include allegations against specialty pharmaceutical company Insys, whose market cap is down about a billion dollars since last year. Company officials weren't immediately available to comment on the charges against Roper and Serrano.
The company may continue to have legal fall out, as litigation continues with legacy legal issues. Further, the company may see continued PR trouble going forward stemming from this issues. So the potential revenue stream of Syndros isn't enough for us to change our stance on the company.
Perhaps CEO Kapoor stepping down and the company replacing all top management and ushering in a name change could make us feel better from an ethics or PR standpoint.
If your remember, fentanyl has been reported to have played a part in the death of musician Prince,
So far, 2016 has seen an alarming number of fentanyl-related deaths, and late popular musician Prince was confirmed Thursday as another victim of this dangerous opioid. A report from the Midwest Medical Examiner's Office identified fentanyl overdose as the cause of his untimely death on April 21.
When it comes down to it, regardless of Subsys prescriptions stabilizing or not, INSY is simply a company that we don't want to be a shareholder of. It's simply not a company we could be proud to open. It is relatively rare that we let our ethics fully impose on our investing style, but when we do it is in the case of companies like INSY.
Syndros shows promise. Subsys is doing well to hold the company up for now. But with this management team and many liabilities still outstanding, our nerves and good conscious get the better of us with INSY.
We have no position.
Disclosure: I/we have no positions in any stocks mentioned, and no plans to initiate any positions within the next 72 hours.
I wrote this article myself, and it expresses my own opinions. I am not receiving compensation for it (other than from Seeking Alpha). I have no business relationship with any company whose stock is mentioned in this article.