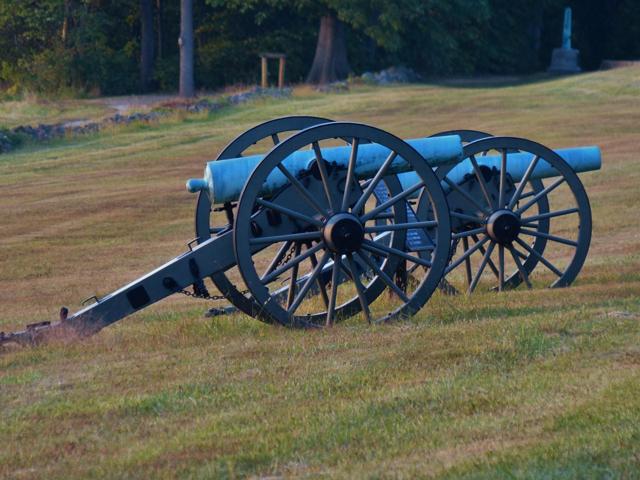 1865 was a rather eventful year. It saw the deaths of President Abraham Lincoln and his assassin John Wilkes Booth, the end of the Civil War, and a number of firsts - the first train robbery, the first speed limit law, the first patent for a coffee percolator, the birth of Cornell University, and British immigrant William Carter started his namesake company in Needham, MA, to manufacture adult and children's apparel.
Of course, a lot has changed since then. Carter's (NYSE:CRI) has since moved its headquarters to Georgia, moved exclusively to the children's side of the apparel ledger, ceased being a family-owned company in 1990, and became a publicly traded company. But what remains is a company that I anticipate as being a cornerstone of my portfolio for years to come.
Investment Thesis
I recently appeared on the Dividend Health Checkup podcast, where DGI Guy correctly surmised that the direction I was heading my portfolio in was the unoriginal idea that eventually all dividend growth investors run up against: to build a portfolio that can weather all kinds of environments, it must largely be made up of companies that can weather all kinds of environments. The most likely candidates for this are companies that are indispensable to the consumer.
Since everyone, their brother and their mother currently have that same idea (see the valuations of utilities versus their historical average, for instance), my quest for indispensability and income has led me (I think) a little bit off-the-beaten dividend growth path to a company that is indispensable for parents of young children.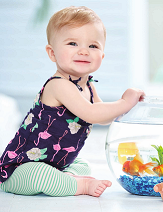 Through its near-ubiquitous Carter's and OshKosh B'gosh brands, as well as the Child of Mine, Just One You, Precious Firsts and Genuine Kids labels, Carter's represents the largest children's clothing and accessories line in the United States and Canada. Through 886 company-owned stores, as well as a prominent presence in Babies 'R Us, Macy's (NYSE:M), Kohl's (NYSE:KSS), Belk (OTCPK:BLKIA, OTCPK:BLKIB), Bon-ton (NASDAQ:BONT), J.C. Penney (NYSE:JCP) and Sears (NASDAQ:SHLD) stores, Carter's has a 16.9% percent market share in the U.S. and a 16% market share in Canada - double that of its nearest competitor in a highly fragmented market.
I bought in mainly because I largely don't see the story slowing down anytime soon. There are mainly three items that suggest to me that Carter's has a long runway of revenue growth ahead.
First, it plans to open up 250 or more stores in the next five years, with 130 slated for this year. The majority of these stores will be built with a side-by-side format, in which the company will have Carter's and OshKosh B'gosh brands side by side. Carter's has noticed that this store type is its best performing.
Second, in 2015 the company launched a new loyalty program which provides customers with rewards across the entire brand and product line. As a testament to its popularity, there were over five million customers signing up within four months of the program's launch. To get an idea of the magnitude of this, Starbucks (NASDAQ:SBUX) started "My Starbucks Rewards" in 2009, but did not reach five million users until 2012.
This is not to throw shade at Starbucks, but to highlight what it could mean for Carter's. In Starbucks' most recent quarterly conference call, CEO Howard Schultz noted that there is "an established pattern in which revenue growth from Rewards customers typically outpaces revenue growth from non-Rewards customers", and that the company was seeing "both incrementality of spend and increase in total profit per customer", directly attributable to the fact that they had joined the Rewards program.
What has happened at Starbucks could be extrapolated to countless other businesses, both public and private; customers who have signed up for a loyalty program spend more than those who don't. There's no reason to refrain me from extrapolating this proverb to Carter's.
Third, Carter's is continuing to grow its international presence. In 2015, less than 11% of its revenue came from international sources. As of July 2nd, it had 150 company-owned retail stores in Canada, but in other countries, Carter's handles moving product through either wholesale or licensing relationships and eCommerce.
However, it wasn't until 2015 that the company licensed retailers in Brazil, India, Chile and Europe to carry its products, and launched eCommerce capabilities in China. What is particularly exciting is that it has had 27 consecutive years of sales growth without tapping these markets. And with China alone expecting to be a $12 billion total addressable market, Carter's hope is that the country could contribute $100 million in sales by 2020.
How Are Things Now?
Those are some pretty exciting plans. But two large determinants in whether or not the company can actually pull it off is the state of its balance sheet and what it is doing with sales now.
On the liquidity side, its debt-to-asset ratio has consistently stayed within acceptable levels: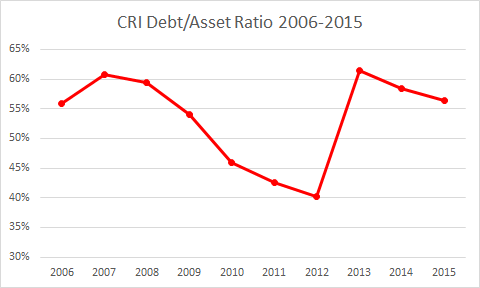 Carter's is also doing acceptably well in interest coverage:
As for profitability, its gross, operating and net margins have gently trended upwards over the past decade, meaning that the company is progressively becoming cheaper to operate, suggesting that more of the expected revenue growth over the next five years and beyond will go straight to the bottom line: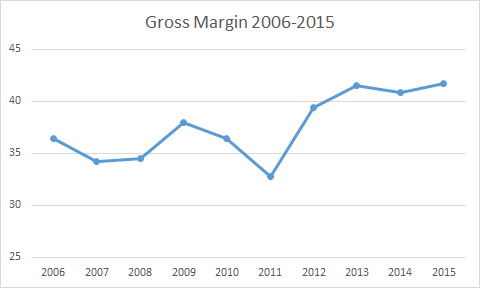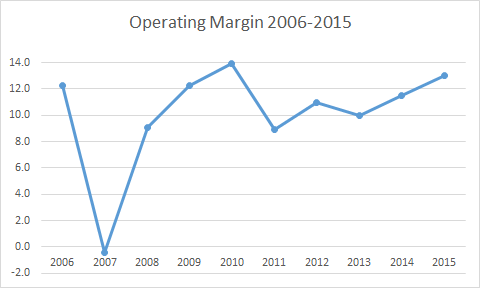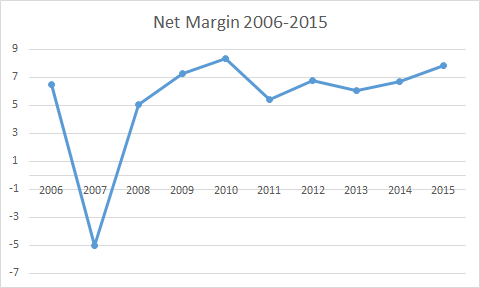 So not only does it have big plans, it appears that the company has the wherewithal to pull it off.
Shareholder-Friendliness
Carter's has removed almost 12% of its outstanding share count since 2012. However, as an income growth-oriented investor, my main impetus for buying an ownership stake in a company is how generous it is in cutting actual checks to its shareholders.
Carter's dividend growth from the institution of its dividend in 2013 until today has been fantastic: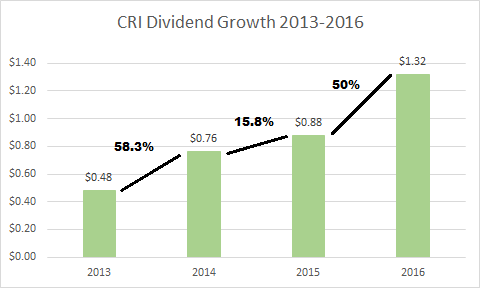 Equally encouraging is that the company has more than enough room to pay the dividend in the event that a recession would rob Carter's of earnings: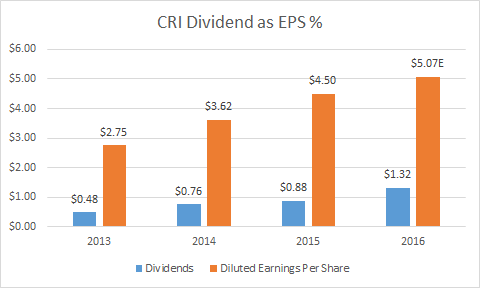 And though free cash flow is quite lumpy, it is in fact trending upward: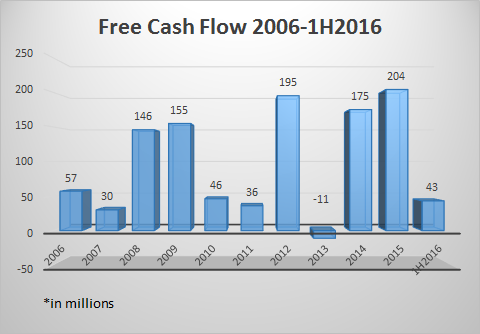 (The negative free cash flow number in 2013 was largely the result of non-routine capital expenditures - $54 million to open a distribution facility and $36 million to fund a new headquarters facility in Georgia.)
Valuation
On a historical P/E basis, Carter's isn't trading at an absolute bargain. But I could have done a lot worse: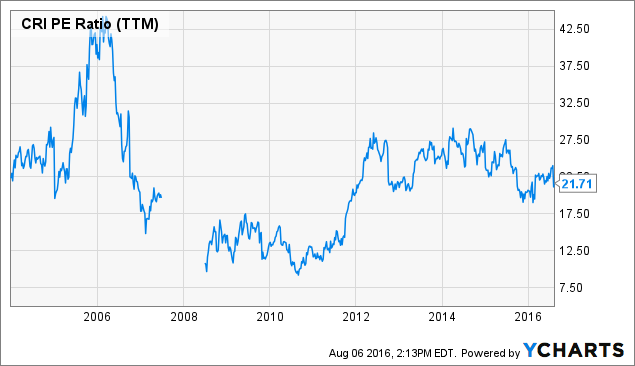 However, if we were to take the $5.07 expected full-year EPS for 2016 and multiply it by the current P/E, the resulting product is around 9% above where it is currently trading. For a company that very rarely trades under the magical 15 or even 20 P/E multiples, I'm willing to take that bet.
On a historical dividend yield perspective, my purchase here looks a bit better: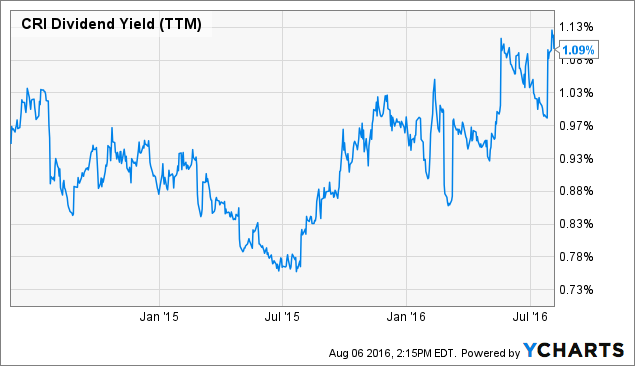 I would argue that due to its industry position and growth prospects, Carter's deserves a bit of a premium.
Summary
As an added kicker, in a nod to my self-imposed Investments with Integrity ethic, Carter's donates excess inventory nationally and internationally, among other things, and is a partner in the Pajama Program, a charity which provides books and pajamas for children in foster care and homeless shelters.
When there's another correction or recession, I have no doubts that I will have an opportunity to average down and improve my cost basis from the current $101.89. However, due to its historical track record, industry position and balance sheet, I am confident Carter's can be a bedrock of my portfolio until my babies have babies of their own.
I still am on the lookout for more companies to add to my portfolio. Feel free to "follow" me to find out what's next on the list. Happy investing!
Disclosure: I am not a professional investor, and as such, the companies and/or positions mentioned and any associated analyses are related to my own personal experience and expertise, and is not intended to be a recommendation to buy or sell. As everyone has their own risk tolerance, goals and needs, it is important that you perform your own due diligence.
Disclosure: I am/we are long CRI.
I wrote this article myself, and it expresses my own opinions. I am not receiving compensation for it (other than from Seeking Alpha). I have no business relationship with any company whose stock is mentioned in this article.