Source: Enterprise Products Partners
Since peaking in early July 2016, oil has fallen into another bear market, dragging shares of even the highest quality, high-yield blue chip midstream MLPs down with it. Such is the case with Enterprise Products Partners (NYSE:EPD), which is down close to 10% in the past few weeks.
However, long-term investors know that such dips represent a glorious opportunity to buy high-quality dividend growers at lower prices, and thus lock in higher yields. Read on to find out four reasons that Wall Street is wrong to punish Enterprise in the short-term, and why you should take advantage of this opportunity to load up on one of America's best dividend growth stocks.
Q2 results show oil crash is hardly making a dent in cash flow
| | | | | | | |
| --- | --- | --- | --- | --- | --- | --- |
| Metric | Q2 2016 | Q2 2015 | YoY Change | First Half 2016 | First Half 2015 | YoY Change |
| Adjusted EBITDA | $1.315 Billion | $1.296 Billion | 1.5% | $2.642 Billion | $2.622 Billion | 0.8% |
| Distributable Cash Flow | $1.040 Billion | $980 Million | 5.3% | $2.093 Billion | $2.017 Billion | 3.8% |
| Weighted Average Units Outstanding | 2.093 Billion | 2.002 Billion | 4.5% | 2.067 Billion | 1.985 Billion | 4.1% |
| DCF/Unit | $0.50 | $0.49 | 0.7% | $1.01 | $1.02 | -0.3% |
| Distribution | $0.40 | $0.38 | 5.3% | $0.795 | $0.755 | 5.3% |
| Distribution Coverage Ratio | 1.25 | 1.30 | -3.8% | 1.27 | 1.35 | -5.4% |
Source: Earnings release

Source: Enterprise Products Partners earnings release.
Despite the worst oil crash in over half a century, Enterprise Products Partners' long-term, fixed-fee, contracts helped to maintain both operating margins, and most importantly of all, distributable cash flow, or DCF. This incredible cash flow stability is courtesy of Enterprise's immense network of wide moat, and cash flow rich assets, which are diversified into all sectors of the midstream industry.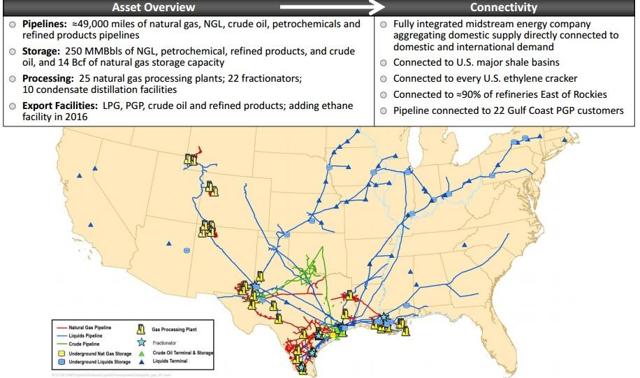 Source: Enterprise Products Partners Investor presentation.
Since DCF is what pays the dividend, that is what investors need to focus on most, especially the distribution coverage ratio. Enterprise's long track record of rock solid coverage ratio over the years has meant not just one of the most secure payouts in the industry, but also allowed for some of the most consistent distribution growth. That's even during periods of immense economic and energy industry distress, such as the 2002-2003 recession, and financial crisis.

Source: Enterprise Products Partners investor presentation.
Best of all, with $6.6 billion in new projects coming online between now and 2018, Enterprise Products Partners' DCF is sure to grow nicely, resulting in even stronger payout security, and ongoing distribution growth. That's even if energy prices remain low for the next several years.
Payout profile remains secure as a bank vault
| | | | | |
| --- | --- | --- | --- | --- |
| MLP | Yield | Q2 Distribution Coverage Ratio | 10-Year Projected Payout Growth | 10-Year Projected Total Return |
| Enterprise Products Partners | 5.9% | 1.25 | 4.5% | 10.4% |
| S&P 500 | 2.0% | 2.56 | 5.8% | 9.1% |
Sources: earnings release, Yahoo Finance, Fastgraphs, FactSet Research, Multpl.com, Moneychimp.com
In the long-term, total returns are generated by only two things; rising unit price, and distributions. And since a rising distribution is a strong price growth catalyst, a good rule of thumb for future total returns is yield + payout growth.
As you can see, despite oil prices remaining in the toilet, analysts expect Enterprise Products Partners to maintain a moderate distribution growth rate over the next decade. And while all long-term analyst forecasts should be taken with a large grain of salt, in this case, thanks to the stable nature of this industry, I view that payout growth target as reasonable. Combined with the highly attractive current yield, this should easily allow for total returns in excess of the market's historical 9.1% CAGR since 1871.
Which may not matter to some income investors, who are primarily interested in the income Enterprise generates. However, in my opinion, everyone's default investment setting should be a low cost, index ETF, such as the Schwab Broad Market ETF (NYSEARCA:SCHB), with its unbeatable 0.03% expense ratio, which is why it's important that any and all individual stock investments generate superior projected total returns. After all, as great as Enterprise Products is, it still represents a greater risk than owning SCHB, which gives you a stake in America's largest 2,000 companies.
Balance sheet among the strongest in the industry
| | | | | |
| --- | --- | --- | --- | --- |
| MLP | Total Debt/Adjusted EBITDA | Adjusted EBITDA/Interest | Debt/Capital | S&P Credit Rating |
| Enterprise Products Partners | 4.17 | 5.47 | 49% | BBB+ |
| Industry Average | 8.79 | NA | 62% | NA |
Sources: Morningstar, earnings presentation, Fastgraphs
One of the most important things for all dividend investors to keep track of is the strength of a company's balance sheet. After all, as Kinder Morgan (NYSE:KMI) showed, an attractive yield, and fast growing dividend can't protect investors if those things are bought for through excessive leverage, and an unsustainable debt load.
Source: Enterprise Products Partners earnings presentation.
Fortunately Enterprise Products' management has always taken a long-term, conservative approach to debt. Rather than load up on cheap loans like so many other midstream MLPs during the boom years, management made a habit of retaining a significant amount of cash flow, both to protect the payout, and to fund future growth.
Which not just means that the MLP is well situated to keep growing even if energy prices don't recover for some time, but it also protects unit holders from excessive dilution that makes future distribution growth harder, such as has been the case with competitors such as Energy Transfer Partners (NYSE:ETP).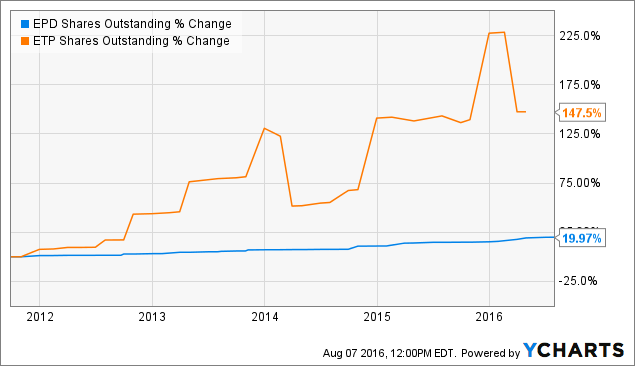 EPD Shares Outstanding data by YCharts
In fact, thanks to Enterprise's conservative capital allocation strategy over the years, it holds a BBB+ credit rating, the strongest rating in the industry. In fact, only one other midstream MLP holds that distinction, Magellan Midstream Partners (NYSE:MMP), whose management has always maintained a similarly disciplined approach to steady, debt light growth.
Management team that can't be beat
Speaking of excellent management, Enterprise has its interest well aligned with those of retail investors, thanks to its 33% ownership stake.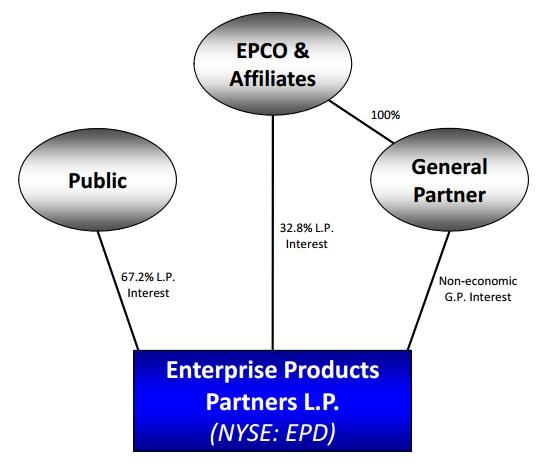 Source: Enterprise Products Partners investor presentation.
Better still, while Enterprise Products Partners does have a general partner, it bought out its incentive distribution rights years ago, meaning that all of its marginal DCF goes to increased payouts to regular investors. However, the biggest reason that investors should love Enterprise's well-seasoned management team, is its superior capital allocation discipline.
| | | | | |
| --- | --- | --- | --- | --- |
| MLP | Operating Margin | Return on Assets | Return on Equity | Return on Invested Capital |
| Enterprise Products Partners | 15.6% | 5.1% | 12.2% | 7.60% |
| Industry Average | 7.1% | -0.1% | -0.3% | NA |
Source: Morningstar, Gurufocus
Enterprise never reaches for growth at any cost, which all too many competitors have done, resulting in unprofitable growth that actually destroys unit holder value. For example, in December of 2014 Enterprise cancelled its planned Bakken pipeline because it found there was insufficient interest from oil producers to guarantee sufficient minimum volume commitments to ensure an adequate return on invested capital. Thanks to such disciplined investment strategies, Enterprise's margins and returns on capital are among the best in the industry.
Which means that each dollar of investor capital that goes towards growth projects results in more DCF/unit, and thus supports stronger future payout growth.
Risks to consider
While I remain extremely bullish on Enterprise's long-term growth prospects, and own units myself, there are three risks current and prospective investors need to consider.
First, although 80% of Enterprise's operating margins are guaranteed by long-term contracts, it's not 100% immune from falling energy prices. That's especially true when its long-term contracts expire, and it needs to renegotiate new contracts with oil producers. While I expect energy prices to eventually recover, should they remain low for the next two to three years, Enterprise's cash flows may find themselves pressured by contracts rolling over at lower rates.
Which brings me to risk number two. If energy prices stay suppressed for a long time, then Enterprise could find itself starved of attractive growth opportunities. After all, management has proven its unwillingness to invest into any project that isn't fully contracted for ahead of time. However, that requires a high level of confidence and certainty that many oil and gas producers simply don't have at today's commodity prices.
Finally, Enterprise, like all MLPs, is highly sensitive to interest rates. Now don't get me wrong, this is a short-term risk that only applies to the immediate unit price. That's because Enterprise has been around long enough to prove it can profitably grow even at much higher interest rates. In addition, its massive scale means it can borrow much cheaper than smaller, less well-diversified competitors.

Source: Bureau of Labor Statistics
That being said, the latest economic news, specifically blowout jobs numbers for June and July, could very well mean that the Fed raises interest rates in September, December, or both. This could easily result in a strong selloff in MLP units, including Enterprise Products Partners.
And while such an event would be great for long-term investors, anyone needing to sell units to cover short-term expenses, such as retirees, needs to reconsider owning this, or any MLP due to short-term price volatility.
Bottom line: Don't miss out on a chance to profit from Wall Street's short-sighted stupidity
Don't get me wrong, I'm not saying that Enterprise Products Partners has necessarily hit bottom. However, when it comes to this ultimate sleep well at night, or SWAN, pipeline blue chip, I welcome a falling price; the more severe, the better.
After all, when it comes to top quality, high-yield midstream MLPs, there simply is no better name than Enterprise Products Partners, with its world class, conservative management team, unbeatable track record of distribution growth, strong balance sheet, and unshakeable cash flow security, which is why I recommend that all dividend lovers consider initiating or adding Enterprise Products Partners to their long-term, diversified income portfolios. Trust me, you won't be disappointed with the results.
Disclosure: I am/we are long EPD.
I wrote this article myself, and it expresses my own opinions. I am not receiving compensation for it (other than from Seeking Alpha). I have no business relationship with any company whose stock is mentioned in this article.