The second quarter of 2016 saw several major positive improvements at Devon Energy Corporation (NYSE:DVN) that will continue to improve its financial position going forward. By selling off acreage in the Midland Basin, East Texas, Oklahoma and elsewhere Devon Energy completed its divestment program, raising a gross $3.2 billion in the process. Not all of that had been received by the end of June, but as the cash rolls in "[t]he majority of the sales proceeds will be utilized to reduce debt and position us to further accelerate investment in our best-in-class U.S. resource plays, led by the STACK and Delaware Basin," according to Devon's CEO.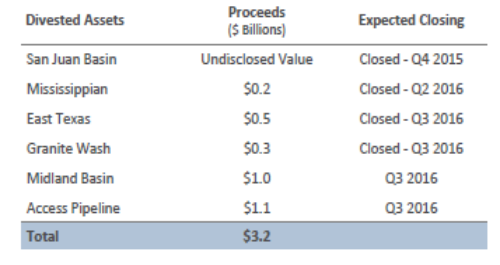 Source: Devon Energy Corporation Operations Report
For those wondering why Devon Energy Corporation is unloading non-core acreage, here is why. Back in December 2015, Devon Energy bought Felix Energy to increase its position in the very exciting STACK region in Oklahoma and to bulk up its Powder River Basin acreage for future development. Out of the $2.5 billion Devon Energy paid, $1.15 billion was funded with cash and the rest was covered by equity.
Considering the hefty debt load Devon Energy was already carrying, management deemed it prudent to sell off upstream assets that the company had no plans of developing anytime soon. This divestiture program also included selling its 50% stake in the Access Pipeline up in Alberta, which was announced at the very beginning of Q3, that supports its steam-assisted gravity drainage operations at the Jackfish complexes. "At least two-thirds of the sales proceeds are expected to be utilized for debt reduction," which would cut Devon's debt load by ~$2 billion. This will also reduce Devon Energy's interest liabilities, enhancing its cash flow generation.
On August 4, Devon Energy put out a press release noting that it put out a tender to buy up to $1.2 billion of its outstanding debt with a priority put on its 2017 and 2018 maturities. The firm is looking to buy any and all of its 8.25% notes due 2018 ($125 million outstanding) and 6.3% notes due 2019 ($750 million outstanding), with a level one priority on buying up its 2.25% notes due 2018 ($750 million outstanding). Management is swiftly following through with debt reduction efforts, a good sign.
At the end of Q2 2016, Devon had ~$9.3 billion in debt ($350 million due Q4 2016) when excluding debt from its EnLink midstream family. Bringing that down closer to $7 billion, especially if debt reduction is continued in a $50-$60/barrel crude pricing environment, is a bullish move. When factoring in the expected cash proceeds from its asset sales, Devon Energy's net debt load is around ~$4.7 billion.
On the liquidity front, before including expected proceeds, Devon Energy's current assets of ~$4 billion exceeds its current liabilities by slightly over $1 billion. That includes its upcoming maturities, with no major amount of debt due after Q4 2016 until 2H 2018. Add in an undrawn $3 billion revolving credit facility and a cash infusion and Devon Energy has plenty of liquidity and/or access to liquidity with a manageable debt burden.
Higher crude oil prices pushed Devon Energy's operating cash flow up from $149 million in Q1 to $335 million in Q2, which was partially weighed down by lower natural gas prices (which didn't rebound until June). That wasn't enough to cover its $489 million in capital expenditures (includes $73 million in capitalized interest and G&A expenses) and $33 million in dividend payments, but it did go a long way in bridging the gap. The sharp jump in Henry Hub pricing at the end of Q2 will be felt this quarter, especially as one of Devon Energy's core assets is in the natural gas heavy Barnett shale play.
Lease operating expenses fell by 26% year-over-year and were 5% below Devon's low point of its guidance, a bullish sign that its cost saving initiatives continue to yield fruit. Reduced labor costs (primarily through a smaller headcount), lower third-party rates and investments in "power and water-handling infrastructure" were key to bringing down ongoing operating costs. On the G&A front, Devon spent 30% less than in Q2 2015 as well.
As the upstream player significantly scaled back its drilling activity and sold off non-core assets, its total production base fell from 674,000 BOE/d in Q2 2015 to 644,000 BOE/d in Q2 2016. Output from its core asset base only fell by 2,000 BOE/d to 544,000 BOE/d, with liquids taking up a marginally bigger share of its production streams offsetting the small decline. Due to gains on the ground, Devon Energy's core assets were able to exceed production guidance.
Meramec update
While Devon Energy's company-wide production base is declining, its STACK output has grown from 59,000 BOE/d in Q2 2015 to 91,000 BOE/d last quarter. Its STACK oil production tripled from 6,000 bo/d to 17,000 bo/d while its NGLs output moved from 16,000 bpd to 29,000 bpd, showcasing the impact Devon's shift towards the Meramec and Woodford horizons are having on its STACK operations. Crude oil production generates the strongest margins for Devon Energy.
At the end of June, Devon was running two rigs in the STACK region, which houses productive horizons like the Woodford, Meramec and other plays with promise like the Osage. Its rig count will go up by two this quarter and an additional two next quarter as the upstream operator boosts its 2016 STACK capex budget from $325 million to $450 million. The sale of its Access Pipeline stake is being used to help cover its STACK ramp up, with the impact from the increased investments guided to be felt in early 2017. Devon Energy owns 430,000 net acres in the STACK region, including 90,000 net acres in the over-pressurized oil window of the Meramec.
Devon Energy brought 12 operated Meramec wells online in Q2 that were online long enough to record 30-day IP rates, which came in at an average 1,400 BOE/d (60% crude mix). The average 30-day IP rates of the 16 non-operated wells Devon participated last quarter was 1,300 BOE/d (also 60% oil cut).
On the back of solid production results, Devon increased its well productivity estimates and boosted its incremental well drilling economics once again. Part of the increase is due to the upstream firm utilizing bigger and more intense completion designs, part is due to Devon getting a better idea of the geology of the play, and part is due to the company's delineation efforts (figuring out the most productive parts of the play).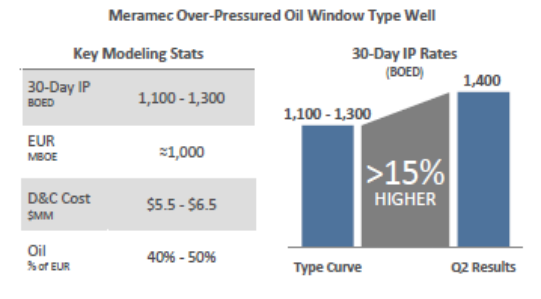 Source: Devon Energy Corporation Operations Report
Consistent with the results of other Meramec players, Devon Energy noted that well productivity improves as upstream operators move northwest across the play. The Meramec STACK play is centered around Kingfisher, Blaine and Canadian counties in Oklahoma with core STACK acreage located around Blaine County's eastern region and the area around where the three counties convene. Devon Energy plans to primarily utilize 10,000-foot well laterals going forward that "will lead to significant type curve improvements."
Delaware Basin update
Over in the Delaware Basin, Devon Energy's production moved up by 1,000 BOE/d year-over-year to 65,000 BOE/d. However, its production mix shifted slightly towards NGLs and dry natural gas. The company exited Q2 with no rigs operating in the area after bringing nine wells online. As natural gas prices have firmed up materially and oil prices recovered, Devon Energy plans to add a rig to the play in September and is currently considering increasing that to three rigs in Q4 depending on where prices go. Devon is also aiming to run one frac crew in the Delaware during the second half of 2016.
Management has allocated $250 million to its Delaware Basin capex budget, $50 million more than its initial guidance, as it prepares to start drilling again. Like with its increased STACK activity, the impact of its marginally higher capex budget will be felt in early-to-mid 2017. Part of its increased activity will probably be directed towards the Leonard shale play after the North Thistle 2 State 1H well, with a 5,000-foot lateral tapping into the interval in Lea County, New Mexico, had a production trajectory (30-day IP rate of 1,700 BOE/d) that exceeded expectations by 70%. Devon is also developing the Second Bone Spring horizon, which saw five wells come online with production rates exceeding guidance by 50% last quarter.
Final thoughts
On the back of the company's recent operational gains combined with lower LOE, G&A and interest expenses, management now sees Devon Energy Corporation capable of holding its production base flat (at estimated Q4 2016 levels) while spending $1.6 billion a year on OpEx. That is down from its previous guidance of $2 billion, and is roughly what the company plans on spend on an annualized basis in Q4 2016. During its Q2 2016 conference call management noted (emphasis added);
As we (Devon Energy) previously announced in June, we are increasing our upstream capital investment by approximately $200 million to a range of $1.1 billion to $1.3 billion in 2016. This incremental capital investment will be deployed entirely in the STACK and Delaware Basin beginning in the third quarter. By year-end, we expect to add as many as seven operated rigs between these two areas. The annualized upstream capital spend associated with this activity at year-end is approximately $1.6 billion. While it is still a bit too early to provide any formal targets for 2017, I can tell you that this level of investment is sufficient to generate growth in oil production and stabilize Devon's top line production profile by mid-year 2017."
Exiting the fourth quarter of this year, Devon Energy Corporation's production profile will have "stabilized" and the firm will be on track to begin growing total production volumes by mid-2017, with oil output growth happening before then. At that level of spend, Devon Energy sees itself being able to achieve cash flow neutrality with WTI in the $40s/barrel, possibly at the lower end of that range now that Henry Hub pricing has rebounded closer to $3/Mcf. Management commented (in response to a question about whether Devon Energy's breakeven oil price is in the upper range of $40s/barrel);
[G]as prices have gone up significantly. And so that has provided significant incremental cash flow to us, as well as some improvement on the NGL side as well. So it's probably less a product of oil prices - the breakeven - maintenance capital on oil prices going down as it is the fact that our assumptions around what gas prices we can achieve, along with the oil, has allowed higher cash flow to allow us to keep production flat."
Devon Energy Corporation is making the right moves with the hand it has been dealt. The company was true to its commitment to cut debt, which will favorably impact Devon Energy Corporation's risk-reward profile for investors. Q2 was a solid quarter for the upstream name.
Disclosure: I/we have no positions in any stocks mentioned, and no plans to initiate any positions within the next 72 hours.
I wrote this article myself, and it expresses my own opinions. I am not receiving compensation for it (other than from Seeking Alpha). I have no business relationship with any company whose stock is mentioned in this article.