By Dr. Paul Price
(Dr. Paul Price is a regular contributor to the LCP newsletter. To receive timely trade ideas from Paul - first - take a free trial here.)
Accessory designer Kate Spade (NYSE:KATE) took it on the chin last Wednesday after reporting disappointing Q2 earnings. Management said that 2016 is now likely to come in at $0.63 to $0.70 per share versus analyst estimates for $0.78.
Shares which trended as high as $42.90 during 2014, closed on Aug. 5, 2016 at just $17.51. Did last week's decline make Kate Spade look attractive for purchase? Nope.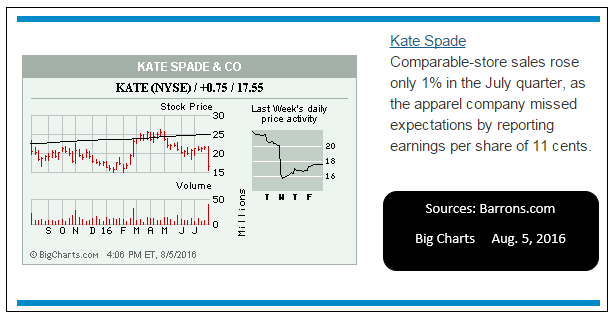 At the mid-point of the new earnings projection KATE sells for about 26.5x this year's profits. The company, which used to be called Fifth & Pacific as well as Liz Claiborne, was ravaged by The Great Recession. EPS fell from $2.99, in 2006, to losses in each of the six years from 2008 through 2013.
Deficits and asset write-downs eroded KATE's book value from $20.65 per share to a negative net worth. Dividends were justifiably eliminated in 2009, and remain in abeyance.
What was remarkable was the stock's recovery to north of $42, more than 171 times KATE's barely positive 2014 EPS.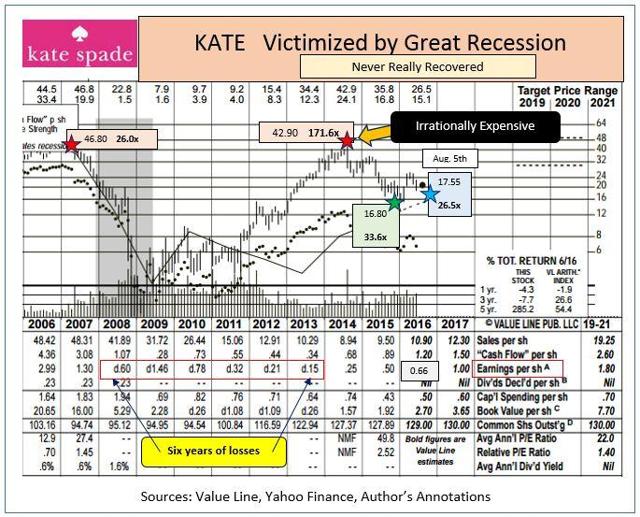 Weak fundamentals, no yield and a high valuation make the stock an unworthy choice. How about industry rival Coach (COH)? Coach survived the 2008-09 recession much better than Kate Spade did.
COH's FY 2009 profits (FYs end on the Saturday closest to June 30th) dipped slightly but then expanded for four straight years. Dividends were initiated in 2009, and have grew from $0.08 to $1.35 annualized by 2014.
Coach shares rocketed from under $12, at 2009's nadir, to almost $80 in early 2012. Things looked promising until sales and profits stared declining during fiscal 2014. EPS may have bottomed, though, and the stock bounced from last summer's low of $27.20 to close last week at $42.08.
Value Line thinks earnings can ramp up to near the old peak over the coming 3 to 5 years. Its 2019-2021 projected price range runs from $50 - $70, not too bad when accompanied with COH's current yield of 3.21%.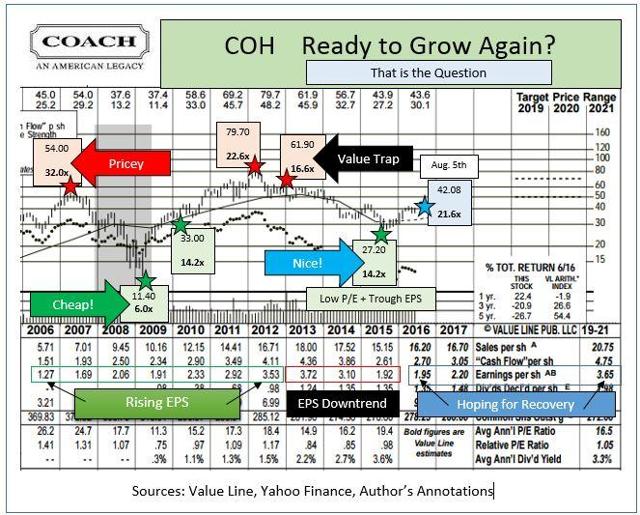 Coach's balance sheet is solid and the new management's plans appear to be working. After the 54% move from last year's bottom, and at 21.6x this year's numbers, the stock is only a buy if you truly believe in the recovery story.
Michael Kors (NYSE:KORS) is the other major publicly traded peer. KORS came pubic at $20 per share in December of 2011. Earnings that fiscal year (ended Mar. 31, 2012) were $0.78 per share. EPS then ramped up dramatically, to $4.28, through FY 2014.
While the rate of growth has slowed, KORS carved out record high earnings again in FY 2015 and appears on track for another gain, to about, $4.55 or better, this year.
Shares that topped out at $101 (red-starred) dropped as low as $36.60 last summer. KORS gave traders an even better, second chance opportunity to buy at under $35 this past January (green-starred).
The stock made a quick 70% pop to near $60 before falling back to close last week at $50.41. That's just 11.1x KOR's current year estimate versus its average P/E of 16.8x.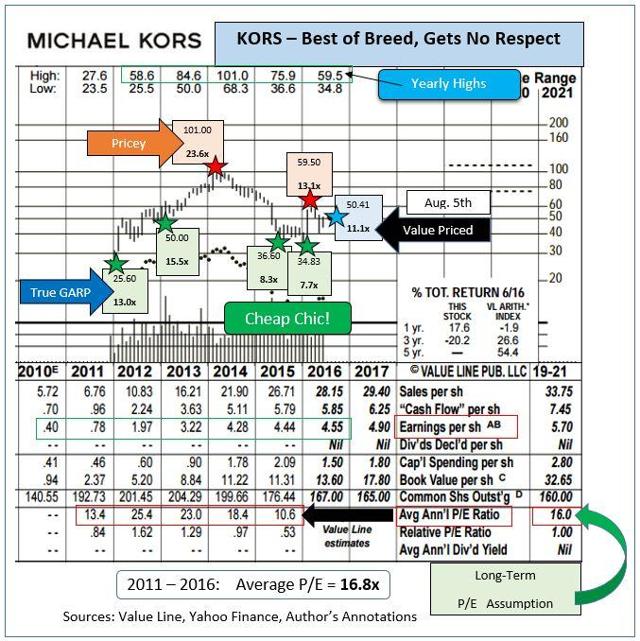 What is Michael Kors worth? Assigning a more typical multiple would support a $70 - $76 target price over the next 6 - 12 months. That's not farfetched at all. KORS peaked between $75 and $101 during all three calendar years 2013 through 2015. Sales and earnings are higher now.
KORS balance sheet is a thing of beauty. As of April the firm held over $1 billion in cash and receivables and almost no debt. There is no defined pension plan and no preferred shares outstanding.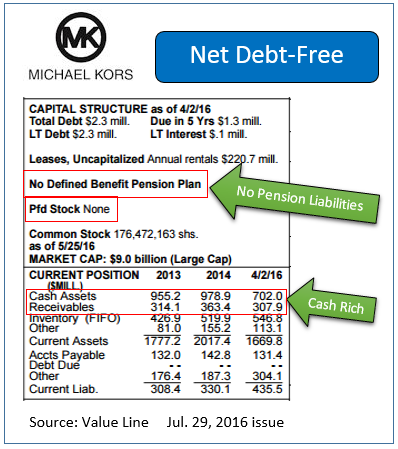 Independent analysis from Standard & Poors suggests my goal might be seen as too conservative. They carry KORS with a 4-star (out of 5) BUY rating while noting the company's high quality.
Michael Kors receives S&P's highest possible rank in terms of current price to fair value. S&P thinks KORS is worth over $91.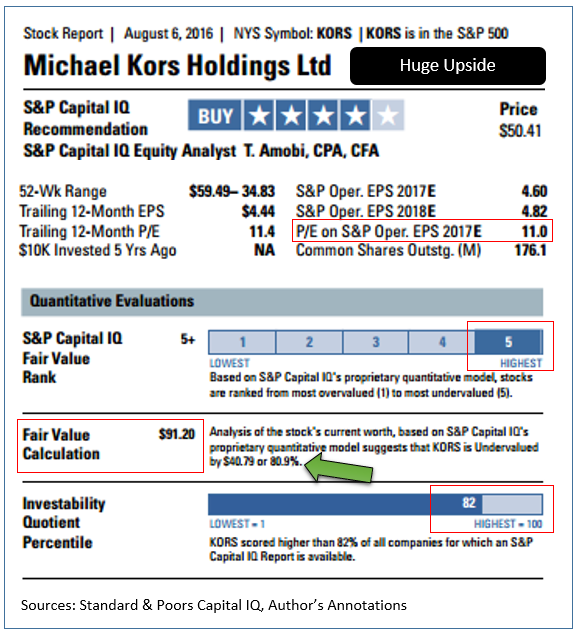 Michael Kors offers superior fundamentals compared with Kate Spade or Coach. It sells for a lower multiple and boasts better financial underpinnings. Why mess around with KATE or COH when KORS is available at a great mark-down?
Option writers who like to play around the edges can still get generous premiums for committing to buy through Jan. 19, 2018. On Aug. 5, 2016, the $55 strike was paying about $11.40 and the more aggressive $60 put was garnering around $14.60 per share.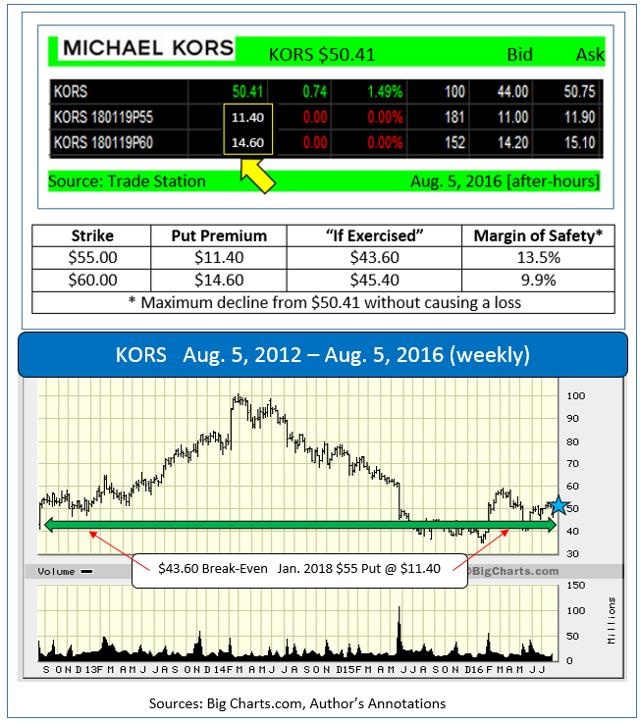 Maximum profit on any option sale is keeping 100% of the premium received up front. In these examples it would total $1,140 or $1,460 per contract respectively. The worst-case scenarios would be forced purchase of 100 shares per contract sold at net prices of either $43.60 or $45.40.
KORS has traded above those very conservative entry points greater than 80% of the time during the past four years.
Buy some shares, sell some puts or consider doing both.
Disclosure: Long KORS, Long COH (an older position), short KORS put options, short COH covered call options.
Disclosure: I am/we are long KORS, COH.
I wrote this article myself, and it expresses my own opinions. I am not receiving compensation for it (other than from Seeking Alpha). I have no business relationship with any company whose stock is mentioned in this article.