Once again, Amgen (NASDAQ:AMGN) beat estimates and raised guidance. Sales in the most recent quarter increased 6% and non-GAAP EPS grew 11%, marking the ninth consecutive quarter in which earnings came in ahead of the consensus. The short-term outlook has improved thanks to delays from biosimilars, and management now expects sales between $22.5 billion and $22.8 billion, and EPS between $11.10 and $11.40, for FY16. Analysts have revised their forecasts higher as well, and we believe Amgen can grow earnings between 9% and 10% this year. New competition from biosimilars will remain a headwind, but the company should offset these pressures thanks to recent product launches and a strong pipeline. It has room to expand margins, and we think shares are attractively priced at a forward P/E of 15.6.
Amgen has lost share in some key drugs in recent years due to new launches from rivals. Competition in the Neutropenia space has increased in both the US and Europe as competitors introduced their own offerings to challenge Amgen's Neupogen and Neulasta drugs. With Pfizer (NYSE:PFE) and Novartis (NYSE:NVS) set to enter the US market in 2017, things won't get easier for the company. In addition, Amgen's top-selling drug, Enbrel, is losing share. The company is still growing revenues for the drug, but it is relying solely on price rises (Enbrel sales grew 10% thanks to a double-digit increase in price), which we don't think is sustainable. But the company is taking steps to overcome these pressures by investing in more efficient manufacturing processes and focusing on cutting costs. According to Morningstar, Amgen's biologics are "vulnerable to biosimilar competition because of their age and ease of manufacturing", and we think the productivity improvements will help the company be more competitive going forward. Finally, Amgen's diverse drug portfolio and strong pipeline (Figure 1) should allow the firm to grow revenues as ageing drugs continue to lose share.
Figure 1: Amgen Pipeline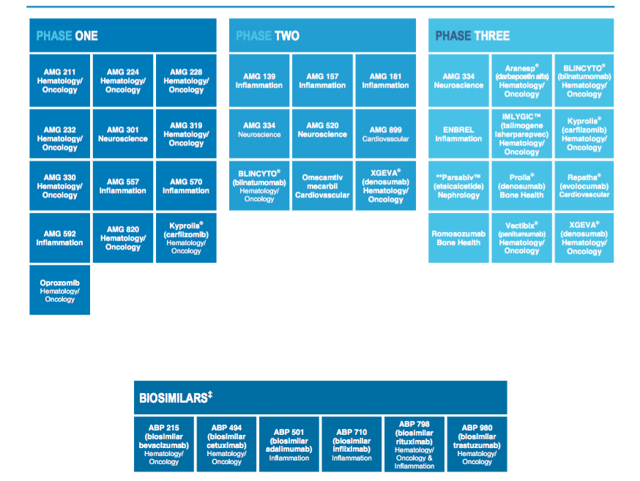 Source: Amgen website
Going forward, we expect Amgen to grow revenues 1-2% and earnings 2-3% annually, on average, over the next five years. We think the growth will be top-heavy in the short term, and that sales will increase closer to 5% this year as a result of competition delays to Neulasta and Epogen. The focus on manufacturing efficiencies and cost cuts should allow margins to expand further. In the latest quarter, non-GAAP operating margin expanded to 51.4%, as greater manufacturing productivity and R&D savings more than offset higher SG&A expenses. Amgen is edging closer to management's long-term target of 52-54% by 2018. We think management can deliver here, and that operating margin will reach the midpoint of this range within three years. Based on a conservative EPS estimate of $11.10 and a forward P/E of 16.7, we project a 12-month price target of approximately $185 (a 6.7% premium to the current price).
Conclusion
Thanks to consistent earnings growth, Amgen has outperformed the S&P 500 over the past three, five, ten, and twenty years. After the latest quarter, we don't see any reason to suggest that the company won't continue to do so. Recent product launches (Prolia, Repatha, and Xgeva) and a strong pipeline will offset headwinds from new biosimilar competition, and the company can expand margins further through productivity gains and costs cuts. Shares are undervalued by 6.7% based on our one-year price target, and the 2% dividend yield adds to total return. We think the Fed will keep interest rates where they are for the rest of the year, and that stocks will climb higher in 2016. Expect AMGN to continue to outperform.
Disclosure: I/we have no positions in any stocks mentioned, and no plans to initiate any positions within the next 72 hours.
I wrote this article myself, and it expresses my own opinions. I am not receiving compensation for it (other than from Seeking Alpha). I have no business relationship with any company whose stock is mentioned in this article.