Introduction
Recently I wrote an article with a format that seemed to take hold with folks. It was inspired by something that someone said on our podcast. One of our guests mentioned that Warren Buffett uses a 10 year history of data when looking at his companies. In keeping things simplistic, he looks at the first 3 years of that 10-year period vs. the last 3 years of that period. That is easy enough. That gives cycles time to happen. That gives products time to grow. That gives management time to change. All things considered, one should see growth in all the important categories over those two time periods. As I am nowhere close to Buffett in terms of investing (or one liners!), I took a page from his book here.
I thought I would take a look at a company that I have been reviewing recently. I have shares of Emerson Electric (NYSE:EMR), but understand that they are only as good as the macro economy.
The data used here comes from Guru Focus. It represents the Fiscal Years 2006 to 2015.
Revenue, Net Income and Margin
Below are six charts that show two cuts of revenue, net income and margin. The charts on the left show the actual numbers. The charts on the right show the year over year change. The first thing that stands out is that revenue has been relatively flat for 10 years. Based on the first three year average vs. the last three-year average revenue is up just 7%. This went straight through to the bottom line where net revenue was also up just 7%. Last, while margin had struggled in 2013 and 2014, the 2015 number was the highest of the last ten years.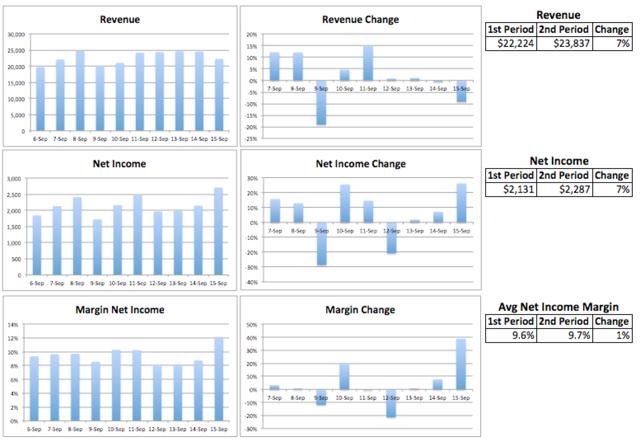 Free Cash Flow, Dividends and Debt
As a dividend investor, I love the cash flow section. Things were going well in terms of cash flow up until 2015. Over the past 10 years, FCF did increase 13%. That is relatively small scale to the 67% increase in the dividend. This shows through in the payout ratio being up 36% on average. The 2015 number was almost near 70%. That is a little high and definitely something that we want to keep an eye on going forward. The reason it is so high is not because of a generous management team handing out big dividends, but instead a reduction in FCF in FY2015. It is a tough balance, as management has to make a decision what to do with the cash. Returning it to shareholders is good, but it can only grow as fast as it has grown through successful growth in revenue or margin. As we saw in the section above EMR did not really have either of those. Thus it will be important to research further the future growth potential to ensure that the dividend can keep growing.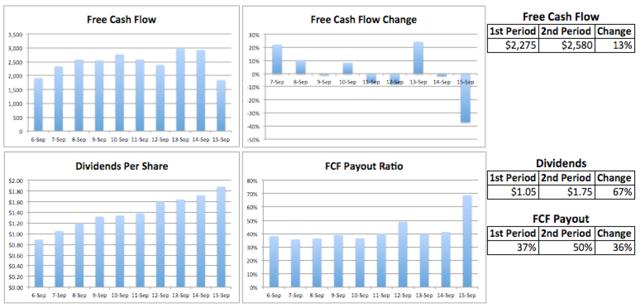 Another item that can hold the company back is too much debt. Debt was up a little, but has been pretty flat over the past 7 years. The debt to net income ratio is a bit troubling but relatively stable over the time period. It did grow over the past 10 years by around 13%. It is worth noting that the S&P credit rating for EMR is A.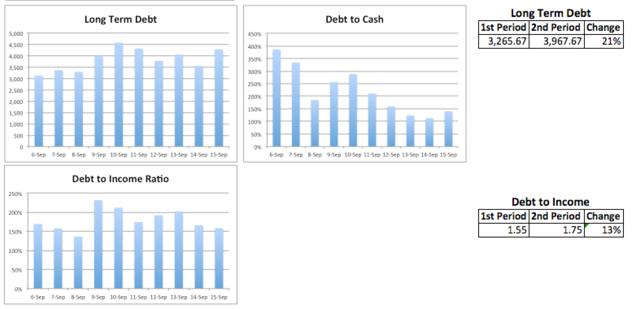 Cash, ROIC and Shares Outstanding
First, lets start with some good news. EMR has done relatively well at retiring shares. The share count is down 13% from the first time period to the second time period. This helps grow the 'per share' metrics and ultimately leads to the shareholders owning a bit more of the company over time.
Also, while debt has grown, so has cash. The company's cash position is up huge: 164%. The roughly $3B in cash is a nice cushion against the $4B in debt. Last, it is important to make sure that management is making a good return on that cash. The ROIC has been relatively unchanged, but is still at a solid 20%. I would take this as good news.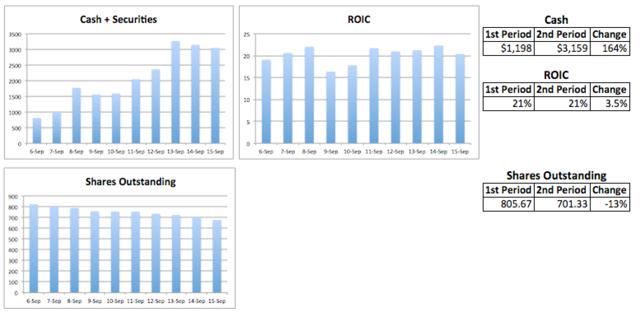 Future
EMR is well positioned in its field. That being said, it sure follows some of the macro trends. It will do well if the economy starts to grow. If the economy does not grow then it will continue to limp along. I don't anticipate any incremental declines in revenue it is really just a question of how long can we hang on to the dividend at current levels until the environment turns in EMR's favor. I would not be rushing in to invest in EMR today. I believe shares are fully valued.
Below in Fast Graphs you can see that we are nearing the bottom of expectations. There is some modest growth over the next 2 years, but shares trade at a premium to its historic P/E ratio.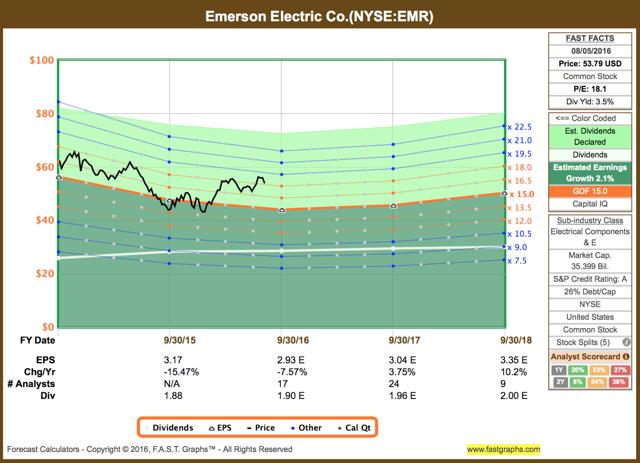 Conclusion
EMR is a tough one. You want to love it for the history of its dividend. As I have shown above, the past 10 years have not been particularly good for EMR. The company has been successful at maintaining its revenue. It is a little bit of a mixed bag as things stand. In my Good vs. Bad chart below you can see that there is 5 Good, 4 Medium and 3 Bad. The debt is getting worse and the payout ratio is getting worse. Those things are not that great. As I mentioned above the cash position helps offset the debt position.
As always, I am looking at full fiscal years, so keep in mind additional research would need to be done on the past few quarters to verify the trends seen above.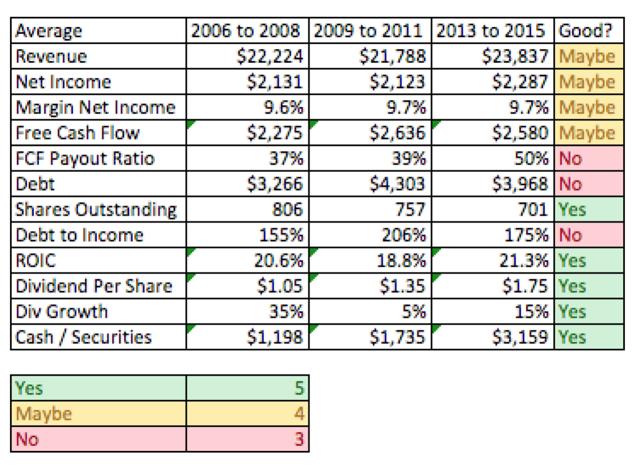 Disclosure: I am/we are long EMR.
I wrote this article myself, and it expresses my own opinions. I am not receiving compensation for it (other than from Seeking Alpha). I have no business relationship with any company whose stock is mentioned in this article.