Introduction
Predicting economic downturns or recessions is extraordinarily difficult. We always get a slew of financial talking heads discussing the causes for downturns after its obvious we are in a recession but I've yet to find reliable predictive indicators for economic downturns. Regardless, I still watch a number of indicators in an attempt to determine whether the economy is on the upswing, slowing, or heading toward a recession. Today, we have a mixed bag with some indicators showing we may have a weak second half in 2016 and other indicators that show 2016 growth should continue to muddle along.
The balance of this article presents the economic indicators that I generally follow and provides some discussion on several of the indicator directions.
Labor
There are a number of labor indicators that are used to judge the health of the economy. The overall unemployment rate is often cited as an indicator of economic health but I don't pay much attention to this indicator. The official rate of unemployment suffers from a significant weakness in that it only measures the percentage of unemployed from the population of those people actively looking for work through the state's unemployment systems. Those people who have been out of work for extended periods, those who are working part time but would prefer full time, and those people who have given up looking for work are not counted. This makes the official unemployment rate metric suspect and prone to under predict the real unemployment or underemployment rate. For this reason, I don't pay much attention to the official unemployment rate.
I do monitor the change in initial unemployment claims. I think the initial unemployment claims are a better metric as they don't suffer from only measuring a portion of the population of interest. The chart below lifted from FRED (Federal Reserve Economic Data) shows the history of initial unemployment claims plotted against the most recent recessions.

Source: Board of Governors of the Federal Reserve System
So, what does the initial unemployment claims data tell us? Unfortunately, not much at this time. The data has significant variability even after smoothing via use of a 4 week moving average but the current trend shows claims falling. About the only thing I can conclude is that the initial claims are not dropping off as quickly as in the early recovery phase from the last recession. It does not appear that there is an inflection point yet forming in the current data. This chart does not support expectations of a recession in the near future.
Industrial Production
The US has been measuring industrial production for many years. The US has a long history of data going back to 1920. I believe this is an effective leading indicator to recessions and business downturns but it does suffer from the problem of subtlety. Below is the most recent FRED chart for industrial production plotted against the economic recessions from 1920 through July 2016.

Source: Board of Governors of the Federal Reserve System
If you look at the downturns in IP versus the economic recessions (gray bars), you can see that this indicator is fairly reliable. There are a couple of minor IP downturns where a recession did not follow but in most cases, this leading indicator has been fairly accurate. What can we conclude from this most recent IP metric? There is a downturn in IP during the spring and summer of 2016. We know that GDP growth was just puttering along at 1.2% in 2Q2016 so we might expect to see a corresponding drop in IP. We can also take a look at the most recent year's worth of data to see the IP history for the last few months.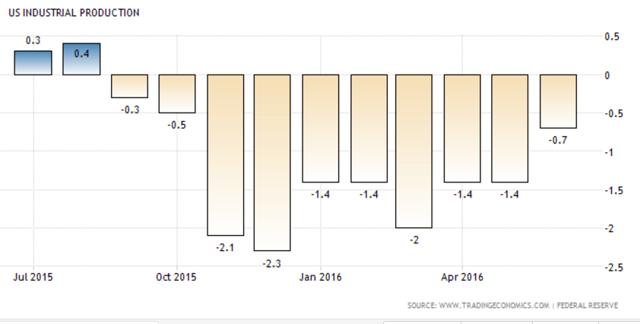 The chart shows IP has been dropping month to month for the last 10 months. That is not so good. From this data, we would be inclined to think that we could expect a recession to begin in the next couple of months if it hasn't started already.
Manufacturing
Given the drop in IP above, we'd expect to see the manufacturing index giving a similar signal. However, if we take a look at the latest data, we see the following.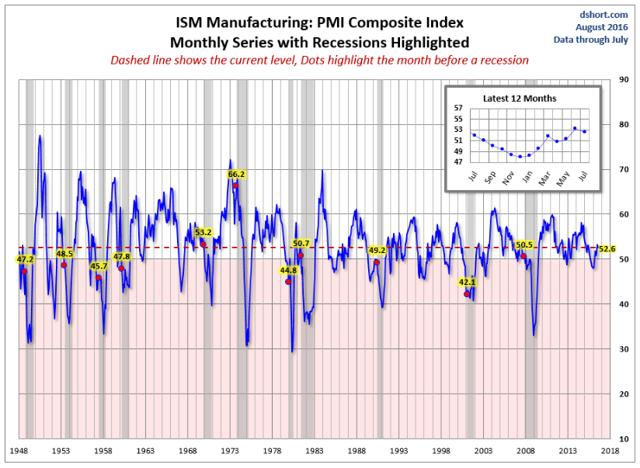 Source: dshort.com
Economists view any reading below 50 on the manufacturing index to be contraction. Indeed, the index dipped below 50 at the end of 2015 indicating weakness in manufacturing. However, since that short foray below 50, the index has recovered and now stands at 52.6 indicating mild expansion. The reader should also note that this particular index has predicted 9 or 10 of the last 5 recessions so we might question the validity of the index as a reliable predictor of a coming economic downturn. This PMI metric is not consistent with the industrial production data as the PMI is above 50.
Personal Consumption
Recessions are generally preceded by a drop in personal consumption as wages stagnate and companies begin to lay off personnel. The FRED chart tracking personal consumption below shows a steady increase with no indication of a drop.

Source: Board of Governors of the Federal Reserve System
From this chart, we would not expect a significant economic contraction or recession in the near future. At least not a contraction due to consumer spending.
Housing
Housing starts are a pretty good leading indicator of how the economy will do in the near term. People don't make big investments if their personal finances are not on solid ground due to employment uncertainty, loss of confidence in the economy, etc. FRED provides a number of housing focused charts. I prefer the new privately owned housing starts chart as it has been a fairly reliable indicator over the years.

Source: Board of Governors of the Federal Reserve System
Note that housing starts have been a reliable predictor of coming recessions since 1960 except for the 2001 recession. Housing starts continue to grow though the growth rate is slower than in most previous recoveries. Based on the current FRED chart on housing starts, I'd conclude that we should not expect to see a significant economic downturn in the near future.
Yield Curve
Many economists and bank analysts use the treasury yield curve as an leading indicator for recessions. When the yield curve has inverted in the past, a recession has typically followed. The Federal Reserve has held short term interest rates artificially low for several years and we can see from the graph below that, over the last year, the yield curve has flattened.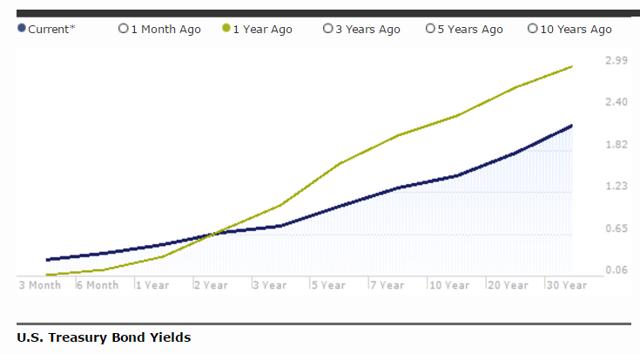 Source: Morningstar
There is less than 100 basis points between the 2 year and the 10 year Treasuries. That is not much between the two rates and it would not take but a two to three short term rate increases by the Fed to potentially flatten the yield curve. Given the current global economic weakness, the 2Q 1.2% growth in GDP in the US, and that this is an election year, I'm not expecting the Fed to raise rates until at least after the election. Those FOMC members that periodically pontificate on the potential to raise rates once or twice yet in 2016 I believe are simply attempting to cool down the stock market. I'm of the opinion there is just about zero chance of a rate increase until after the election.
Conclusion
Initial jobless claims continue to trend down, personal consumption is trending up, and housing starts are trending up all of which would indicate a low risk or expectation of recession in the near term. Industrial production is showing signs of weakness but not yet showing strong indication of a significant economic downturn and the ISM manufacturing index has recently broke 50 indicating economic expansion. I'm going to continue to watch these five metrics over the next couple of quarters but given the current data, I'm not expecting to see a recession in the near term and I'll continue to make my investments assuming a slow growth economy that continues to muddle along.
Disclosure: I/we have no positions in any stocks mentioned, and no plans to initiate any positions within the next 72 hours.
I wrote this article myself, and it expresses my own opinions. I am not receiving compensation for it (other than from Seeking Alpha). I have no business relationship with any company whose stock is mentioned in this article.