Metals and mining stocks have had one heck of a run since the February low of this year.
United States Steel (NYSE:X) is no exception, the stock is up over 325% since the February Low.
At this point one has to ask: is it time to take profits? I Say yes.
On a technical level the stock appears overextended and vulnerable to a large sell off for any number of reasons.
Lets look at a chart of this magnificent 6 month rally.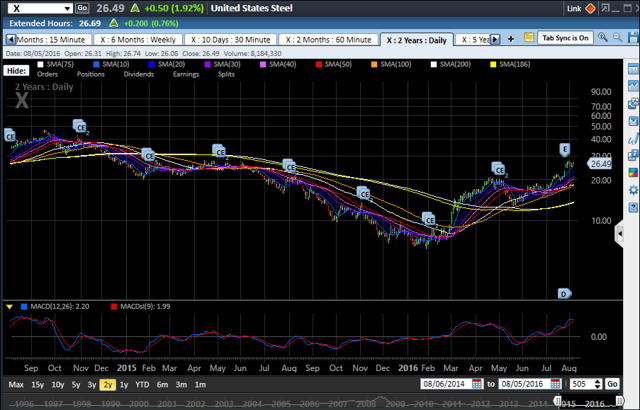 Interested parties can view the February low and the strong rally to current date. In my opinion the stock is in the final stage of an intermediate rally, and ready for a sharp pullback.
Investors and traders alike can thank the high 29.8% short interest for this great run, but there comes a time to pull the rip cord and this week's economic speeches may be the perfect time to do just that.
One thing is certain; the United States needs to spend a ton of money on infrastructure and US Steel will benefit, but that is not going to happen tomorrow. This company lost $.32 cents a share in the last quarter and their revenue was down nearly 10% from the previous year.
US steel paid down some of its debts due in 2017 and 2018 but they issued $980B at 8.375% due in 2021. That doesn't seem like a very good rate to me.
2021 Senior Secured Notes From the company Website
On May 10, 2016, U. S. Steel issued $980 million of 8.375% Senior Secured Notes due July 1, 2021 (2021 Senior Secured Notes) under an indenture in a 144A private transaction exempt from the registration requirements of the Securities Act of 1933, as amended (the Securities Act). U. S. Steel received net proceeds from the offering of approximately $958 million after fees of approximately $22 million related to underwriting and third party expenses. The net proceeds from the issuance of the 2021 Senior Secured Notes were used to redeem and repurchase portions of our outstanding senior notes as discussed above. Interest on the notes is payable semi-annually in arrears on January 1st and July 1st of each year commencing on January 1, 2017. The notes are secured by first-priority liens on substantially all of the tangible and intangible assets of the Company's Flat-Rolled segment, exclusive of the collateral required under the Third Amended and Restated Credit Agreement.
Interested investors can read more information on the company debt repayment structure and notes issued by clicking here.
Presidential politics is playing a role with both sides talking up infrastructure which has done its part to help Steel makers at least give the facade of better days ahead. However I advise caution, at this price I believe it is a sell on the rallies.
Equity Offering
I can smell an ATM equity offering coming any day. As a trader I have seen this play out too many times for my comfort level. It makes sense for a company that needs cash and has experienced a 300% move to the upside in a short period of time. Investors should not be surprised to see that happen in the next 30 days.
My down side price target is $16 dollars.
Conclusion
Life is looking a lot better for US Steel than in was 6 short months ago. The fantastic rally is vulnerable to a pullback from profit taking or more importantly a secondary offering.
In my view, any new buyers should use caution and make an entry after the secondary has been announced at the least.
Long term things are looking up, but this company still has allot of work to do to get back to profitability.
As always due your own research and good trading.
Disclosure: I/we have no positions in any stocks mentioned, but may initiate a short position in X over the next 72 hours.
I wrote this article myself, and it expresses my own opinions. I am not receiving compensation for it (other than from Seeking Alpha). I have no business relationship with any company whose stock is mentioned in this article.