AstraZeneca (NYSE:AZN) hit a 52-week high after Bristol Meyers Squibb's (NYSE:BMY) immunotherapy drug Opdivo failed to slow disease progression in lung cancer patients. This should increase the market opportunity for AZN's durvalumab and tremelimumab drugs in the highly lucrative cancer space, and some analysts speculate that it makes AZN a viable takeover target once again. While the drug failure may provide some relief, AZN still faces major headwinds due to recent patent losses, and more are on the way. Competitive pressures won't ease up, and we think AZN is fairly valued.
AZN has lost exclusivity in some of its biggest and most profitable drugs. In 2015 it lost patent protection for Nexium, a gastrointestinal drug, and earlier this year the company lost protection for its biggest drug Crestor (accounted for 20% of total sales last year). In the latest quarter, sales declined 10% year-over-year, a product of increased generic competition in the cholesterol space, and increased pricing pressures in respiratory drugs. We expect both of these trends to persist in the short-term. AZN will lose patent protection for its neuroscience drug Seroquel XR in 2017, and third-party payers will continue to use discounts in order to keep costs in check. Competitors, unwilling to cede market share, have swallowed the discounts, and it will be difficult for AZN to raise prices in these areas as it did in the past.
But AZN should be able to offset some of these pressures thanks to recent product launches and a promising pipeline. The firm's cardiovascular drug, Brilinta, grew 51% in the latest quarter, while sales of Farxiga, a diabetes drug, increased more than 60%. A number or drugs in the pipeline treat oncology-related illnesses. These drugs are complex and difficult to replicate, and typically earn high margins. In order to mitigate the effects of recent patent losses in some of its higher margin drugs, management has focused on cutting costs. Management expects to generate more than $6 billion in cost savings annually, which will be crucial for protecting margins, as the firm is not likely to cut its R&D budget. R&D as a percentage of sales has increased over the past five years (Figure 1). Higher R&D spending is the primary reason for the firm's lower profitability compared to peers (5-year median operating margin of 16.6% versus the low 20s for the peer group). However we think management is smart to maintain spending levels, as the firm needs to build up its pipeline to make up for recent patent losses.
Figure 1: R&D Spending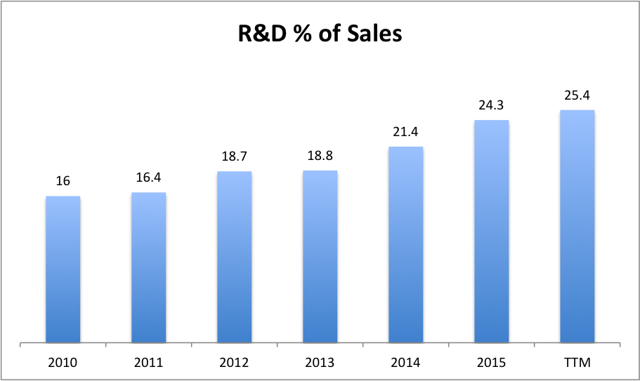 Source: Morningstar
Despite major patent losses and increased competition, we expect sales to grow in the low single digits on average over the next five years. Margins will contract slightly as the product mix shifts to a greater percentage of lower margin drugs, but AZN will partially mitigate these effect with cost cuts. While there is potential for margins to eventually expand closer to the peer group average, we don't expect this to happen until at least 2018 as AZN will likely keep its R&D spending close to current levels. Based on our 2016 EPS estimate of $2.09 and a forward P/E of 16 we project a one-year price target of $33.44.
Conclusion:
Opdivo's failure will only be a marginal tailwind for AZN. The company will continue to face major competitive pressures and pricing headwinds, and AZN needs to maintain spending levels in order to develop the next generation of high-margin oncology drugs. New drug launches and cost cuts should offset some of these effects however, and prevent the stock price from falling in the next year.
Disclosure: I/we have no positions in any stocks mentioned, and no plans to initiate any positions within the next 72 hours.
I wrote this article myself, and it expresses my own opinions. I am not receiving compensation for it (other than from Seeking Alpha). I have no business relationship with any company whose stock is mentioned in this article.