Our natural gas daily (NGD) articles have received a lot of comments. The community it seems is forming nicely with a balanced amount of bulls and bears. Bears argue that productivity gains and current surplus storage will keep a lid on prices, while bulls argue that La Nina, Hurricane, and current prices are all factors that could contribute to higher prices.
At HFI Research, we stand by our thesis that natural gas prices need to average $3.50/MMBtu in the long-run (4-5 years) in order for supply to meet demand. This is not to say that prices won't fluctuate wildly over this timeframe, but in order for supply to be healthy, $3.50/MMBtu is what's needed.
Now there are some bears that argue that $4+ gas is way too high and would bring about a tsunami of supplies, and we absolutely agree.
When we look at natural gas supplies, here's what we see.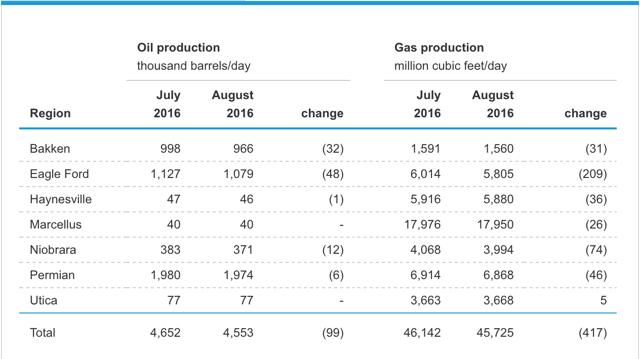 Despite Permian being the largest oil producing basin, it also produces large amounts of natural gas. The issue with natural gas prices being above $4/MMBtu is that gas wells in the Permian would be brought online. Pioneer Natural Resources (NYSE:PXD) have largely shifted its focus to oil heavy wells, but it has ample amounts of inventory if natural gas prices are economic enough.
Haynesville would also see a massive resurgence as the overall basin needs somewhere over $3.75/MMBtu to see production growth.
Marcellus and Utica would be so stupidly profitable, we calculate that some producers can grow production 40% and stay within cash flow.
Obviously, any resurgence in drilling activity would result in servicing costs to increase, so the breakeven in some of these plays would rise. Producers that used to be able to grow at 25% within cash flow at $4/MMBtu might only grow at 15%, but the result is still growth within cash flow.
Canadian producers would also benefit from a rise in Henry Hub prices. Remember, Canadian gas price (AECO) is a spread. If Henry Hub prices rise, then AECO prices would also rise. As a matter of fact, because of how the basis differential is calculated, the higher the price rise, the greater the effect on AECO gas.
Here's a quick example of what we mean:
If Henry Hub price is $4/MMBtu, and AECO basis differential is $1/MMBtu, and the Canadian dollar is 1.30 CAD/USD.
AECO gas would trade at C$3.90/Mcf.
And that's with a differential of $1/MMBtu! That is substantially higher than the $0.75/Mcf that we talked about previously, and this would drastically increase gas imports from Canada.
In our list of Canadian natural gas producers, AECO at C$3.90/Mcf would result in massive profitability and growth within cash flow of over 20%+.
Overall, we think the bull camp needs to realize that if natural gas (NYSEARCA:UNG) prices rise too fast, most producers can hedge the gains in the years ahead prompting another oversupply situation. Bears, on the other hand, should realize that "current prices" are not sustainable for the long-term. There are structural demand increases, and a healthy increase in supply is needed to keep the market balanced. Both camps have merits, but gas prices over $4 would bring about a tsunami of supplies.
Disclosure: I/we have no positions in any stocks mentioned, and no plans to initiate any positions within the next 72 hours.
I wrote this article myself, and it expresses my own opinions. I am not receiving compensation for it (other than from Seeking Alpha). I have no business relationship with any company whose stock is mentioned in this article.