It's been awhile since I've written about Phillips 66 (NYSE:PSX), June 16th of last year, to be exact. In that article I wrote that Phillips 66 was a good dividend growth name for the future. The company had invested heavily in two growth markets: Midstream oil and gas, and petrochemical plants. Not only that, but Phillips' core business, refining, was experiencing very high margins at the time. There was quite a lot to like about Phillips 66 back then.
Fast forward to today. I actually sold my shares of Phillips 66 on November 25th, 2015. (Which you can see if you follow my blog.)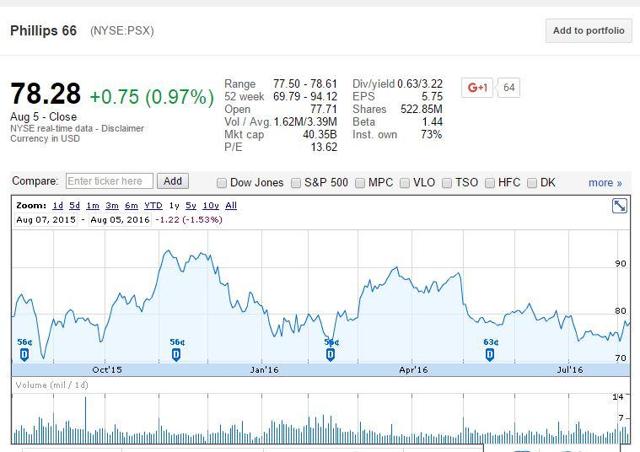 Courtesy of Google Finance.
As it turns out, my move to sell the stock ended up being a good idea. I sold at about $93 per share, and since then shares have gotten cheaper, and now sit at about $78. That's a drop of around 16%.
Take a look at the chart above. You can see that not only have shares dropped some $15 per share, but Phillips has actually raised its dividend from 56 cents per quarter to 63 cents, increasing its dividend another 12.5%. That is a great reason to take another look at this name. That is what this article aims to do.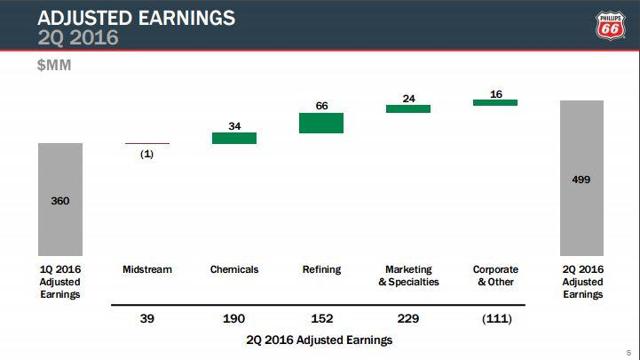 Courtesy of Phillips 66 Investor Relations.
Last quarter Phillips 66's earnings continued to chug higher, with refining and chemicals leading the way this time. Although refining margins are down from $13.84 per barrel to $7.13 per barrel, Phillips' refining utilization hit 100%, with adjusted earnings from the west coast performing the best.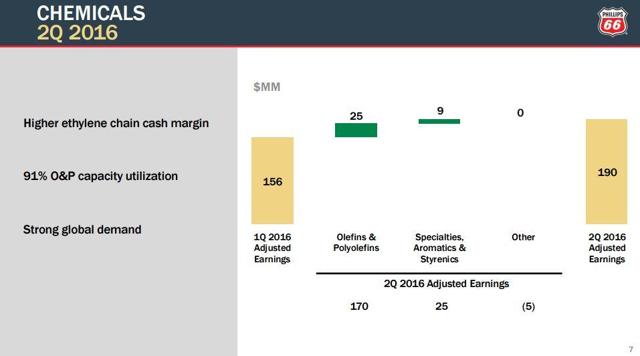 Courtesy of Phillips 66 Investor Relations.
In the petrochemical business, Phillips 66's investment in Chevron Phillips Chemical company benefited from higher margins in polyethylene. Last quarter, midstream earnings were flat, but I suspect that will change as several midstream growth projects near completion later this year.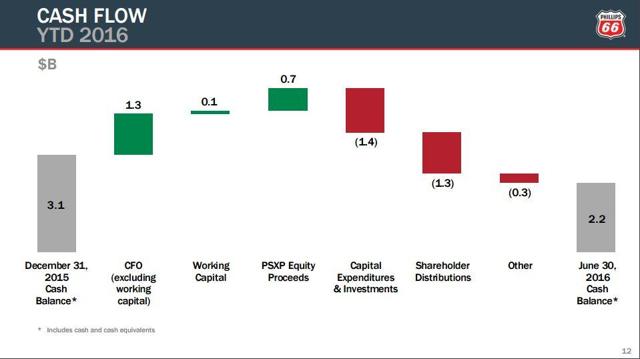 Courtesy of Phillips 66 Investor Relations.
As you can see here, capital expenditure and returns to shareholders well exceed cash flow from operations. This can be explained by two things: First, management repurchased $633 million in shares over the last 2 quarters, and is also spending a lot of money on several growth projects. The Freeport LPG terminal, the Sweeny Fractionator, the Beaumont Terminal storage project, and also the much-needed Dakota Access pipeline, which will transport crude from the Bakken down to the Gulf Coast. Most of these projects will be done by the end of this year, and I suspect Phillips 66 will have a lot more financial flexibility by the end of this year.
Meanwhile, Phillips 66 carries an A2 credit rating, which is upper-medium investment grade. The outlook by Moody's is "stable." I'm therefore very confident that capital markets will remain open for the foreseeable future with Phillips 66.
I also fully expect Phillips 66 to continue to raise its dividend by double-digits, like it has done this year, last year and the year before. Even today, dividends are only 28% of earnings, so there's plenty of room for dividend growth and share repurchases as well. Management said it would continue to buy shares as long as they were below "intrinsic value." Management has continued to buy shares through the second quarter, which means it believes that shares are undervalued.
There are some risks, of course. Refining margins are coming off their historic highs, and if that trend continues, it could be a real drag on earnings.
Conclusion
Altogether, however, I think there's a pretty strong impetus to go ahead and pick up shares. Right now Phillips 66 trades at just 13.6 times trailing earnings and carries a solid yield of 3.2%. That's a nice entry point for a leading refiner. What you'll get is a double-digit increase in dividends, probably until the end of the decade. I also believe that Phillips 66 can trade at least 15 times earnings, so there is also some capital appreciation potential as well, in my opinion.
If you're interested in Phillips 66, feel free to follow me on Seeking Alpha. I intend on writing update articles when doing so is material and relevant.
Disclosure: I/we have no positions in any stocks mentioned, but may initiate a long position in PSX over the next 72 hours.
I wrote this article myself, and it expresses my own opinions. I am not receiving compensation for it (other than from Seeking Alpha). I have no business relationship with any company whose stock is mentioned in this article.