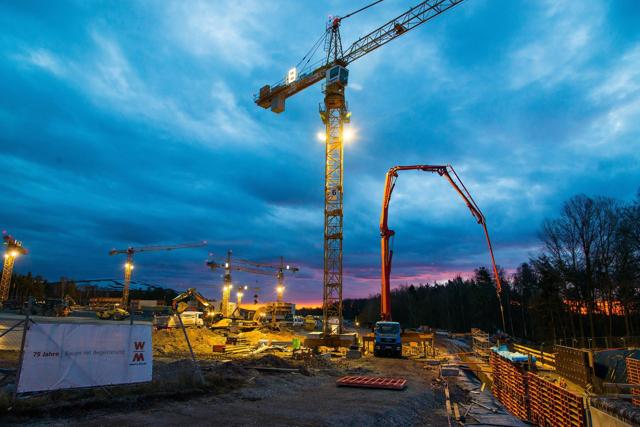 Time to Grab a Hardhat
The June non-farm payroll data may have investors questioning their career choice. Carpenters, plumbers, electricians, and welders are enjoying the best jobs market in a generation.
Lost in the political ramifications of the jobs data are breathtaking numbers in the construction sector. For just the second month in the last 15 years, the unemployment rate in the construction industry dipped below 5%, falling from 5.2% in May to 4.6% in June.

The last time the unemployment rate was under 5% in the construction sector was October 2006, when the rate dipped to 4.5% before shooting up to 6% the next month. Outside of that, you'd have to go back to 2001 to see unemployment below 5% in the sector.
Construction workers are hard to find. Predictably, the wages of these workers recorded post-recession highs in June. Wages increased 3.8% in June, the highest annualized gain since April 2009, and well above the 2.6% average wise in wages across the private sector economy.

June recorded the most significant positive divergence between construction wages and average wages since 2008. Time to grab a hardhat and start hammering some nails. Not so fast.
Trouble Looming On the Horizon
While it may be a great time to be a construction worker, its may not the best time to be a builder. These wage increases, combined with an expectation of higher financing costs due to the implementation of Basel III, has builders pumping the breaks on new construction.
The tightening of labor conditions in the construction sector had been predicted by permitting and starts data, particularly in the multifamily sector, which spiked in 2015 and has since moderated. These projects are entering the most labor-intensive phases of construction.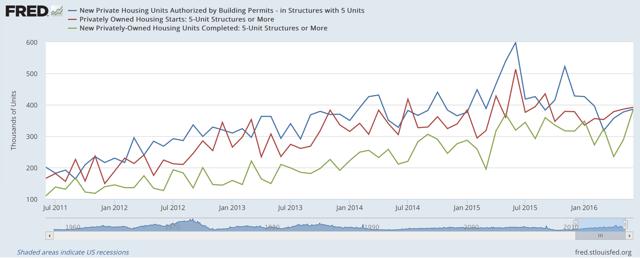 Total construction spending in recent months has disappointed even as labor conditions tightened. Total private construction spending grew at its slowest rate in 5 years after strong growth in 2014 and 2015. Total spending on non-residential construction grew at an anemic 1.73% year over year.

High Labor Costs, More Regulation
New regulations implemented as a part of the Basel III banking regulations require banks to hold more equity for construction loans, many of which fall under the category of high-volatility commercial real estate (HVCRE) loans. Many industry experts have predicted that this associated rise in the cost of capital will push less capitalized developers out of the market unless the non-bank financial sector, such as CMBS, can make up the difference. Thus far, this doesn't appear to be the case.

The net percentage of domestic banks reporting tightening standards for commercial real estate construction loans broke even in Q2 2015 and has risen in every quarter since. Concurrently, the demand for commercial real estate construction loans has fallen after a spike in mid-2014.
The lack of available construction workers appears to be putting a cap on new construction. After growing at year over year rates of over 5% in 2014, new construction hiring grew at just over 3% in June, the fourth straight month under 4%. January through April 2013 was the last time there were four consecutive months of sub-4% growth in construction employment.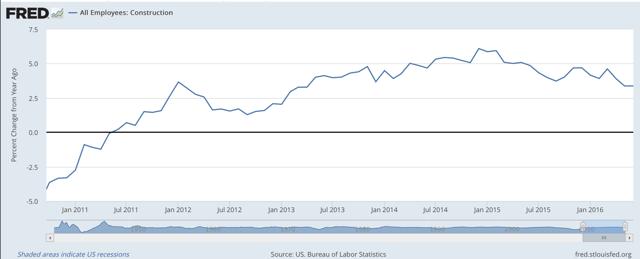 What Are the Ramifications of Peak Construction?
Last month, we wrote about how the presidential election could have dramatic effects on the construction and real estate sectors. Read: Trump vs. Clinton. We pointed out that the proposals for a massive increase in infrastructure spending are coming at a time when there are simply not enough construction workers to do the work. We theorized that the labor market would continue to tighten and crowd out private construction. Perhaps we are already seeing the effects of last year's $305 billion highway bill.
We reiterate many of the conclusions we made in that article. We project that the tightening construction labor market, combined with the steeper regulatory hurdles, are putting a cap on new construction that are preventing the sector from reaching the levels of excess seen before the last recession.
REITs, such as the REIT ETFs VNQ and IYR will be the primary beneficiaries as net asset values of these companies continues to rise amid rising replacement costs. Homebuilders (BATS:ITB) and commercial construction (NYSEARCA:PKB) will likely continue to see margin pressure from rising labor costs.
Ironically, while it might be a great time to be a construction worker, they may soon be victims of their own good fortune as builders scale back projects due to the rising costs of labor, especially if public spending on construction falls short of the promises made from the leading candidates.
Don't quit your day job to grab a hard hat quite yet.
We encourage readers to follow our Seeking Alpha page to continue to stay up to date on our weekly recaps and analysis on the REIT and broader real estate sector.
Disclosure: I/we have no positions in any stocks mentioned, and no plans to initiate any positions within the next 72 hours.
I wrote this article myself, and it expresses my own opinions. I am not receiving compensation for it (other than from Seeking Alpha). I have no business relationship with any company whose stock is mentioned in this article.