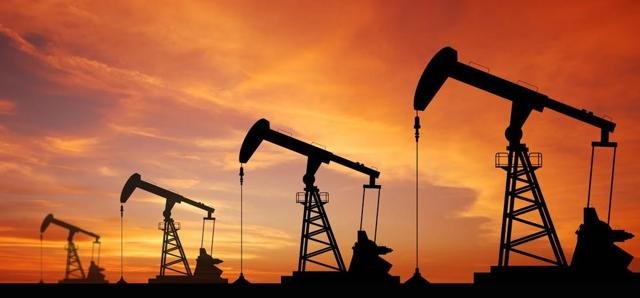 Important note: This article is not an investment recommendation and should not to be relied upon when making investment decisions - investors should conduct their own comprehensive research. Please read the disclaimer at the end of this article.
The reduction in Chesapeake Energy's (NYSE:CHK) total debt to $8.7 billion at the end of the second quarter 2016 marks the company's significant progress in addressing its liquidity and leverage challenges. It is important to remember, however, that the debt reduction has been achieved via secured-for-unsecured debt swaps at a discount to face value and acreage sales, whereas operations have been a significant consumer, not a source, of cash.
Weak operating cash flow remains Chesapeake's greatest challenge. Legacy midstream contracts, combined with poor NGL price realizations, have continued to make a big dent in the company's cash netbacks. While Chesapeake may be able to reduce its current midstream cash payments via re-negotiation, it increasingly appears that the company has little bargaining power at this point to significantly alter the present value of future payments.
In this context, improving capital productivity remains a critical element of Chesapeake's survival strategy and is, arguably, the most important dynamic to watch in the company's reports.
Is A Turnaround Around The Corner?
Until recently, Chesapeake has lagged industry leaders in the pace of capital productivity improvement. The second quarter update marks a positive change in this regard.
The company reported breakthrough progress in reducing its well costs and highlighted head-turning well results in the Haynesville. Chesapeake also continues to operate within a narrowed down core or assets, having significantly limited capital allocation to marginal and emerging plays, exploration and infrastructure development.
Chesapeake highlighted that the PV-9 value of its proved reserves at the end of the second quarter, using the quarter-end strip pricing, was ~$12 billion. The company commented that improvements in the cost structure contributed significantly to the increase in the proved reserves value estimate. Even if one were to "risk" Chesapeake's PV-9 estimate, the proved reserves, in combination with the company's still very significant undeveloped core acreage portfolio, appear sufficient to support the existing debt amount. That said, further reduction in leverage remains an urgent necessity, in light of the company's weak cash flow generation and critically high leverage ratio.
While the PV-9 metric provides some minimum comfort, Chesapeake's turnaround success will ultimately be measured by the company's ability to return to production growth while spending inside discretionary cash flow. In the absence of such a turnaround, Chesapeake would remain on a divestiture treadmill, continuously selling assets to keep its production stable. Under such modus operandi, which has in fact prevailed in the last few years, Chesapeake would quickly arrive at a point where several core assets must be put on the auction block.
Will the improvements reported by Chesapeake be sufficient to enable free cash flow generation for growth or debt repayment in 2017? To derive an answer, it may be helpful to review the trend in the company's maintenance capital requirement and cash flow generation potential.
Capital Spending Trends
Chesapeake's Q2 2016 capital investments excluding capitalized interest were $393 million, compared to $297 million in Q1 2016. The company indicated that its total capital program for 2016 will be closer to the upper end of the current range, which implies an acceleration in spending compared to the second quarter run rate.
Based on the company's comments, I estimate that its second half spending on drilling and completions will increase to ~$400 million per quarter, as compared to the average of ~$310 million per quarter in the first half. I estimate exploration costs and investments in other PP&E to be $35 million per quarter in the second half, approximately in line with the first half.
The increase in capital will be driven by additional drilling and completion activity. As a reminder, Chesapeake initially intended to spud 25 new wells in the second half of 2016. The new plan calls for 100 new spuds. The number of new wells to be turned in line is also expected to increase by 75 wells.
The majority of additional new spuds are planned for the Eagle Ford, where drilling activity was initially expected to be put on hold. The re-acceleration in the Eagle Ford, which is Chesapeake's primary oil producer, should allow the company to achieve a flat oil production trajectory. Driving the decision to re-activate drilling is the strong reduction in the cost per well in the Eagle Ford to ~$4 million for 9,000 foot laterals. The new plan also calls for ~15 additional wells to be turned in line in the Eagle Ford. Significant increases in completion activity are also planned for the Mid-Continent region where Chesapeake has a large uncompleted well inventory.
Converting the DUC inventory into cash flow generating assets remains a top priority of Chesapeake in 2016. As one can derive from the slide below, the reduction in the DUC inventory during 2016 is expected to be in the 195-210 well range. The DUCs represent pre-paid capital and need to be taken into account when analyzing the pace of capital spending in 2016. Using certain working interest assumptions and assuming current cost structure, I estimate that Chesapeake would have spent ~$250-$300 million more in 2016 to achieve same results without depleting DUCs.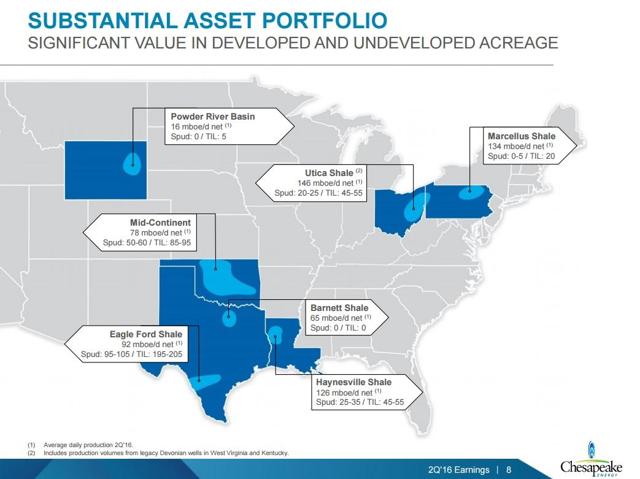 (Source: Chesapeake Energy, August 2016)
Including the pre-paid capital, I estimate that Chesapeake's run rate of capital spending in the first half of this year was effectively ~$1,500-$1,600 million annualized, increasing to over $1,900 million annualized in the second half. (Please note that these figures do not include capitalized interest).
Production Trajectory
Chesapeake hinted that it expects its production volumes to continue to decline throughout 2016, reaching an inflection point sometime around year-end and climbing throughout 2017. The company's preliminary 2017 production guidance suggests flat year-on-year volumes.
Given that Chesapeake did not provide a capital spending budget for 2017, it is difficult to make an accurate judgment about implied capital efficiency and sustainable organic growth rate in 2017. However, I interpret these metrics as Chesapeake having a good chance of growing production going forward at a moderate rate and in a sustained fashion - both oil and natural gas - by spending ~$2.0 billion a year (not including capitalized interest).
I must note that cost reductions and improved well productivity are important drivers of production growth. Chesapeake is currently drilling materially more wells with the same capital, is producing more hydrocarbons per well due to higher-volume completions, and is focusing on the most economic assets where infrastructure is often already in place.
If my interpretation regarding $2.0 billion in capital being sufficient for modest production growth is accurate, the next questions are, is Chesapeake currently generating $2 billion in cash flow on an annualized basis and what commodity prices would be required for sustained organic growth?
Cash Flow Generation
In the second quarter, Chesapeake reported discretionary cash flow from operations (which I define here as operating cash flow before changes in assets and liabilities) of $176 million. Needless to say, the second quarter on this year was across-the-board weak in terms of commodity price realizations. During the quarter, spot WTI price averaged $45.42 per barrel and spot Henry Hub price averaged $2.14 per MMBtu. NGL prices were also very weak.
Chesapeake's hedges provided only a moderated uplift to price realizations during the quarter:
Oil: +$1.34 per barrel uplift.
Natural gas: +$0.34 per Mcf uplift.
NGLs: -$0.49 per barrel discount.
What would Chesapeake's Q2 2016 discretionary cash flow have been in the absence of hedges and using, for the sake of an example, a price deck of $50 per barrel for WTI and $3.00 per MMBtu for natural gas at Henry Hub? I estimate that such cash flow would have been approximately ~$335 million (moderately higher if I were to also assume improved ethane pricing).
This calculation suggests that Chesapeake needs somewhat higher commodity prices than $50 oil/$3.00 gas to enable modest organic growth in production. I estimate that a price deck of ~$55 oil/~$3.50 gas needs to be used to arrive at a $2 billion a year cash flow run rate.
While my maintenance capital assumptions may prove conservative, I have to wait for Chesapeake to demonstrate - with specific results in the next few quarters - its ability to convert its operational improvements into actual production growth on reduced capital spending. Achieving stability of production volumes while spending within cash flow would be the first milestone on that path. As of Q2 2016, the company is not quite there yet - production is still declining on significant outspending (assuming a $50 oil/$3.00 natural gas price deck).
Asset-Rich Portfolio
Having been an aggressive asset accumulator during more than a decade, Chesapeake continues to harvest a stream of divestiture proceeds from its asset-rich portfolio. Obviously, the menu of assets that can be put on the auction block without cannibalizing the company's borrowing capacity or curtailing future growth has been shrinking as a result. However, multiple monetization options still exist. Chesapeake's announcement that ~150,000 largely undeveloped net acres in the Haynesville will be offered for sale this year - the initiative can yield over $1 billion in proceeds, in my estimate - is an illustration of such divestiture potential.
One should also not overlook Chesapeake's most important asset - its current production. In the second quarter, the company produced ~90,000 barrels per day of oil, ~74,000 barrels per day of NGLs and ~3.0 Bcf per day of natural gas. By comparison, Pioneer Natural Resources (NYSE:PXD), a company with an enterprise value of nearly $30 billion or two times greater than Chesapeake's, produced ~135,000 barrels per day of oil, ~41,000 barrels per day of NGLs and 0.3 Bcf per day of natural gas in the second quarter.
The large production base and vast acreage portfolio result in Chesapeake having significant value upside in the event of a strong increase in commodity prices. High operating leverage (high production costs per unit) and high financial leverage further amplify this upside on a per share basis (while also creating higher risks on the downside in the event commodity prices remain weak).
The persistently strong crude oil supply growth has taken momentum away from oil prices this summer season, with near-term supply/demand fundamentals looking bleak and the futures market reflecting little optimism among commodity traders. I discuss crude oil market dynamics in the weekly "Rapid Analyzer" and multiple other publications in the OIL ANALYTICS.
Natural gas fundamentals, on the other hand, look compelling going into 2017, in my opinion. I discussed the natural gas market dynamics in greater detail in Natural Gas Strategy: Outlook For 2017, Natural Gas Strategy - July 2016, Part I and Part II and Natural Gas Weekly publications in the OIL ANALYTICS.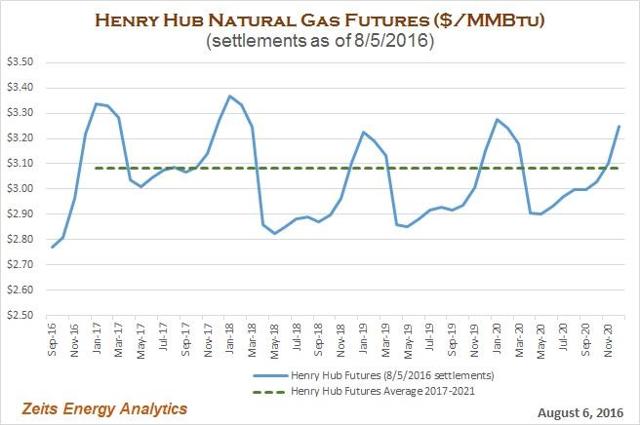 In Conclusion…
The operating data points highlighted by Chesapeake in its second quarter 2016 report - including the reduced well costs and prolific well results - are impressive and encouraging. However, cash flow metrics indicate that, barring a strong increase in commodity prices, Chesapeake still has long ways to go before it can generate free cash flow for growth or debt repayment.
Therefore, in the near term, the company will continue to critically depend on continued success of its asset monetization effort. To be effective, the divestitures must yield improvement in liquidity and credit metrics and highlight intrinsic value of the portfolio not recognized by the market. In its recent transactions, Chesapeake was reasonably successful in this regard. However, I would argue that Chesapeake still needs to sell several billion worth of mostly undeveloped assets to fully address the current credit concerns.
Given Chesapeake's massive existing production, an improvement in commodity prices would be a powerful cash flow and valuation lever for Chesapeake. While the company has locked in price realizations on approximately one-quarter of its 2017 production volumes, significant exposure to an upward move in commodity prices still exists.
Higher commodity prices would help to reduce budget deficit, improve credit metrics, improve opportunities on the asset sales front and open access to outside capital on more attractive terms. Under such a scenario, Chesapeake would receive an opportunity to quickly shore up its balance sheet, even though a significant increase in the share count and asset footprint shrinkage should be expected in the aftermath.
For in-depth data and analysis of commodity fundamentals, please consider subscribing to Zeits OIL ANALYTICS that provides analysis of the crude oil and natural markets.
Disclaimer: Opinions expressed herein by the author are not an investment recommendation and are not meant to be relied upon in investment decisions. The author is not acting in an investment, tax, legal or any other advisory capacity. This is not an investment research report. The author's opinions expressed herein address only select aspects of potential investment in securities of the companies mentioned and cannot be a substitute for comprehensive investment analysis. Any analysis presented herein is illustrative in nature, limited in scope, based on an incomplete set of information, and has limitations to its accuracy. The author recommends that potential and existing investors conduct thorough investment research of their own, including detailed review of the companies' SEC filings, and consult a qualified investment advisor. The information upon which this material is based was obtained from sources believed to be reliable, but has not been independently verified. Therefore, the author cannot guarantee its accuracy. Any opinions or estimates constitute the author's best judgment as of the date of publication, and are subject to change without notice. The author explicitly disclaims any liability that may arise from the use of this material.
Disclosure: I/we have no positions in any stocks mentioned, and no plans to initiate any positions within the next 72 hours.
I wrote this article myself, and it expresses my own opinions. I am not receiving compensation for it (other than from Seeking Alpha). I have no business relationship with any company whose stock is mentioned in this article.