TASER (TASR) handily beat Q2 estimates with $58.8 million on the topline and 7 cents on the bottom, and yet the stock only rallied a percent in response, barely outperforming a broader market that was pushed higher by a strong jobs report. We have argued before that the body cam and smart weapon accelerated demand catalyst is already mostly priced in. We argue that a full valuation will continue to cap upside in the stock.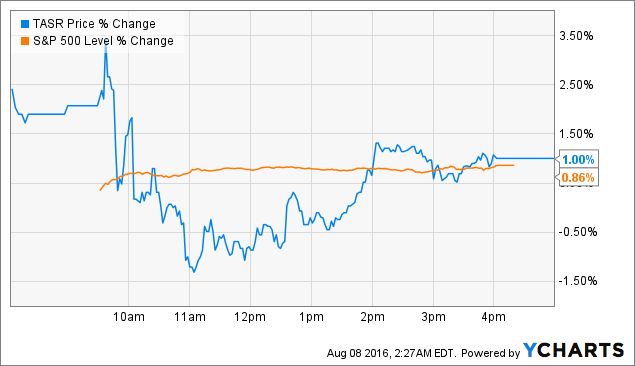 TASR Price data by YCharts
The quarter was impressive. Axon body cams continued to sell at an accelerated pace. The company shipped 13,350 cameras in the quarter, fueling 49% Axon revenue growth. Management said they are on pace to grow shipments sequentially in Q3. Moreover, the software side of the equation is showing particular strength, with Service revenue up 65% YoY. Smart Weapons also sold really well in the quarter, up 20% YoY. Per usual, the company also added 2 new police departments (Philadelphia and San Jose) in the quarter.
Investors, though, had already priced in these strong results with a 16%+ rally over the past month. The stock is now trading around 68x forward earnings on what we and analysts both agree is right around 30% earnings growth over the next 5 years. In other words, the valuation is at a significant premium to even optimistic growth projections. YTD, the stock's trailing multiples have just boomed anywhere from 60% (PS Ratio) to over 100% (P/E and EV/EBITDA).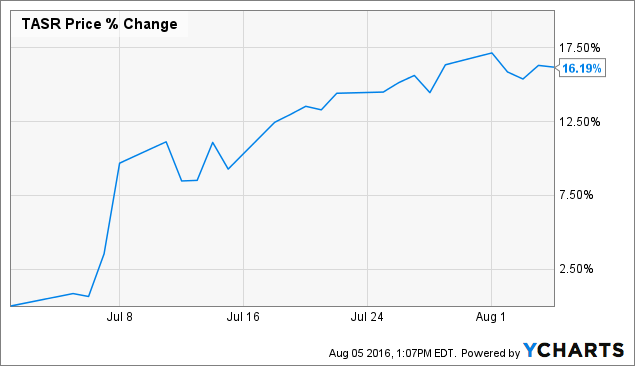 TASR data by YCharts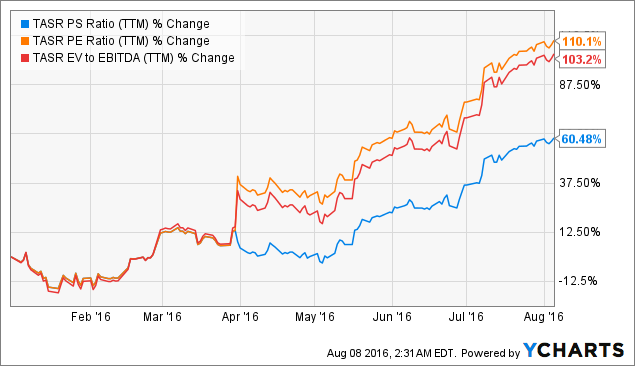 TASR PS Ratio (TTM) data by YCharts
There is likely upside to the Q3 revenue estimate. Management guided Q3 revenue to be flat with Q2, but they also guided Q2 revenue to be in line with Q1 revenue when it came in up 6%. Seasonally speaking, revenue grows Q/Q from Q1 through Q4, and we think this year will be no different. So while the Street is right around $58.9 million for Q3, we think that number will almost certainly be over $60 million.
As the stock's response today illustrates, though, ER beats aren't enough to send this stock higher anymore. Upside is capped by a full valuation, and until this stock pulls back or another market disrupting catalyst surfaces, there is little reason to own TASR to generate alpha. A recent fatal police shooting in Chicago captured by a TASR Axon Body 2 Cam underscores the importance of and necessity for body cams nationwide, but our valuation ($29 fair value) already assumes Axon body cams become a norm for US police departments. To reiterate, we are huge fans of the company and its growth story, but so is everyone else, and the result is a stock that is fully priced.
Disclosure: I/we have no positions in any stocks mentioned, and no plans to initiate any positions within the next 72 hours.
I wrote this article myself, and it expresses my own opinions. I am not receiving compensation for it (other than from Seeking Alpha). I have no business relationship with any company whose stock is mentioned in this article.