Introduction
Back in February, I was still not convinced about Coeur Mining (NYSE:CDE), but thanks to the high leverage on the silver price, the performance of Coeur's share price was truly exceptional and the company's value has five-folded since February. That's not unexpected, as in the comments section of the aforementioned article, I literally said CDE would be 'on fire' should the silver price reach $20 per ounce. Quod erat demonstrandum.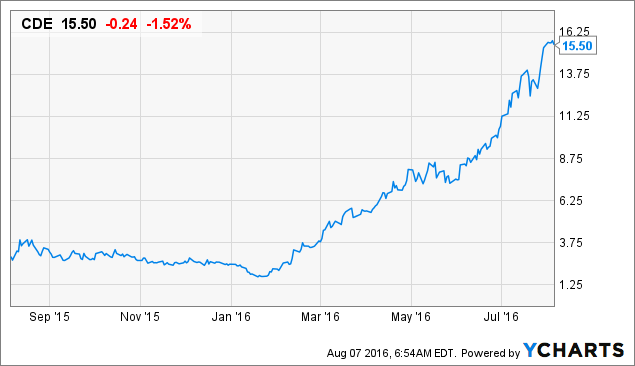 As expected, Coeur's leverage on the silver price made this company an outperformer
A higher silver price made the difference between losing cash and making cash for Coeur Mining. That's something I did point out in the previous article, and an increase of the silver price by just a few dollars per ounce was sufficient to convert Coeur's cash losing position into a free cash flow positive situation. That's great, but the question is if the cash flows are now justifying the current market capitalization of $2.5B.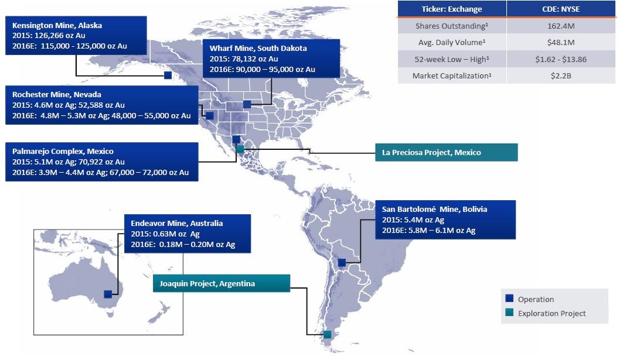 Source: company presentation
There's no doubt Coeur Mining remains one of the larger gold and silver producers in the Americas, and the second quarter production results reconfirmed the company's status. Coeur produced approximately 4 million ounces of silver as well as almost 93,000 ounces of gold, for a total silver-equivalent production rate of 9.6 million ounces (using a conversion rate of 60:1).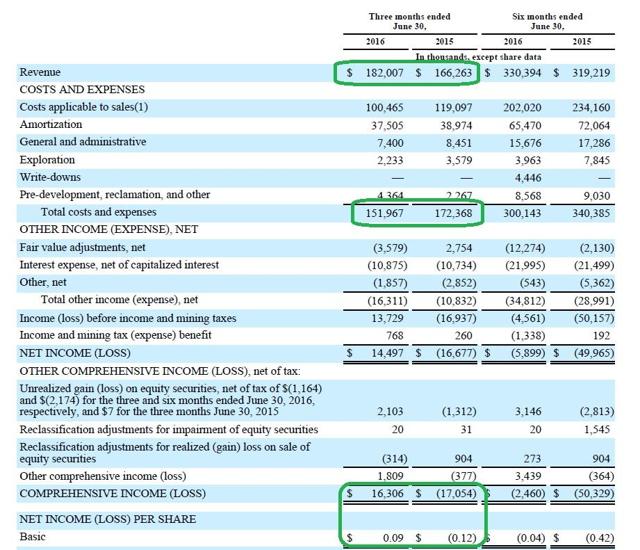 Source: financial statements
The revenue in the second quarter of the year was approximately $182M thanks to the higher realized gold and silver prices as well as the increased silver-equivalent production rate as Coeur produced approximately half a million more ounces compared to the same quarter in the previous financial year. It's now very clear the company's cost-cutting programs are paying off as the COGS fell by approximately $19M to $100.5M, and this was the main driving force behind the $21M reduction in the total expenses.
This allowed Coeur to report a positive net income of approximately $14.5M, which results in an EPS of approximately 9 cents. That's definitely an improvement compared to the net loss of 12 cents in Q2 FY 2015, and the net loss of 13 cents per share in the first quarter of this year, when the gold and silver prices were still substantially lower than where they are at today.
But the main question that is (or should be) burning on everyone's lips is whether or not Coeur was able to generate a positive free cash flow.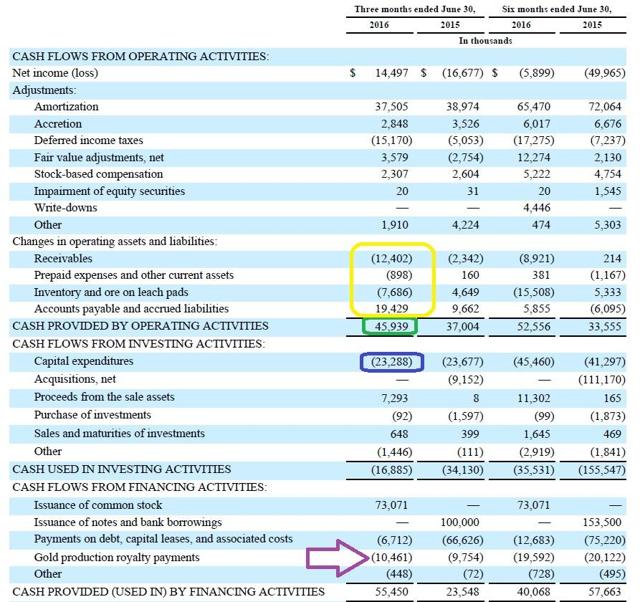 Source: Financial statements
The operating cash flow came in at $45.9M, and after removing the changes in the company's working capital position, the adjusted operating cash flow was $47.5M, resulting in a sustaining free cash flow of just $13.7M. That's right, just $13.7M. Sure, it's definitely better than the negative free cash flow in the first quarter of this year (so, yes, I was right about my 'thanks but no thanks'-call in February), but on an annualized basis, the free cash flow of $55M is actually quite disappointing for a company trading at an enterprise value of $2.75B.
Of course, Coeur's average received price in Q2 was lower than the current spot price of silver (and gold), so if you would use the current precious metals prices, I would expect the adjusted free cash flow to roughly double, towards $25-30M per quarter. This would result in an adjusted free cash flow of $100-125M on an annualized basis which is already more acceptable but definitely doesn't make Coeur Mining a slam-dunk investment right now.
The outlook remains unchanged, but Coeur will spend more on exploration
Coeur Mining seemed to have been waiting for the increased cash flows as the company immediately announced it was stepping up its exploration efforts.
Coeur spent a total of $6.1M on exploration in the second quarter of the year of which $2.2M has been expenses as part of the company's efforts to discover new zones of silver-gold mineralization whilst an additional $3.9M was capitalized. That's not uncommon in the mining sector as producers prefer to capitalize the sustaining exploration efforts if these programs are successful in increasing the potential resources, thus leading to a longer mine life and a higher value of the projects.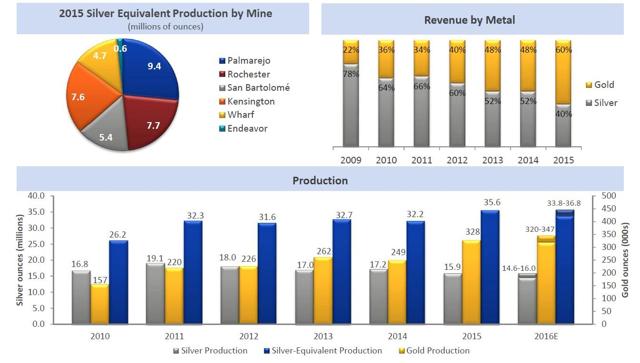 Source: Company presentation
Coeur completed a total of 42,520 meters of drilling which actually is a pretty decent amount for the $6.1M, as this means the company paid approximately $143 per meter for the combination of core drilling and reverse circulation drilling. Throw in the mobilization fees of the drill crews, and Coeur did get a pretty decent price quote from its contractors.
Even though the full-year production and cost guidance remains unchanged (Coeur still expects to produce 33.8-36.8 million silver-equivalent ounces at an AISC of $16-17.25 per produced silver-equivalent ounce (using the same conversion rate), Coeur seems to be determined to put its higher free cash flow to work by stepping up its exploration program.
The company is now guiding for a total exploration expenditure of $14-16M with an additional $16-18M earmarked for resource conversion. This means the drilling expenses will come in at approximately $0.7-0.8 per produced silver-equivalent ounce.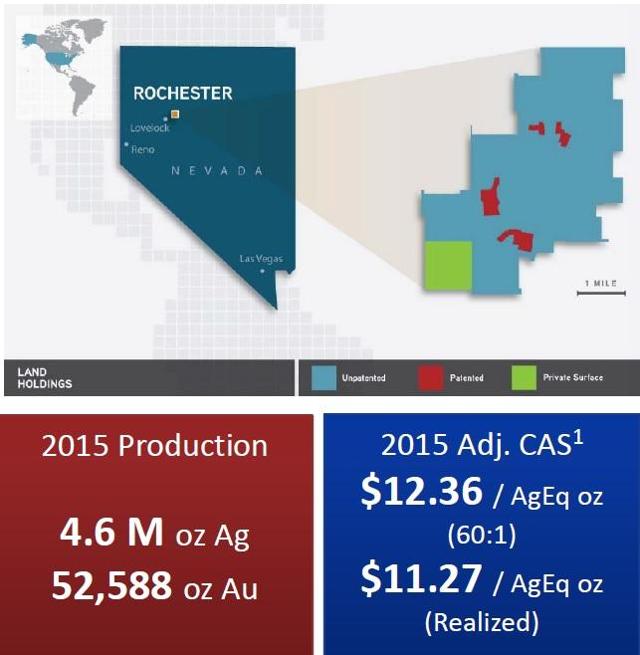 Source: Company presentation
And finally, Coeur has received the permit to construct a new leach pad at the Rochester mine in Nevada. This new leach pad will have a total capacity of approximately 120 million tonnes, and Coeur immediately started to construct the pad, as this will allow the company to maximize the cash flows from this asset.
Investment thesis
Coeur Mining did what it was expected to do, and the company's leverage on the silver price was clearly visible in its share price performance. That's great, but it still looks like the market is getting ahead of itself as a valuation of $2.75B for an adjusted free cash flow of $100-120M based on the current silver price is quite rich.
That being said, I think the expanded exploration program might be a really good idea, especially as it seems to be focused at increasing the mine life at both the Kensington gold mine in Alaska and the Palmarejo district in what the company calls 'high probability areas'.
Disclosure: I/we have no positions in any stocks mentioned, and no plans to initiate any positions within the next 72 hours.
I wrote this article myself, and it expresses my own opinions. I am not receiving compensation for it (other than from Seeking Alpha). I have no business relationship with any company whose stock is mentioned in this article.