The promise of solar power is very much alive as China installed 20 GW of solar capacity in the first half of 2016. This is a huge figure that can hardly be believed, yet multiple credible sources have reported it. To put that in perspective, that is the equivalent to 20 nuclear reactors of average size ... in just six months. That is a tripling of the installation rate over the previous year.
Meanwhile, solar stocks have been beaten down. The Guggenheim Solar ETF (NYSEARCA:TAN), for example, is down ~40% over 12 months. Some of this was due to excessive pessimism. To that point, Axiom analyst G. Johnson has a very good track record and he predicted in late 2015 that "end-market demand in China, Japan and the U.S. taken together, which represented 71 percent of global demand in 2015, is 'almost sure to slow' in 2016."
With the new installation numbers coming out of China, it seems likely that the reverse was true and the solar market was hot. As the majority of solar earnings approach, these are my top two picks in the industry -- along with some bonus back-of-the-envelope calculations on a third stock.
SunPower
SunPower (NASDAQ:SPWR) has disappointed me with losses in the last several quarters, but I think this stock is due for a reversal. The reason? I believe the market is overlooking SunPower's 41% stake in the 8point3 yieldco. 8point3 pays a fairly reliable and growing dividend of approximately 5.5% and it is now trading at a market cap of $1.2B. With SunPower's 41% ownership, 8point3 adds $500M of value to SunPower.
SunPower trades for a pittance these days. Its market cap is only $2.0B, meaning that the market is implicitly valuing SunPower's core business (minus the stake in 8point3) at $1.5B. That is just wrong for a company that blows away all other competitors on the efficiency front and is expanding rapidly. SunPower is also sitting in a fairly stable, liquid position as it has $555M cash in the bank.
SunPower leads the industry in module efficiency, and exceeded its previous efficiency road map: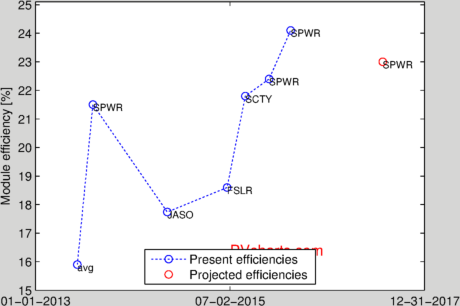 Another aspect of SunPower's growth that I like quite a lot is its residential business. As solar modules get much cheaper, installers are going to benefit more than manufacturers -- and SunPower has its hands in both sides of the business. In fact, SunPower's residential side grew 50% y/y and gained market share.
By the way, that stake in 8point3 should bring in about $2M quarterly dividends for SunPower, and that payout is projected to grow at 12%-15% annually. I'm looking for a not-necessarily-strong quarter for SunPower, but much better than the previous and corresponding to a price pop as the market realizes its error about 8point3.
ReneSola
This little Chinese company is unique in that it dabbles in solar production, solar project development, LEDs, and polysilicon production. I predict a good quarter for ReneSola (NYSE:SOL) simply because, well, look at the price of polysilicon over the second and early third quarters: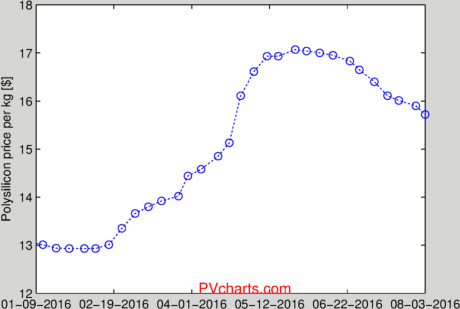 ReneSola produces about 1600 metric tons of polysilicon quarterly, and I would estimate from the chart that the average selling price of polysilicon rose about $1.50 in Q2. Thus, ReneSola should have saved about $2.4M over its competitors who were buying polysilicon on the market. ReneSola also has an annoying "annual maintenance" on its poly plant, but that was taken care of in Q4 2015 so we shouldn't need to worry about it this time around.
ReneSola has also returned to profitability for the past several quarters and it's guiding for higher margins and revenues in Q2. For these reasons, I predict a strong, profitable Q2.
JA Solar
JA Solar (NASDAQ:JASO) is one of my largest holdings because it is perpetually underpriced by the market (P/E of 3.97) while being profitable. However, I think the company will struggle just a bit this quarter.
Previously, JA Solar earned a net income of $24.5M, which is incredible considering its market cap is just $376M. But the company sells most of its modules to China, and module prices in China have been falling rather rapidly: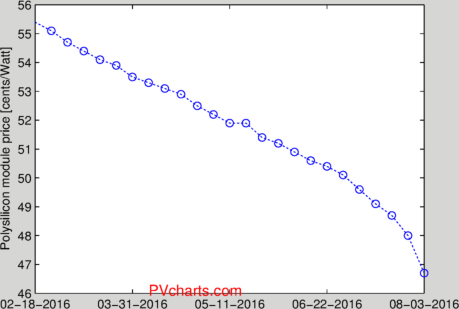 I'm estimating a 3.7% decline in module sales price for JA Solar in Q2. Using the simple but largely accurate assumption that all of its revenue comes from module sales, that would lead to a $20M decline in JA Solar's revenue. Since last quarter's net income was $24.5M, and assuming opex remains constant and their manufacturing costs do not improve, I think JA Solar will have just enough of a cushion to remain profitable.
A bigger question which I do not know the answer to is: "When will the decline in module sales price cool down?" As I said above, it's great for solar project developers and installers, but not nice for the module manufacturers.
Summary
To summarize, I make the following predictions:
SunPower has a much better quarter, but might post a loss again. Its share price will jump regardless.
ReneSola has another strong, profitable quarter.
JA Solar is just barely profitable.
It will be interesting to see how many of these three predictions come to pass.
Disclosure: I am/we are long JASO,SPWR,SOL.
I wrote this article myself, and it expresses my own opinions. I am not receiving compensation for it (other than from Seeking Alpha). I have no business relationship with any company whose stock is mentioned in this article.