We're on a mission to build the ultimate yield portfolio, follow us for regular updates on classic yield names like PEP, IBM, and Macy's (M) as well as consistent high yield equities you've likely never heard of. This is a one-stop shop for income investors looking to protect their dividend income streams from dreaded yield reductions, and discover new gems for their income portfolios.
Use of Cash: The use of cash test provides a visual overview of the various cash uses that a company has been allocating cash towards. It shows the relative size of the cash uses versus the outstanding cash balance available to the company. It is a quick and simple way to view how the company has used its cash over the past 10 years, and is indicative of what the company may do in the next 10 years with its cash reserves. We examine dividend payments to all shareholders (including payments to preferred dividend holders) as well as net repurchases which includes equity issued via stock option plans etc… as well as interest payments on debt, this offers a more wholesome view of how the company allocates capital.

Source: Company Reports
Like all the dividend aristocrats, Pepsi has a clear mote, which has allowed it to be a generous capital allocator for decades. We like to see that Pepsi still raised its dividend in 2009 despite a tough year, and chose to slash its repurchases for the year rather than the dividend.
We also like to see the growing cash pile, which will support future dividend purchases, and may be put to work on some accretive M&A, adding additional brands to the business, which would help sustain future EPS and dividend growth.
We don't think Pepsi will get carried away on the capital allocation front, as Hugh Johnston had this to say on the last conference call:
As we look at things going forward, what we've said is we intend to expend something on the order of $500mm a year in tuck-in acquisitions. As those good opportunities emerge, we look at them, and we look at them through two lenses. One is a strategic lens around does it make sense relative to where we think the consumer is going. And second is, obviously, a financial lens, is this good for our shareholders? And you can count on us to continue to do that because we think that's the right way to think about M&A on a go-forward basis.
Long-term Dividend Growth: It is important to view dividend sustainability across market cycles, following the prolonged bull market we have seen in recent years it is necessary to look a bit further out to get a more balanced view of dividend sustainability.
Pepsi is one of the members of the coveted dividend aristocrat group, meaning they have been raising their dividend every year for at least 25 years. We expect Pepsi will continue to raise its divvy in the coming years and its status as an aristocrat will remain unchallenged for the foreseeable future. While Pepsi is not cheap on valuation metrics that doesn't mean it isn't a great holding for long-term investors with yield on their minds.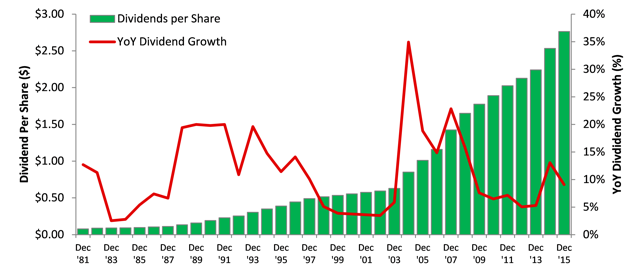 Source: Company reports
Credit risks: One of the largest risks to dividend sustainability is a leveraged company facing large debt payments and/or putting its credit ratings at risk, which would lead to higher interest charges.
Pepsi has about $36B of debt outstanding with nothing due this year, and $15B due by the end of 2020. From a use of cash standpoint Pepsi is very solid, although we note several large debt issuances that come due in the next couple of years that would reduce this significantly if Pepsi decided to de-lever. Although with an A1 credit rating from Moody's this would be at the companies discretion, rather than by force.
Most likely, given conservative Net Debt to EBITDA of 1.8x, Pepsi would simply roll the debt forward. There are a couple of large higher interest tranches due in 2018 at 7.9% and 5.0% interest rates, for $3.2B, which we think Pepsi will be able to refinance into lower 3-3.5% rates that we have seen recently. We see no immediate concerns with Pepsi's debt profile, and will watch for them to refinance into lower interest rates as tranches become due.
Additionally, Pepsi's interest coverage ratio (measured as EBIT/Interest Expense) is 9.6x, which means the company should have no problem making its interest payments.

Source: Company reports.
The analyst community generally sees stable to slightly rising free cash free cash flow over the next couple years. Annually the dividend burden is about $4.5B not including future buybacks, and FCF is expected to be about $7.5B to $8B, meaning the payout on FCF will be over 50%, still reasonable. Given Pepsi's large cash pile and stable business, we see no reason that the company would choose to stop increasing its dividend, and expect conservative hikes in the coming years.

Source: Company reports
10-Year Dividend Yield and Payout Ratios: Higher dividends are great but not if they come at the expense of dividend sustainability. Assessing the payout ratio is a key metric in determining the sustainability of a dividend, and is calculated as dividend per share dividend by earnings per share (DPS/EPS).
Pepsi's payout ratio has been rising in step with its dividend per share number, not surprising since dividend growth has been outpacing EPS growth for a couple decades. We don't think this is an issue though, at least for now, as EPS growth tends to be lumpy while Pepsi seeks long-term sustained increases in its dividends. We note the spike in payout ratio in the chart below is the result of using GAAP EPS, and on an IFRS basis the line is actually much smoother, a closer to the 60% payout level which Pepsi is comfortable with.
Looking ahead, we expect Pepsi will raise its dividend towards $3.40/sh over the next couple of years, maintaining a 60% payout ratio. This means dividend growth investors can anticipate 7% annual dividend increases for the Pepsi positions, not a bad increase in a zero interest rate environment.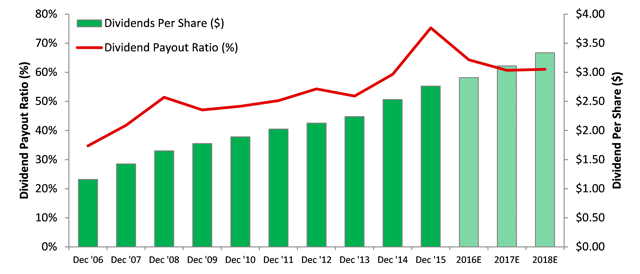 Source: Company Reports
Summary: Pepsi's dividend is extremely safe, and at a 3% yield its worth picking up a nice position, or holding on to it if you already own it (congratulations as that capital gain must have been nice as well). Not only are we comfortable with Pepsi's ability to continue paying its dividend we also expect it will increase the divvy by 7% per year for the foreseeable future, which gives dividend growth investors a nice little kicker. We acknowledge Pepsi is expensive on traditional valuation metrics and expect it will remain so, especially in a low yield environment. When rates start to rise we will reconsider our position. Pepsi's payout ratio is expected to remain in the 60% range and we do not expect the company to blow its cash pile on frivolous M&A, they are superb capital allocators after all.
Disclosure: I/we have no positions in any stocks mentioned, and no plans to initiate any positions within the next 72 hours.
I wrote this article myself, and it expresses my own opinions. I am not receiving compensation for it (other than from Seeking Alpha). I have no business relationship with any company whose stock is mentioned in this article.