After the 2011 private equity take over of BJ's Wholesale Club, Costco (NASDAQ:COST) and Wal-Mart (NYSE:WMT) (with Sam's Club) are the only remaining investment options for domestic membership only warehouse retail. The article below will show how Costco's business operations are outperforming Sam's Club, and why the company has less exposure to higher wage requirements.
PriceSmart (NASDAQ:PSMT) operates similar warehouse stores throughout Latin America but not in the United States. Sam's Club does operate stores outside of the United States, but in reporting results, Wal-Mart only uses US warehouses for the Sam's Club business. International Sam's Club warehouses are included in the Wal-Mart International segment. In the analysis below, I will only use data from the Sam's Club segment, which only includes US stores.
Superior Store Sales Performance
Though Costco now generates over $5 billion in online sales annually, its physical club stores produce more 95% of its revenue. This percentage is likely similar for Sam's Club. Since Wal-Mart does not disclose profits measures for Sam's Club, net sales, which are disclosed, will be used to compare Costco and Sam's Club performance. The proceeding table was derived from 10-K forms.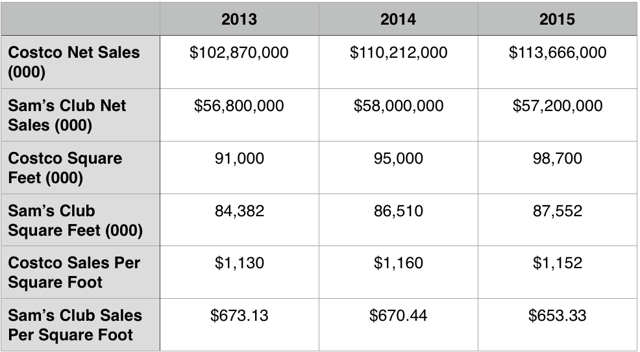 (source Sam's Club, Costco)
For each of past three fiscal years, Costco had only ~10% additional total warehouse square footage than Sam's Club but generated nearly twice the revenue.
Costco thus generates nearly twice the amount of revenue per square foot as Sam's Club does.
Costco stores undoubtedly outperform Sam's Club stores.
Costco dominance in sales per square foot is important due to the high cost to open and operates warehouses. Assuming construction and land costs are equal, Costco earns significantly higher returns on the capital invested for new locations than Sam's Club does.
An additional aspect of Costco's sales performance that should be noted is its private label products (Kirkland Signature). In the most recent fiscal year, 25% of Costco's sales (ex fuel) were derived from sales of private label products. Sales of private label products have higher gross margins than sales of name brand products. Wal-Mart does not disclose the percentage of private label sales for Sam's Club.
Membership Increases
Comparing same store sales increase between Costco and Sam's Club is not valid as their businesses have slightly different footprints. The Sam's Club US business only operates warehouses in the United States whereas Costco has numerous locations in the United Kingdom (weak GBP), continental Europe (weak Euro), Mexico and Asia (weak Yen). Both companies sell fuel and declining fuel prices reduce net and comparable sales. As stated above, Sam's Club does have warehouses outside the United States, but they are not included in the Sam's Club business segment in Wal-Mart's reporting.
The table below shows comparable store sales increases with fuel and foreign currency and without fuel and foreign currency.

(source Sam's Club, Costco)
With fuel and currency removed, Costco is growing same store sales considerably faster than Sam's Club.
Costco's same store sales growth is 10 times higher than Sam's Club.
Existing Costco stores are outperforming existing Sam's Club stores.
I discussed comparable store sales growth not just to show how Costco is winning but to also warn investors of misleading headlines.
On May 26, 2016, Fortune Magazine ran an article with the headline "Costco Had No Comparable Store Sales Growth for the First Time in 6 Years." The report began by stating that same store sales were flat for the third quarter. It was not until the bottom paragraphs that the reader learns that "excluding the impact of fuel and currently fluctuations, sales at comparable stores rose 3 percent." Comparable store sales growth is an important measure but only when it excludes the impact of fuel and currency.
Minimum Wage Exposure
Many investors are pessimistic on retail stocks due to potential increases in minimum wage requirements by federal, state or municipal governments. Compensation for retail employees is often at or near legal minimum requirements. Any increase in wage requirements will increase costs to retail businesses and those costs may not be passed on to customers.
In July 2005, the New York Times reported how Costco provides generous compensation for all its retail employees and how those practices led to superior business results with less employee theft and turnover. Costco's generous retail pay policies also reduce the risk the company has due to changes in wage requirements.
According to GlassDoor, the lowest paid retail employee at Costco (a front end associate or cashier) earns an average of $12.40 per hour. GlassDoor also estimates that a Sam's Club front end associate earns on average $9.95 per hour.
An increase in federal minimum wage to $10 per hour or higher would impact Sam's Club compensation costs more than Costco's. A federal minimum wage of $15 per hour would affect both company's but would affect Sam's Club more.
Costco, with its generous pay policy for retail employees, has less exposure to future increases in wage requirements than Sam's Club does.
Conclusion
In conclusion, Costco is dominating Sam's Club with nearly double the sales per square foot and ten times higher same store sales growth (ex fuel, ex currency). Costco also has less exposure to increasing wage requirements due to its generous pay policies for retail employees. For investors interested in a position for membership only warehouse retail, Costco is outperforming its peer Sam's Club (available via Wal-Mart stock).
Contrarian
Costco currently trades with a trailing earnings multiple of over 30; significantly higher than Wal-Mart's 16 (includes Sam's Club), Kroger's 15 and that of numerous other retailers. Costco is currently an expensive stock.
An acquisition of online bulk retailer Jet.com by Wal-Mart may strengthen the Sam's Club business and/or drive bulk sales away from Costco.
Disclosure: I am/we are long KR.
I wrote this article myself, and it expresses my own opinions. I am not receiving compensation for it (other than from Seeking Alpha). I have no business relationship with any company whose stock is mentioned in this article.