Reporting to Bob Mansfield, Apple (NASDAQ:AAPL) has recently hired the former head of BlackBerry's (NASDAQ:BBRY) automotive software division into a new leadership position in the iPhone-maker's car team, codenamed project "Titan."
There has been much speculation flowing through the BlackBerry community on what this could actually mean for BlackBerry.
I think ~BigZ~ sums up this thinking pretty well: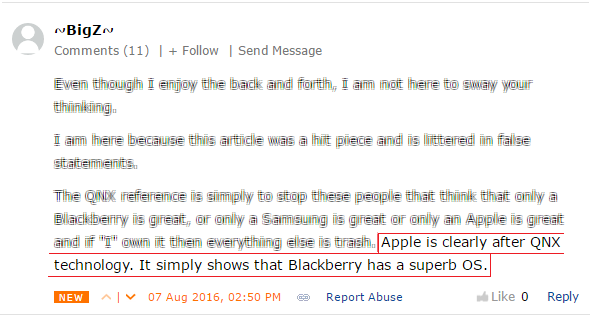 Source: seekingalpha.com
Unfortunately, I don't believe this is the case, or at least, I don't believe there is a benefit to BlackBerry. Sure, while it's possible Apple could pay BlackBerry for a QNX source code license and hire Dan Dodge to wed it to some new Apple hardware for automotive, it's far more likely Apple will create a whole new automotive OS whereby cutting BlackBerry off at the knees.
Reason 1: No reason to share credit/no reason to license
There is no reason for Apple to share credit with BlackBerry.
Apple has long subscribed to the walled-garden approach of providing a self-contained ecosystem. Their hardware, their OS, their App Store, their bookstore, their movie store, etc.
Apple would not likely want to, or need to share credit with BlackBerry and they surely don't want to be relying on BlackBerry for updates or other support. There is simply too much riding on project Titan to be waiting-on/hoping-for BlackBerry to deliver some new feature or update.
Perhaps Apple could totally fork their own version of QNX after taking a license, but why?
Reason 2: Not too hard to build a microkerner RTOS
There is really no reason to jump through any hoops to reuse existing QNX. It proved itself as a reliable and robust operating system, but that's all. Apple's unlimited resources coupled with Dan Dodge's know-how puts Apple in the perfect position to create a new Apple for Automotive Operating System (AAOS) for which Apple receives not only all the adoration, but Apple is also in complete control of the product.
We should keep in mind, even though QNX is 36 years old, it's was the brainchild of a couple of college kids and the result of course in operating system design.
Gordon Bell and Dan Dodge, students at the University of Waterloo in 1980, both took a standard computer science course in operating system design, in which the students constructed a basic real-time kernel.
Source: wikipedia.org
Taking all Dan Dodge knows and has learned over the last 36 years and Apple's limitless resources, Apple will likely just build their own operating system over which they have complete and utter control.
What history teaches us about such hires:
In 1988, Microsoft (NASDAQ:MSFT) hired Dave Cutler away from Digital Equipment Corporation to build the Windows NT kernel. Previously, Dave had designed the VAX/VMS operating system.
Did Microsoft hire Dave Cutler to enhance, promote, or otherwise extend the life of the VAX/VMS operating system? No.
Microsoft's hire of Dave Cutler was to build a new operating system (because he knew how) for Microsoft's sole use.
It is my humble opinion that this is a parallel that we can use when considering why Apple may have hired Dan Dodge.
Conclusion:
Apple is likely building a new operating system for automotive, Harman (NYSE:HAR) has its Linux powered Smart Essentials infotainment, and Google (NASDAQ:GOOG) (NASDAQ:GOOGL) has a brand new infotainment operating system.
I think BlackBerry's days of dominance in vehicle infotainment with QNX are coming to a close as a new generation of smart-infotainment explode onto the scene.
BlackBerry is a short at $8 or more.
Apple, Google, and Harman are all buys at these levels as they break into this new territory of smart-infotainment.
Disclosure: I/we have no positions in any stocks mentioned, and no plans to initiate any positions within the next 72 hours.
I wrote this article myself, and it expresses my own opinions. I am not receiving compensation for it (other than from Seeking Alpha). I have no business relationship with any company whose stock is mentioned in this article.