Introduction
It has now been 13 months since I shared the original article about the Hundred Thousand Dollars Of Income Portfolio on Seeking Alpha. I started the series several months after publishing the first article for the Half Million Dollar Income Portfolio when Seeking Alpha commenters asked me for a snapshot of the portfolio that had allowed me to retire. Since sharing the portfolio on Seeking Alpha because of advice from both Seeking Alpha commenters and other information I have read, I have made a number of changes.
One of the most important changes, originating in the June 2016 article, was the establishment of a goal for the portfolio. I set the goal of achieving $250 thousand in annual income with the portfolio. At the same time, I restricted the portfolio to a maximum of only $500 thousand in new cash to make investments. All my other investments are split into a separate portfolio. This gave my Seeking Alpha followers something to work on accomplishing while giving myself a personal goal to strive to achieve. I look forward to reading your advice to help me achieve this goal!
For simplicity purposes, it is important to also understand that I am removing all dividend income from the portfolio. This removed dividend income will either be put towards my living expenses or I will invest it, however, in the case that I invest it I will invest it in the separate portfolio where I am keeping all my other investments (with the exception of the portfolio below + $500 thousand cash).
Portfolio
This month represents the third month since I have initiated the portfolio's goal of achieving $250 thousand in annual income. It is important to keep in mind that the $500 thousand limit applies to all new purchases made after the announcement of the goal two months ago.
| | | |
| --- | --- | --- |
| Name (Ticker) | Share Count | Yearly Dividend |
| SPDR S&P 500 ETF Trust (NYSEARCA: SPY) | 3000 | $16195 |
| Vanguard Healthcare ETF (NYSEARCA: VHT) | 1500 | $2573 |
| Vanguard Energy ETF (NYSEARCA: VDE) | 3000 | $6539 |
| Vanguard REIT ETF (NYSEARCA: VNQ) | 4500 | $15912 |
| Vanguard Total Stock Market ETF (NYSEARCA: VTI) | 6000 | $12245 |
| Pimco Strategic Income Fund (NYSE: RCS) | 12000 | $11522 |
| Pimco High Income Fund (NYSE: PHK) | 6000 | $7450 |
| Healthcare Property Investors (NYSE: HCP) | 3000 | $6897 |
| AT&T (NYSE: T) | 3000 | $5754 |
| Chevron Corporation (NYSE: CVX) | 3000 | $12846 |
| Berkshire Hathaway (NYSE: BRK.B) | 1500 | $0 |
| Consolidated Edison (NYSE: ED) | 3000 | $8047 |
| Johnson & Johnson (NYSE: JNJ) | 3000 | $9600 |
| Realty Income (NYSE: O) | 4000 | $9600 |
| Gilead Sciences (NASDAQ: GILD) | 3000 | $5640 |
| Frontline Ltd. (NYSE: FRO) | 30000 | $48,000 |
| Celgene (NASDAQ: CELG) | 1000 | $0 |
Annual Dividend Income: $178,820
Total Cash: $105,644
Portfolio Discussion
As you can see, a number of major changes have continued to occur in the portfolio over the past night. As I said in last month's article, I would continue to add to Frontline Ltd. should the stock's price hold below $8-9 per share. That's exactly what happened and I added another 10 thousand shares of the stock which should ideally provide another $16 thousand in annual dividends. However, for an investment that cost me less than $80 thousand, those are yields of more than 20%. Obviously, I don't expect that yield will hold. As a result, I will try to quantify the position's actual yield.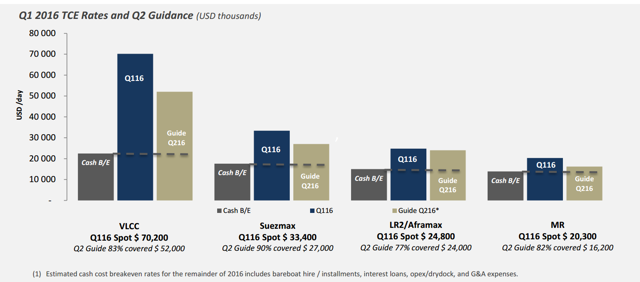 Frontline Guidance - Frontline Investor Presentation
The above image shows Frontline Ltd.'s Q1 2016 performance along with its Q2 2016 guidance. In the first quarter, the company earned $78.9 million in net income or $0.50 per quarter and paid out 80% of this in the form of a $0.40 quarterly dividend. The company has a significant portion of its fleet secured on time charters which means that the cash flow these ships are generating should not change.
However, for the rigs that are subject to the spot market, the company's largest source of income VLCC are guided to see their daily rates drop by roughly 15-20 thousand. This should be a roughly 30% drop in the company's VLCC profits. The Suezmax rates are expected to drop by 30-40%, the LR2/Aframax rates are expected to drop by just a few percent, and the MR tankers are expected to drop by more than 50%. However, just 3 of the company's fleet of 79 vessels are MR tankers.
Assuming the company's net income takes a 30% hit centered around the expected drop in VLCC and Suezmax rates, that means the company's net income should drop to $0.35 per share which would imply a dividend of roughly $0.28 per share. That would imply a dividend of roughly 16% at a $8 price per share. This I feel is a better approximation of the company's dividend. And while spot rates vary dramatically, it is fairly clear that Frontline will continue to offer strong dividends.
During the quarter several other developments also occurred. After discussing Celgene in last month's Hundred Thousand Dollars Of Income Portfolio article, which you can view, I announced that I would open a new position in it. I managed to purchase a 1000 share position in the company before before its late July earnings that resulted in the company's share price improving significantly.
Gilead Sciences also reported earnings, but unfortunately, the company's earnings fell below the expectations Wall Street had set. The company's earnings for the quarter matched up closely to the street's expectations but it was forced to cut its annual revenue guidance by $0.5 billion due to continued pressures on its Hepatitis C business. However, I continue to think that Gilead Sciences, as a cash cow with a P/E ratio of around 7 will grow for the long run and help this portfolio. As a result, I took advantage of the share price drop back down to near $80 to purchase an additional 750 shares.
As of now, both Gilead Sciences and Frontline Ltd. remain opportunities that I am interested in increasing the size of my investment in. For now, I will maintain my investment in Celgene as I watch to see how the company progresses towards its 2020 earnings target of more than $13 per share. I am also looking to open a position in a new opportunity discussed in the next section.
New Investments
Now that we have an overview of the portfolio's position changes during the month, namely increasing the stakes in Gilead Sciences and Frontline Ltd., while opening a new stake in Celgene, it is now time to discuss a new position I am interested in opening, a position in AbbVie (NYSE: ABBV). AbbVie is a $106 billion pharmaceutical company that was spun-off from Abbott Laboratories (NYSE: ABT) in 2013.
Like most of the other companies I have been investing in recently, AbbVie is a cash cow that is in a difficult position. The company generates over 60% of its revenue from its blockbuster drug Humira, a drug that has become one of the most successful drugs of all time generating more than $4 billion in sales in the most recent quarter. That makes this drug all by itself comparable to Gilead Science's entire Hepatitis C franchise. More importantly, this drug has seen its sales continuing to grow. The cash cow nature of this drug has allowed it to offer investors a 3.43% dividend while giving it the strength to make numerous large acquisitions such as the $21 billion acquisition of Pharmacyclics in 2015.
However, AbbVie has some potential issues in its future. Humira's main patent expires in 2016 in the US and 2018 in the EU. And while the company has numerous other patents protecting the drug for many years to come, the expiration of these patents opens the drug up to competition from other competitors. Amgen (NASDAQ: AMGN) has recently created a biosimilar for Humira that was unanimously backed by the FDA. Such a drug at a lower price point could decrease AbbVie's future revenues by billions.
But despite these difficulties, AbbVie has enormous future potential due to one simple reason. Its commitment to research and development.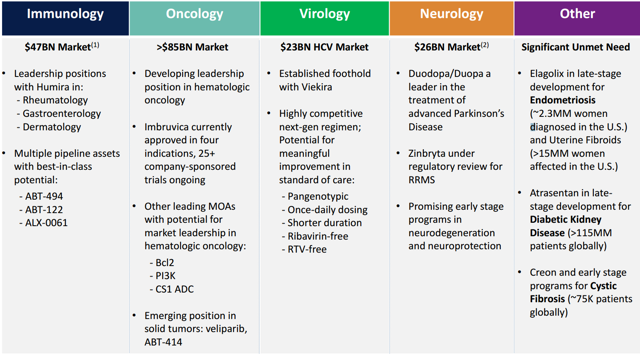 AbbVie Sector Positions - AbbVie Investor Presentation
The above image shows AbbVie's presence in a large number of different markets. The company currently dominates the Immunology market, a $47 billion annual market with its Humira drug. At the same time, the company's $21 billion acquisition of Pharmacyclics gives it a strong position in the $85 billion Oncology market with Imbruvica, a drug that is expected to generate more than $5 billion in annual revenue in the coming years.
The company has recently established a presence in the $23 billion Hepatitis C market with its treatment Viekira. The company is having trouble making inroads against Gilead Sciences, the long established dominant market player, and Merck (NYSE: MRK), which has recently released its own Hep C treatment at the lowest price point of any of the three market players. However, even if AbbVie can take and old only 10% of the market that should bring more than $2 billion in annual revenue.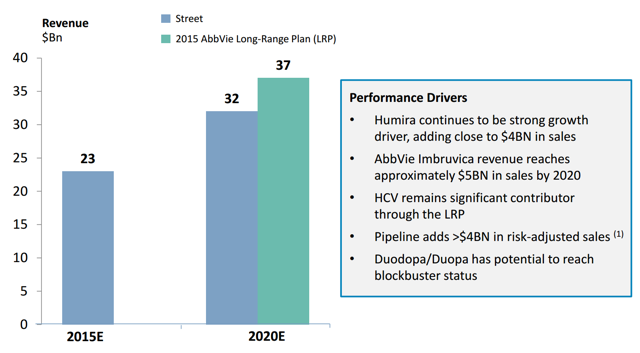 AbbVie Revenue Growth - AbbVie Investor Presentation
The above image shows AbbVie's forecast revenue. The company earned $23 billion in 2015 revenue which it expects to grow to $37 billion by 2020. Even the street expects it to grow to $32 billion by 2020. This combination of growth is expected to come from the company's Humira drug which continues to be approved more new indications. Additionally, while the drugs main patent expires this year, it has numerous other patents that should help it slow down the arrival of biosimilars. In fact, the company actually expects Humira sales to grow into 2020.
The other major components of the company's 2020 sales are expected to come from its Imbruvica drug it acquired from AbbVie along with the company's pipeline. Combined these two drugs are expected to bring in roughly $10 billion in risk-adjusted sales by 2020 almost equivalent to the company's entire Hep C revenue. The company believes its Duodopa and Duopa Parkinson's treatments can bring in more than $1 billion in sales by 2020.
However, there is one key risk in the company's assumptions. The company assumes that Humira biosimilars enter the EU market in late-2018 roughly when its patents expire. No surprise there. However, while the company's first US Humira patent expires this year the company is assuming no biosimilars enter the US market until 2022. For some reason, I don't feel Amgen is working on a Humira biosimilar with FDA approval to then wait six years before it starts selling.
And while the company earned roughly $14 billion in 2015 revenue from Humira and is forecasting $18 billion for 2020, the street is forecasting just $13 billion for 2020. This $5 billion difference could mean billions in annual profits. However, assuming a worst case scenario where 2020 Humira earnings are just $5 billion, the company's 2020 revenue would still grow to $25 billion.
Couple this with the company's expanding gross margins which it expects to grow from 38% to 50% in 2020 as the company's efficiency expands, and the company's 2020 EPS should be significantly higher than today's even with a big hit for the Humira franchise. This higher EPS, coupled with a lower P/E ratio today than the broader market (the broader market P/E ratio is more than 25 compared to less than 20 for AbbVie) and the company's strong pipeline past 2020 makes it, in my opinion, a great investment.
Conclusion
The Hundred Thousand Dollars Of Income Portfolio continues to see its dividend income rapidly increase as I deploy the $500 thousand in cash that was allocated. This cash stockpile has been almost completely depleted, however, it is being used to invest in what are high potential stocks. In the last month, I opened a position in Celgene, as I said I would, and increased the size of the portfolio's position in both Frontline Ltd. and Gilead Sciences.
More importantly, I have identified another investment opportunity for the portfolio. AbbVie, like my other reinvestments, is a cash cow that has potential difficulties in the future stemming from the patent expiration of its blockbuster Humira drug. However, AbbVie has an enormous pipeline and recent acquisitions such as the Pharmacyclics acquisition should help its revenue grow. In fact, both the street and the company expect revenue to grow from now until 2020 which coupled with an increase in its gross margin should help the company's profits.
Given that the company's present P/E is less than the market's overall P/E but that the company is expected to grow its profits dramatically, this makes the company a good investment at the present time and I plan on adding it to the portfolio in the coming months.
Disclosure: I am/we are long BRK.B, CELG, CVX, ED, GILD, FRO, HCP, JNJ, O, SPY, VHT, VDE, VTI, PHK, RCS, T, VNQ.
I wrote this article myself, and it expresses my own opinions. I am not receiving compensation for it (other than from Seeking Alpha). I have no business relationship with any company whose stock is mentioned in this article.