It has been a while since I discussed Evolution Mining (OTCPK:CAHPF), so it's about time to have another look at this mid-tier/Semi-senior gold producer which has produced in excess of 800,000 ounces of gold in the past financial year. A higher production rate and a higher gold price usually bodes well for a gold miner. Is Evolution Mining now the cash cow I would expect it to be?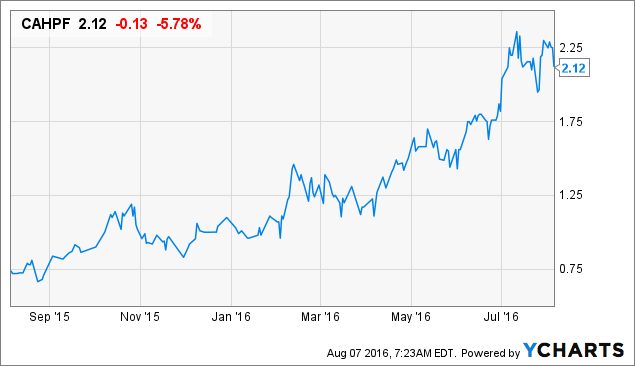 Evolution Mining is a large producer with a market capitalization of $3.3B, but doesn't have a listing on a major exchange in the USA. That's why I would strongly recommend you to trade in the company's shares through the facilities of the Australian Stock Exchange where the average daily volume is 9 million shares. The ticker symbol is EVN.
The aggressive expansion plan in Australia is really paying off
The company's total gold production rate has almost doubled compared to FY 2015, as Evolution wrote a big cheque to acquire some operating mines in Australia from senior producers Barrick Gold (NYSE:ABX) and La Mancha Resources.

Source: Press release.
This was a ballsy move and Evolution's management team would either look pretty stupid or like geniuses depending on how the gold price would evolve. And, well, I think it's pretty fair to say the company's management is slowly moving towards the status of being heroes.
Indeed, not only did the company produce in excess of 800,000 ounces of gold, the consolidated all-in cost per produced ounce of gold is actually extremely low, as the AISC was just A$1134/oz. Using an USD/AUD exchange rate of 1.33, the all-in cost expressed in US Dollar was just $852/oz, beating most of the other mid-tier and senior gold producers. It also means the current operating margin is approximately $500/oz, and if you're producing in excess of three quarters of a million ounces per year, it basically means you're adding a million dollar per day to the balance sheet.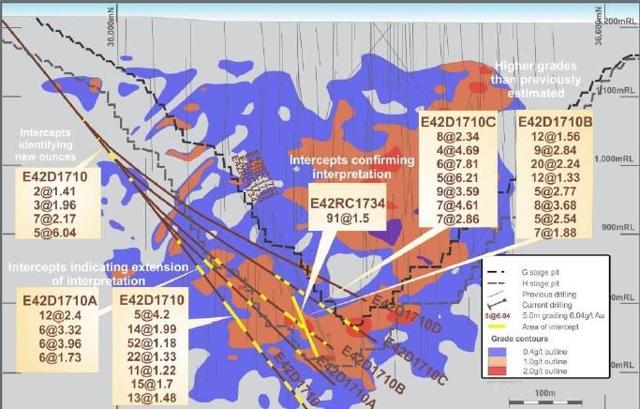 Source: Press release.
The gold production was the highest in the fourth quarter, but this came at a cost as it also was the quarter with the highest all-in cost per ounce of gold (offset by the fact it also was the quarter with the highest realized gold price in the past financial year). That's not really something to worry about as this seemed to be purely related to higher capital expenditures (related to the tailings facilities at 4 of its mines) during the quarter as the C1 cost was approximately 3% lower per produced ounce compared to the first quarter of the current calendar year.
What can we expect in the current financial year?
Evolution clearly has a long-term plan in mind as it has provided a production guidance for the next three years. In FY 2017 (the current financial year, which started on July 1st) and FY 2018, the company expects to produce 800,000-860,000 ounces of gold, increasing slightly to 810,000-870,000 in FY 2019.
That's great, and this production increase will go hand in hand with a lower production cost of the gold. For FY 2017, Evolution is expecting to produce its gold at an AISC of US$740-785 per ounce, putting itself on the map as a low-cost gold producer in Australia. The production cost will also start to trend down towards FY 2019, when Evolution should be able to produce its gold at an AISC of A$910-980 per ounce. Using an USD/AUD exchange rate, this would result in an AISC of just US$710 per ounce.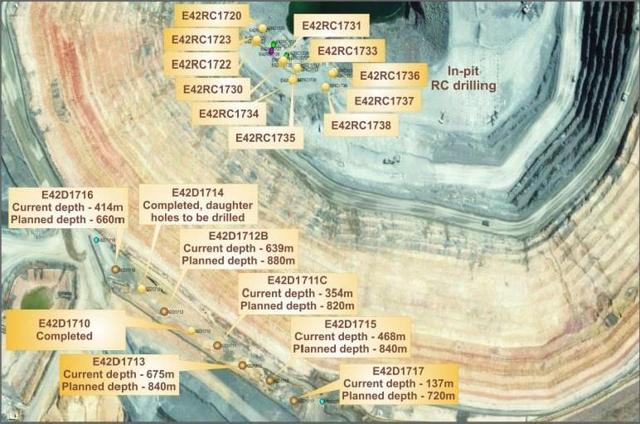 Source: Press release.
I would also expect the company to continue its drilling activities at the Cowal mine, where the exploration results seem to be better than generally expected. Evolution has drilled quite a few meters at one specific zone of Cowal, as it wanted to have some more drill results to justify the H-stage of the cutback of the open pit.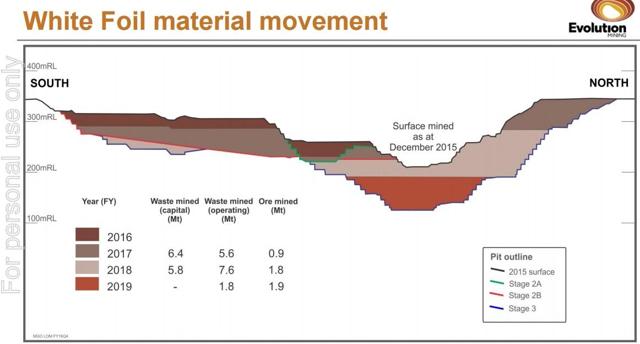 Image represents the Mungari open pit, not Cowal, Source: company presentation
These exploration results now seem to indicate Evolution has discovered a new mineralized zone as the grade seems to be higher whilst the 'layer' of the mineralization also seems to be thicker. Perhaps even more important is the fact this allowed the company to 're-qualify' rock that was previously regarded to be waste rock to 'ore' that could be mined and processed. It's needless to say this will boost the NPV of the Cowal extension by tens of millions of dollars. And that's probably the reason why Evolution has now directed no less than seven (!) drill rigs to punch some more holes.
Investment thesis
I would also expect Evolution Mining to continue to reduce its net debt as this seems to be one of the company's main priorities. Evolution has repaid approximately A$322M of debt (US$240M), which should reduce the net debt to just in excess of US$200M. If the gold price continues to trade at the current valuation, there's no reason why Evolution couldn't convert its net debt position into a net cash position perhaps by the end of this calendar year, but definitely by the end of this financial year (which ends in June 30).
The company hasn't provided any detailed financials yet (we will have to wait for the annual report), but there's very little doubt FY 2016 was a great year on the financial front. That being said, one has to wonder if the current market capitalization is still attractive, and the answer seems to be 'yes' considering Evolution seems to be trading at just 6-7 times its FY 2017-2019 free cash flows, which is quite cheap. However, there's a good reason for this, as the mine lives at most of its mines is quite limited. As the share price has now increased by approximately 200% since my very first article on Evolution, you really might want to take some cash off the table here as it could be deployed elsewhere.
Disclosure: I/we have no positions in any stocks mentioned, and no plans to initiate any positions within the next 72 hours.
I wrote this article myself, and it expresses my own opinions. I am not receiving compensation for it (other than from Seeking Alpha). I have no business relationship with any company whose stock is mentioned in this article.
Editor's Note: This article discusses one or more securities that do not trade on a major U.S. exchange. Please be aware of the risks associated with these stocks.