Last Time Out
"My magic 8 ball sees potential inflection around 07/20, 09/19 and 12/26." - July 20 - Big Blue?
Above on 07/20 we concurred with one of our mentors, since then:
DJIA peaked on 07/20, since then down 8 of 10 sessions with 7 straight down days.
USD/JPY plunging straight down from 106.84 to 100.89
JGB 10 yr yield soaring 16bps from -0.233 to -0.075
SP500 has made a new all time high
Quite the market inflection point indeed. Please excuse tonight's lack of a movie theme, for although June 28, 1975 has long since passed, we have an inspirational guest in the house. Tonight, our guest of honor who is one of our mentor's will be helping us paint a picture and hang it on the wall, in a frame of perspective, so to speak.
Never an actual performer, but a writer by trade and occasional narrative guide to the macabre, he was known as the "angry young man" of Hollywood, clashing with television executives and sponsors over a wide range of issues including censorship, racism, and war.
In elementary school, Serling was seen as the class clown and dismissed by many of his teachers as a lost cause. During his military service, in the 511th Parachute Infantry Regiment and Demolition Platoon (Death Squad) of the 11th Airborne Division, Private Serling was awarded the Purple Heart, the Bronze Star, and the Philippine Liberation Medal.
In 1955, the nationwide Kraft Television Theatre televised a program based on Serling's 72nd script. Robert Lewis Shayon stated in the Saturday Review, "in the years I have been watching television I do not recall being so engaged by a drama, nor so stimulated to challenge the haunting conclusions of an hour's entertainment."
Serling went on to write Requiem for a Heavyweight for the Playhouse 90 TV series in 1956 and the film adaptation. Serling was often forced to change his scripts after corporate sponsors read them and found something they felt was too controversial. Frustrated by seeing his scripts divested of political statements and ethnic identities Serling decided the only way to avoid such artistic interference was to create his own show. Sources
Serling went on to create, write and narrate for both the iconic Twilight Zone and Night Gallery TV series. Amongst his many screenplays, the original Planet of the Apes adapted from the 1963 Pierre Boulle novel. Amongst his many nominations and awards, Serling would go on to win six TV Emmies.
Mitch Albom speaks to the Five People You Meet in Heaven, while James Lipton asks, "if heaven exists, what would you like to hear God say when you arrive at the pearly gates?" For my part, Rod Serling would be on that list and amongst other things, I would love to hear, "Mr. Serling has been waiting to speak with you".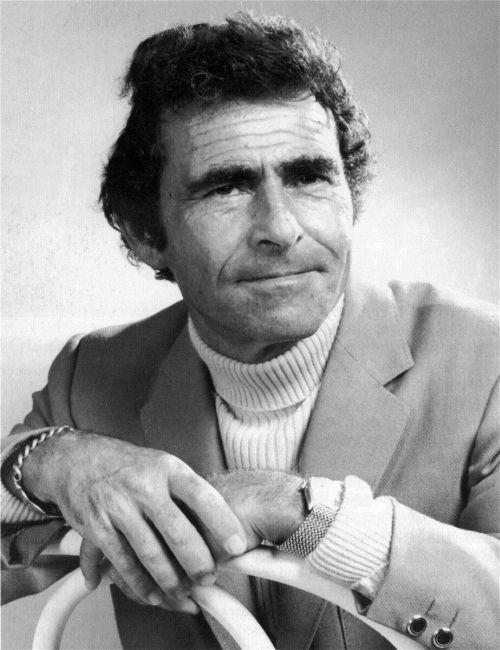 Gallery is not designed for sunshine, or the cheery vestiges of the good life.... a collection of portraits in black - stories of the eerie and unpredictable.... The portraits we'll tell about are not to be found in art museums or run-of-the-mill exhibitions. The subjects are much too out-of-this-world to seek permanence in paint an pigmentation. They'll move across your screen at a deadly gallop. Watch for them and watch for me on... Night Gallery. - Rod Serling
Bizarre BLS BS?
We have previously Nattered about the job markets performance in Disingenuous Jobs Reports and other econometric falsity in Bull Economy, Bull Economy 2 and The Emperor's New Clothes Or Econometric Misperception?
The latest BLS jobs report estimates provided an MSM headline +255K net seasonally adjusted which caused a stir in some circles. A friend of mine wrote: "On the whole, I may have been too pessimistic and we'll have to consider that next week. This is another very strong jobs number and can't be brushed off as a fluke at this point".
Nattering down what should be a performance based trail, we went hunting for wherever exactly could that flash number be found? In unsurprising fashion, we found it quicker than a teenagers bubble gum, "pressed up" under a theater seat cushion.
But as Dr. Zaius said in Planet of the Apes re: entering the forbidden zone, "Be careful what you look for Taylor, you might not like what you find".
Found buried in oft unread Table A-9 under non seasonally adjusted:
An increase of +447K employed, good news right? DEAD WRONG. From Table A-9: self employed non incorporated -208K + incorporated -188K = -396K less self employed. Well maybe they got better offers?
From Table A-8: All industries, part time due to non economic reasons declined -571K, while non-ag private "other industries" increased +870K, netting +299K.
Based on the above A-9 and A-8 data, perhaps those "self employed" quit their other part time "non economic" jobs to take better paying private sector jobs? Just trying to be optimistic...
Upon further review, most all age categories DECLINED, including the prime earners 25-54 yrs declining -120K.
The exceptions, more Wal-Mart (NYSE:WMT) greeters as 55 yrs+ had an increase of +78K; and drum roll please... an increase of +492K employed between the ages of 16-19 yrs. Teeny boppers and elders in need, indeed.
The Demographics of Cheap Labor?
Ah, but it gets better, as it always does... from Table A-9: Married men -162K + Married women -287K = -449K less married people employed.
However, some of that slack was taken up by single women who maintain a family +267K; specifically 25-54 yrs +13K; and 16-19 yrs of +205K, so most of those single women supporting a family were teenagers.
It seems we have found those "self employed" who quit their "other part time job", which was reported as "non economic", to take "better paying" private sector jobs.
So in essence, the flash number provided for the "best job market in decades" MSM narrative of +255K, is comprised of 86% teenagers, the majority of which were unwed teenage mothers, and 14% seniors, while prime earners or REAL JOBS declined +120K. Quite the performance by the "best job market in decades".
Better paying jobs means wages were reported on the rise. Establishment data summary table B showed a +0.8% monthly increase in payrolls. Doubting Thomases might say it's time to play Truth or Consequences or just avoid stepping in the BLS BS?
Taxes?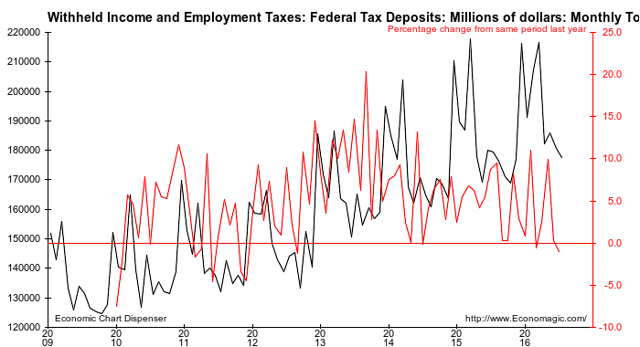 Above note, Federal with-holding taxes, Yoy Roc (Rate of Change - red line) trending down since mid 2013 and currently negative. In point of fact...
July 2015 179,344 Millions
June 2016 180,617
July 2016 177,501
Decreasing Mom and Yoy, this means growth is in contraction or declining, which is the opposite of growing, so the wage increase claim is pure BS, er BLS statistical modeling nonsense. Proving that perhaps that "best performance" might be a charade of sorts?
Birth and Death?
Pouring salt in the wound, the estimated number +255K is pulled out of the rear end of someone's model. Unfortunately not a Hollywood or runway model, but a birth death model to be exact.
More bad news, +140K, or 55% of the +255K new jobs, are jobs arbitrarily added to the number by the birth-death model. If you neutralize the birth-death model's contribution, new jobs were actually, a paltry +95K.
Prime vs Past Prime?
Aside from the 15 million mysterious American NILF's (Not In Labor Force) not counted or MIA for statistical purposes, as mentioned in Big Blue?; the demographics of this craptacular job markets performance since the "recovery" can be described in two simple graphs: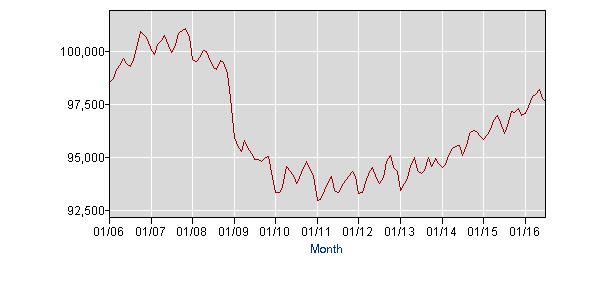 Above note, 25-54 yr old prime earners peaking at 101083 in Nov 2007; today at 97628, for a net decline of 3.5M prime earning jobs during this "recovery". No real jobs, just McJobs for McPay.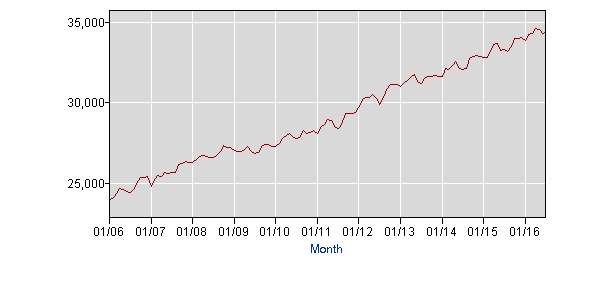 Above note, 55yrs+ in Nov 2007 at 26376, now at 34353, for a net increase of 8 million employed. Not for sheer enjoyment and mostly out of economic necessity. The above attests to no real jobs, just McJobs for McPay and work till you die?
The Twilight Zone?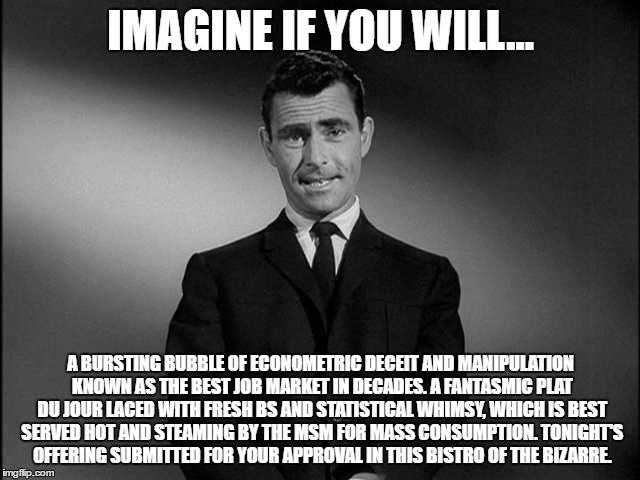 We hope you enjoyed tonight's tale of the macabre and our Twilight Zone meme above. At the end of the day, those who have been viewing the proclaimed recovery and job markets performance with a jaundiced eye, your pessimism is warranted, stick to your guns and do this. Please, don't mind the hat, jacket or the dodgy backup band members.
Would like to thank you folks fer kindly droppin' in. You're all invited back again to this locality. To have a heapin' helpin' of Nattering hospitality. Naybob that is. Set a spell, take your shoes off. Y'all come back now, y'hear!
This is our 106th in a series of thematically related missives which will attempt to identify the macroeconomic forces with potential to adversely effect capital, commodity, equity, bond and asset markets.
I wish to dedicate this missive to one of my mentors, Salmo Trutta, who is a prolific commenter on SA. Without Salmo's tutelage, and insistence on not masticating and spoon-feeding the baby ducks, as in learning the hard way by doing the leg work and earning it, this missive would not have been possible. To you "Proximo"... "win the crowd and win your freedom" - Spaniard.
Disclaimer
Investing is an inherently risky activity, and investors must always be prepared to potentially lose some or all of an investment's value. Past performance is, of course, no guarantee of future results.
Before investing, investors should consider carefully the investment objectives, risks, charges and expenses of an investment vehicle. This and other important information is contained in the prospectus and summary prospectus, which can be obtained from the principal or a financial advisor. Prospective investors should read the prospectus carefully before investing.
Market Plays
As for how all of the above ties into the potential and partial list of market plays below... the market as a whole could be influenced, and this could tie into any list of investments or assets. Those listed below happen to influence the indices more than most.
There are many macroeconomic cross sector and market asset correlations involved that affect your investments. Economic conditions, the eurodollar, global dollar debt and monetary policy all influence the valuation of the above and market plays below, via King Dollar's value, credit spreads, swap spread pricing, market making, liquidity, monetary supply and velocity, just to name a few. For a complete missive series listing covering those subject and more,click here.
The potential global economic developments discussed in this missive could affect numerous capital and asset markets, sectors, indexes, commodities, forex, bonds, mutual funds, ETFs and stocks.
A List of 17 Potential Market Plays (Long or Short?): Apple Computer (NASDAQ:AAPL); Google (NASDAQ:GOOG) (NASDAQ:GOOGL); Facebook (NASDAQ:FB); Microsoft (NASDAQ:MSFT); Citigroup (NYSE:C); General Electric (NYSE:GE); Cisco (NASDAQ:CSCO); Bank of America (NYSE:BAC); Amazon (NASDAQ:AMZN); Tesla (NASDAQ:TSLA); SP 500 Trust ETF (NYSEARCA:SPY); Ford (NYSE:); Starbucks (NASDAQ:SBUX); Intel (NASDAQ:INTC); ATT (NYSE:T); IBM (NYSE:IBM); Exxon Mobil (NYSE:XOM).
Disclosure: I/we have no positions in any stocks mentioned, and no plans to initiate any positions within the next 72 hours.
I wrote this article myself, and it expresses my own opinions. I am not receiving compensation for it (other than from Seeking Alpha). I have no business relationship with any company whose stock is mentioned in this article.