Acadia Healthcare (NASDAQ:ACHC) has gotten the wind knocked out of it recently. The pure play behavioral health provider unfortunately got hit with a double whammy related to its proposed expansion into the United Kingdom via its Priory Group acquisition. Brexit fears obviously slammed the company due to its new British exposure, but there is more cloudiness on the horizon.
Acadia Healthcare's expansion by buying the largest local behavioral health provider has the United Kingdom's Competition and Markets Authority looking deep into potential competitive concerns. With the equity now down more than one quarter from recent highs, is it now time to potentially take a position in the company?
Business Overview
As a provider of mental health and substance abuse facilities, there are some sizeable secular trends benefiting the company. Across the first world, there is a meaningful push towards raising awareness of the effects of non-treated mental illness. As a result, both government and private insurers alike in the United States and the United Kingdom are becoming more in tune with the use of mental health treatment to prevent future disease and eliminate wasteful healthcare spending.
Interestingly, medical studies have shown that patients with untreated mental health issues visit medical doctors twice as often for unnecessary care and consume a similar outsized portion of valid medical care. It is clear that some of these costs could be reduced by treating the root problem (depression, anxiety, substance abuse) that inevitably seem to lead to wasteful medical spending.
With more and more focus on out of control healthcare costs, expect more and more emphasis on mental health as a possible means of wringing out cost savings, especially given the lack of appetite for true medical reform within the system. The company is already starting to benefit from these trends, as revenue per bed is on the rise as well as growing hospitalization times (supply constraints). Despite growth, the company still owns just a small portion of the overall potential market ($48B according to Acadia Healthcare estimates) for these services.
Make no mistake, this is and will continue to be a roll-up business model, and Acadia Healthcare has quickly catapulted itself to being the largest publicly-traded player in this space. Unlike other business sectors where I've been critical of this strategy, it does seem to be working here. Operating margins are up more than 500bps and earnings per share are up solidly as well despite significant dilution used to raise capital.
Revenue has grown from $220M in 2011 to nearly $1.8B in 2015 as the company expands and rapidly increases the number of beds under its control. This is despite ongoing acquisition and integration costs that will taper off once company management feels Acadia Healthcare has reached critical mass.
While I enjoy fellow Seeking Alpha writer David Trainer's work, I think he has it wrong on Acadia Healthcare here. Due to timing of balance sheet activity (liabilities taken on before acquisitions generate cash flow) and the costs of a roll-up strategy (acquisition and integration costs), economic earnings tend to be weak during years of purchases for companies engaged in roll-up strategies and tend to strengthen as buying slows down.
Further, economic earnings by its nature assumes steady cash flow margins into the future, which tends not to be the case as once critical size is reached, companies like Acadia Healthcare can realign focus onto margins and away from deal-making and integration strategies. There are valid concerns raised (non-GAAP accounting), but overall, I think the direction being taken here is proper. While we can debate the merits of non-GAAP versus GAAP all day, even GAAP results are moving in the right direction, led by margins.
Margin Accretion
Leading this margin expansion has been leverage on general corporate overhead, as well as some cost strength and operating leverage at the facilities level. In total, labor costs as a percentage of revenue have gone down significantly. Investors can point to a number of reasons why this is the case: reduced redundancy, longer patient stays, capacity constraints, etc. Prompting some of this operating leverage, same facility revenue continues to grow in the upper single digits annually, which really shows the underlying strength and demand for the company's products.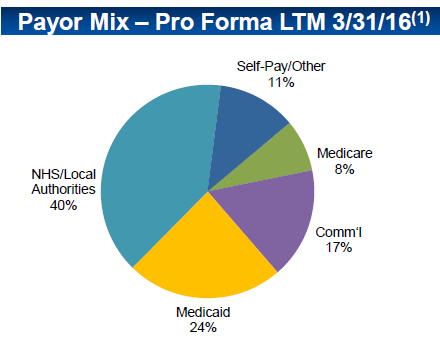 *Acadia Healthcare, 2016 Investor Presentation
From a revenue sourcing perspective, there is a lot to like here. The revenue base is diversified, with (pro forma for the Priory acquisition) 40% of 2015 revenue coming from the U.K.'s National Health Service (NYSEMKT:NHS), 24% Medicaid, 17% commercial payors (insurance), 8% Medicare, and 11% other (out of pocket primarily). While the company does rely primarily on government payments, there is a sizeable private exposure as well. While there are risks revolving around the business if governments try to cut allowed payouts to these companies, in the meantime, it does keep accounts receivable and account provisions much lower than if the company was more exposed to non-government revenue sources.
Priory Group
The Priory acquisition is key to long-term strength for Acadia. Despite expected weakness in the British economy over the next several years, the behavioral health market in the United Kingdom should continue to expand in the low-single digits annually. Meanwhile, NHS bed capacity is significantly down since the recession, and that trend is expected to continue as the NHS continues to move to outsource this type of care.
Regulators have raised concerns over the deal. Acadia was already a large player in the United Kingdom prior to this acquisition, and this deal catapults them to a strong market-leading position. In order to satiate regulators, the company has offered to sell nineteen of its facilities ($132M in revenue, <5% of bed count) in the United Kingdom. While management expects this will ease regulator concerns and they now expect regulatory approval, it remains to be seen if further concessions will be necessary.
Valuation
It can be hard to pin a number on Acadia. 1H 2016 operating cash flow has run up to $183M, and given the lack of seasonality, we can expect $360M for full year 2016. While Acadia Healthcare does not break out its capital expenditures, I'd tag $165M as maintenance capex (assuming blended twenty-year useful life on $3.3B in PP&E on the balance sheet, straight line depreciation).
That puts free cash flow somewhere in the neighborhood of $195M for 2016, or 2.4% FCF yield. That is far from cheap, but not out of line of many fast growing companies in the healthcare sector. Given the expectations of synergies in 2017 (>$25M per management guidance), organic growth in the 8% range, and further margin expansion, free cash flow is likely to expand significantly over the next several years.
Investor concerns should still revolve around leverage. Bank-indicated leverage (for covenants) is 5x net debt/EBITDA, and management still intends to invest in the business over the next several years. Investors should expect only moderate deleveraging through debt paydown given capital expenditure guidance, with leverage ratios instead coming down via growth over the old-fashioned way of making principal payments.
If industry trends reverse and cash-strapped governments tighten down - especially the United Kingdom given uncertainty around Brexit - the story could change significantly. The company has no cash reserves to speak of, but luckily, interest coverage is fairly strong. Outside of catastrophic events, there is still little concern over tripping debt covenants or being unable to cover debt obligations.
I do think consensus analyst price targets are too high. Consensus is currently $75/share, well above current levels. While the equity did reach these prices back in mid-2015, there are meaningful concerns that revolve around the business, and I think that pricing was a result of some irrational exuberance revolving around the Priory Group deal. If you want exposure to this type of business, I think $50-55/share is a fair representation of risk/reward. It isn't a screaming buy to me, but I'm very particular with growth stocks like this one when it comes to valuation. I can understand investors with differing risk tolerances taking a very good look at this one down at these prices.
For more research like this on small/mid cap companies perpetually under-followed by Wall Street and under-owned by retail investors, consider following me (by clicking the "Follow" button at the top of this article next to my name) to receive notification when I publish research. Feel free to ask any questions in the Comments section below.
Disclosure: I/we have no positions in any stocks mentioned, and no plans to initiate any positions within the next 72 hours.
I wrote this article myself, and it expresses my own opinions. I am not receiving compensation for it (other than from Seeking Alpha). I have no business relationship with any company whose stock is mentioned in this article.