Shares of Bristol-Myers Squibb (NYSE:BMY) have come under enormous selling pressure due to key compound Opdivo's failure in the Ckeckmate-026 trial for the indication of monotherapy in non-small cell lung cancer. The share price of BMY collapses sending shockwaves through the biotech community. The article below will discuss my outlook on BMY along with how the setback affects shares of Gilead Sciences (NASDAQ:GILD).
Opdivo
Opdivo remains the crown jewel of BMY product lineup. Since gaining approval in late 2014, unlike traditional therapies, OPDIVO is a PD-1 (programmed death receptor-1) immunotherapy which aids the patient's immune system to mount an immune response against the tumor and non-tumor cells. The approval of Opdivo has ushered in a new era of oncology treatments with the audacious goal of transforming oncology into a manageable chronic disease similar to the advances in HIV.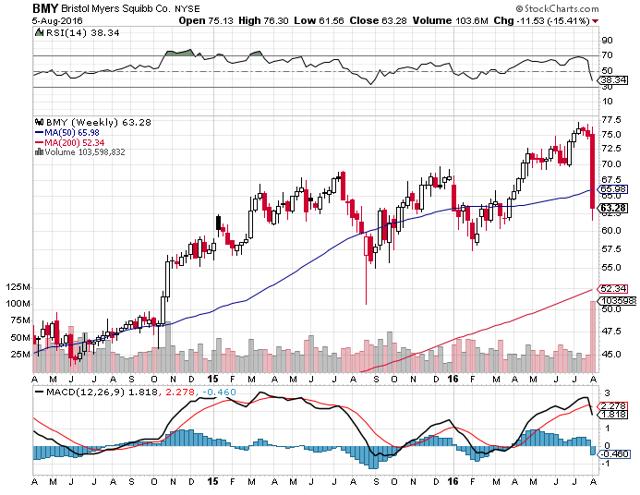 The shares of BMY have taken flight, beginning their ascent in October of 2014 as the approval of Opdivo began to be reflected in the value of BMY stock price. The share price of BMY seemed relatively immune to the issues plaguing the biotech industry as they quickly regained the lost ground from the steep sell-off earlier this year. Before the announcement of the preliminary results of the Checkmate-026 trial, BMY marked new highs well above $75 per share. In my view, the market was already pricing in a positive result for the trial with a new indication of monotherapy for NSCLC a near certainty for many. The trial design was quite aggressive with the inclusion of patients with a 5% PD-L1 expression versus chief rival Merck (NYSE:MRK) decision when testing Keytruda to set the cutoff rate at 50%. A meaningful result here for Opdivo would have cemented their lead as a frontline treatment for NSCLC as they would have conclusive data far superior to their primary rival in MRK. My suspicion is until the data is revealed in its entirety, we will not have the complete picture here. Keep in mind, a failure for the indication as a monotherapy treatment does not preclude the widespread use of Opdivo. My suspicion is the IO space will evolve in a similar fashion to the HIV and now HCV marketplace where combination treatments provide optimal results.
BMY Revenue
Worldwide Revenues

U.S. Revenues

2016

2015

%

Change

2016

2015

%

Change

Six Months Ended June 30,

Key Products

Oncology

Empliciti

$

62

$

-

N/A

$

61

$

-

N/A

Erbitux

-

334

(100

)%

-

322

(100

)%

Opdivo

1,544

162

**

1,237

145

**

Sprycel

858

780

10

%

443

386

15

%

Yervoy

504

621

(19

)%

378

317

19

%

Cardiovascular

Eliquis

1,511

792

91

%

912

443

**

Immunoscience

Orencia

1,068

861

24

%

722

569

27

%

Virology

Baraclude

590

683

(14

)%

32

83

(61

)%

Hepatitis C Franchise

973

743

31

%

553

-

N/A

Reyataz Franchise

468

597

(22

)%

242

300

(19

)%

Sustiva Franchise

544

607

(10

)%

455

492

(8

)%

Neuroscience

Abilify

68

661

(90

)%

-

575

(100

)%

Mature Products and All Other

1,072

1,363

(21

)%

190

249

(24

)%

Total

$

9,262

$

8,204

13

%

$

5,225

$

3,881

35

%
The impact of the growth of Opdivo remains crucial for the long-term viability of BMY. In its second full year on the market, Opdivo is BMY leading product outpacing the blockbuster anticoagulant Eliquis in sales. Friday's setback, while far from fatal will lower the overall growth trajectory of Opdivo and hence BMY fair value calculations.
Finbox.io Fair Value
A special thank you to Matt Hogan and the team at Finbox.io for access to the excellent tools shown below.
My fair value for BMY incorporates a weighted average cost of capital of 8% with an exit EBITDA multiple of 13 to compensate for BMY aggressive growth over the next few years. My fair value for BMY is currently $64.19 slightly higher than Fridays closing price. In my view, the share price has gotten ahead of itself here with t he shares now trading in line with their perceived fair value.
To add further context to the drop in stock price, heading into Friday's trading session the shares of BMY sported a market cap of $122.6 billion. Using my current estimate of $18.7 billion for 2016 sales, BMY was sporting a price to sales ratio of more than 15!
The impact of the Dividend
BMY maintains a well-deserved reputation as a reliable, dependable dividend payer. BMY current dividend rate of 2.4% is far and away superior to rates currently available from the fixed income market. In the August issue available exclusively to subscribers of the Undervalued Gems Investment Service, I detailed the investment case for a similar well-established pharma company with a superior yield. The company is now entering its next phase of growth as multiple new products are entering the rapid phase of their revenue growth curve.
The implications for Gilead Sciences
In my recent series of articles covering the plight of Gilead Sciences , many have mentioned the case for GILD to acquire BMY. Let's examine the merits of the tie-up as the market caps are nearly identical.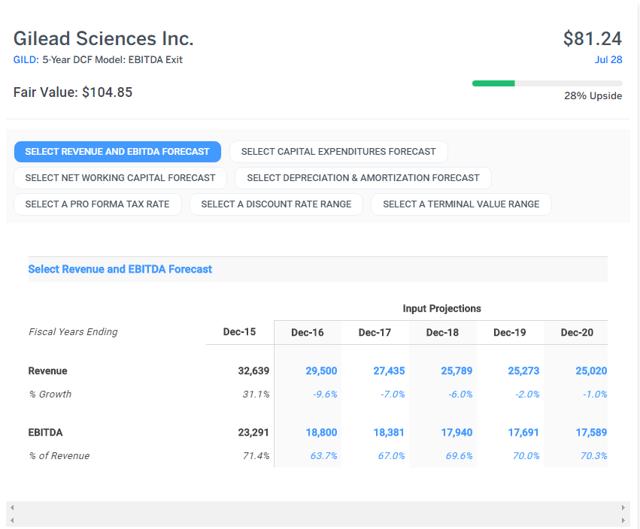 The first thing that stands out when comparing the DCF of each company is how far superior GILD profitability is. Due to GILD smaller corporate footprint, BMY needs to generate over $2 in sales to match the profitability of GILD $1 in sales. Even if we assume BMY recoups from their recent setback and Opdivo leads the charge forward, BMY will nearly double its EBITDA to over $9 billion in 2020. They still fail to come even close to GILD overall profitability. An investment in GILD does have its current issues, namely a decline in HCV sales leading to a decrease in overall sales.
A combination with BMY would spark fantastic headlines; I fail to see how the combination would benefit GILD on an ongoing basis. The overall margin of the combined entity would shrink coupled with what is bound to be a contentious merging of two vastly different corporate cultures. The path forward for shareholders of GILD remains the diversification of the revenue stream with the additions of new novel treatments whether from the internal discovery of external acquisition.
Is BMY vulnerable to a takeout?
In my opinion, for BMY to fall, prey to a takeout would require a deep-pocketed suitor along the lines of Pfizer (NYSE:PFE) to have a shot of happening. The current favorable interest rate backdrop does aid in the potential, yet I do not foresee a deal happening. The current executive team has performed marvelously, spearheading Opdivo through clinical trials and ultimately to market. Yes, some may criticize the decision for such an aggressive trial design that lead to failure, yet I cannot fault the thought process. Conclusive results would have cemented Opdivo's position; I will post an update once the full results of the trial are released. I am hesitant to crown MRK the new king of the IO space, the jump in share price seems overdone. I would like to thank you for reading, I look forward to your comments.
Investors are always reminded that before making any investment, you should do your own proper due diligence on any name directly or indirectly mentioned in this article. Investors should also consider seeking advice from a broker or financial adviser before making any investment decisions. Any material in this article should be considered general information, and not relied on as a formal investment recommendation.
Disclosure: I am/we are long GILD, PFE.
I wrote this article myself, and it expresses my own opinions. I am not receiving compensation for it (other than from Seeking Alpha). I have no business relationship with any company whose stock is mentioned in this article.
Additional disclosure: Currently have option exposure to BMY via a call and put.