Investors will move past the bullish sentiment for Nvidia (NASDAQ:NVDA) when the company reports its quarterly results on August 11. At its current valuation, up 65 percent since its last report, expectations are extremely high Nvidia will impress the markets. Markets have high expectations for the company, ahead of quarterly results.
Nvidia will need to quantify the level of demand for its high-end graphics card ("GPU"). Initially released in limited quantities , the GeForce GTX 1080 and GTX 1070 Founders Edition beat Advanced Micro Devices' (NASDAQ:AMD) Polaris announcement. Though AMD is targeting the mainstream market, Nvidia may win over hardcore gamers with the next generation Pascal architecture. Even after AMD's RX480 launch, Nvidia solidified its lead for the top-end GPU market. On July 21, Nvidia announced the Titan X, which retails for $1,200.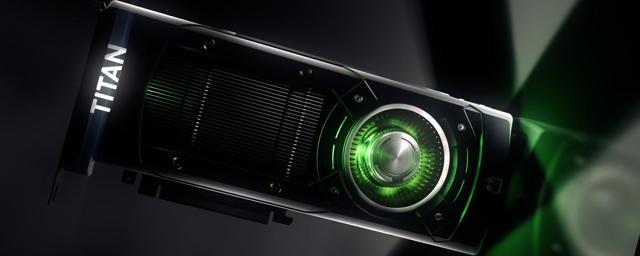 Fortunately for Nvidia, variants of AMD's RX 480 are out of stock at many locations: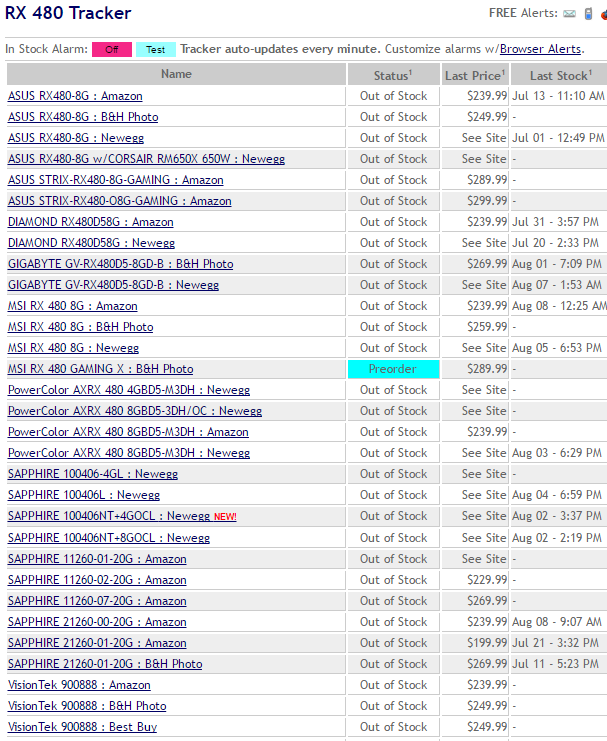 Source: https://www.nowinstock.net/
Availability for the regular edition of the GTX 1080 is improving: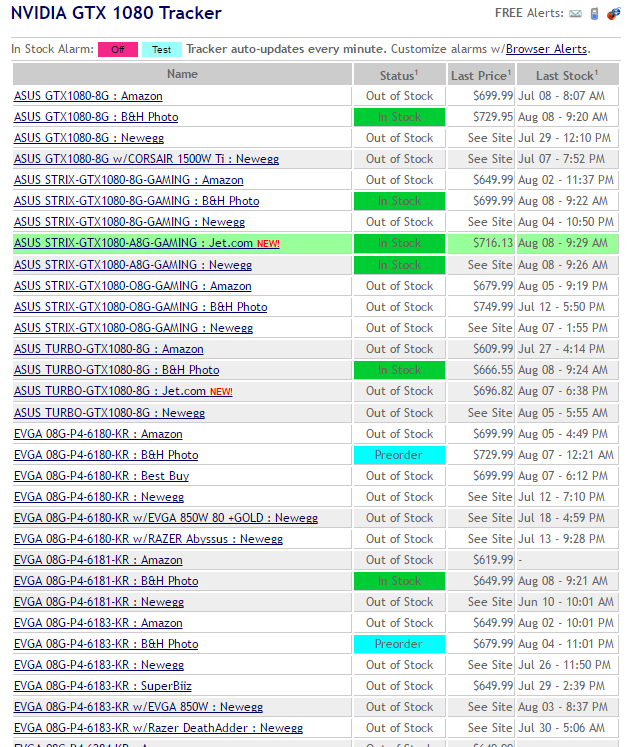 The company may count some of the shipments made during the quarter, but investors should expect sales picking up in the next quarter and the rest of the year. With a P/E of nearly 50x and a forward P/E of 36.6 times, Nvidia has little room for disappointing shareholders. Its dividend yields only 0.79 percent, so the bulk of the gains will depend on for the stock price moving higher. Still, the high hardware demand from the game Doom and Witcher 3 is a catalyst for Nvidia's GPU sales. The summer Steam sale will also support card sales for both Nvidia and AMD.
Valuation
Nvidia trades at an EV/EBIDTA of 26.9 times, more than double the sector benchmark:

The stock's EV/EBITDA multiple is nearly three times that of the benchmark, which consists of the following companies:
| | |
| --- | --- |
| Benchmarks Used | Current Multiple |
| Activision Blizzard, Inc. (NASDAQ:ATVI) | 17.9x |
| Entegris, Inc. | 12.1x |
| Fairchild Semiconductor International Inc. | 15.1x |
| Intel Corporation (NASDAQ:INTC) | 7.4x |
| NXP Semiconductors NV (NASDAQ:NXPI) | 13.2x |
| Synaptics Inc. (NASDAQ:SYNA) | 7.1x |
| Teradyne Inc. | 7.6x |
| Texas Instruments Inc. (NYSE:TXN) | 13.3x |
| | |
| NVIDIA Corporation | 26.9x |
Source: Finbox.IO
Assuming revenue growth doubles in fiscal 2017 and sustains the double digits for the next five years, Nvidia's fair value is around $52:

Investors may consider assigning a low discount rate for Nvidia, since the company is finding growth in IoT, the automotive market, and high-end computing. That would imply a fair value of between $46.45 and $59.53:

Takeaway
Investors should recognize the average price target on Nvidia is $49.93, which is 14 percent below the recent stock price. The markets expect Nvidia will knock a home run out of the ballpark with earnings. The stock will fall if management reports a miss or lowered expectations, such as citing heavier competition from AMD. Please [+]Follow me for continued coverage on both Nvidia and AMD. Click on my name next to my avatar at the top of the article. Thank you for reading.
Disclosure: I am/we are long AMD.
I wrote this article myself, and it expresses my own opinions. I am not receiving compensation for it (other than from Seeking Alpha). I have no business relationship with any company whose stock is mentioned in this article.