Introduction
In my search for magic formula stocks outside of the US, InterContinental Hotels Group (NYSE:IHG) was not a surprising hit. Fear of a cycle change have depressed the valuation, while a large volume of asset disposals have contributed to high cash balance. Further research nevertheless reveals a resilient company with increasing margins, that has positioned itself perfectly possible changes in the macro-environment. Investors observe the cyclicality and asset disposals, but do yet recognize these qualities, as they have yet to appear in the numbers. As a result, IHG is a smart value play, combining high returns on capital with lots of room for potential growth.
IHG
IHG is a global hotel group best known for its Holiday Inn brand. In total, the group exploits 8 different brands, ranging from the luxurious Intercontinental hotels to the adventurous Holiday Inn Resorts. The company is the world's second largest operator in the world, behind the Marriott (NYSE:MAR)/Starwood (NYSE:STWD) combination. Figure 1 shows the geographical distributions of both revenue and number of rooms.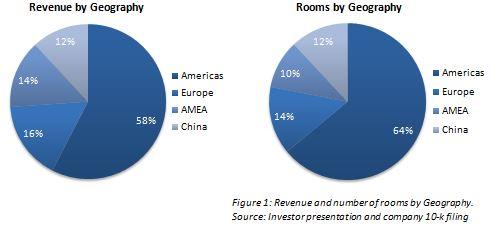 The majority of both rooms and revenues are obtained in the US. However, there can be substantial differences between average revenues per room for different locations. The reason for this difference is twofold. On the one side, the occupancy rates can differ. On the other side is the average price that depends on the product offering. No specific data on occupancy rates is disclosed.
However, brand specific numbers show that the high-end Intercontinental brand makes up almost 30% of EMEA rooms, but only 4% of US Rooms. Illustrating this difference confirms the significance of a well spread portfolio across both geographies and market segments. Segment demand follows the same overall trend, but shows variation in timing and severity. As a large player holding a diversified portfolio of brands, IHG should be able to stabilize its earnings across various stages of overall demand.
The Industry
Evaluating a company that has such heavy exposure to a cyclical industry, raises the importance to assess the point and direction of that cycle. In fact, it is at least as important as a view of the company itself. Because no matter how well IHG positions its brands: if the leisure and travel industry plummets, revenues and profits follow. The hotel industry is a fragmented one. Figure 2 shows the number of rooms operated by the biggest global players.

With the acquisition of Starwood, the new Marriott is the biggest operator in the world, with more than a million rooms in its portfolio. Estimates differ somewhat, but the consensus total number of hotel rooms worldwide passed the 16 million mark last year. This means the three largest players own around 15% of the global market. As a result of numerous consolidating acquisitions, this number is substantially higher than it used to be. However, with over 80% of the market divided between smaller players, there is plenty of room left to build up scale.
The cycle
The hotel & lodging cycle comprises a mean-reversing pattern, caused by a rat race between supply and demand. I believe an important part of IHG's low current valuation is a direct result of this cycle. The last five years have seen consistent growth in both revenue per room and total supply. As a result, the industry seems to be right at the top of the curve. This leads investors to anticipate the curve, dropping the share before their perceived industry downswing lowers results. This pattern is observable for many value stocks and industries (for example, the chicken cycle).
Resilient Fundamentals
Though repetitive, these cycles can vary in both length and severity. A closer look at fundamentals suggests continued room for growth, at least for the short-to-mid term. First, the number of people entering middle class territory increases steadily, especially in China. This group can now better afford international travel, boosting total demand. Second, an overall ageing population results in more travel, as retirees spend - on average - much more time on vacation. Finally, general globalization trends, supported by lower oil prices, are expected to increase global travel rates. This is not just wishful thinking by company management, but studied and observed by independent parties.
Robust Business Model
While fundamentals may defer the cycle (and reduce its impact), consistent supply growth initiates a downswing eventually. If that happens, IHG is a much safer investment than its large peers. In the past years, IHG has been aiming to reduce the number of hotels owned in its portfolio. Table 1 shows the divestment activities of 2015. These divestments are on top of the 750 million sold in 2014.

A direct result of this strategy is that an increased fraction of total revenues contains license fees. Franchised hotels are owned by a third party that provides personnel and pays a fee to IHG. In return, IHG focuses on its brand development and marketing. While these fees are performance related, they are a lot less volatile than actual earnings. The length of management contracts that accompanied the 2015 divestments are between 60 and 70 years. In addition, there are no commitments to buildings, which improves flexibility. Therefore, this model is a lot more stable in times of downturns.
In 2015, 67% of IHG's revenue came from fee-based margins, meaning revenues obtained through franchise. The other 33% is largely obtained through revenue from managed hotels (where management of the hotel is in the company's own hands), and revenue from hotels that are actually owned. IHG gives no breakdown of the latter two, but in 2015, just 7 (AR 2015 note 12 p.144) out of the more than 5,000 hotels are actually owned. This means that a very small portion of the 33% will come from these hotels. This stands in stark comparison to its peer group, as figure 3 illustrates.

These numbers are absolute, but even when scaled for company size, IHG is a relatively lean entity. This allows the firm to grow more easily and generate a high return on capital. Another benefit is the additional scale effect: as more hotels (especially at more attractive locations) join one of the IHG brands, it increases the overall value of customer loyalty programs, and the company's leverage in negotiations with new parties.
In essence, the asset-light business model stabilizes earnings relative to the overall cycle. The forgone benefits include peak earnings when industry performance is high. In return, industry downswings are cushioned.
Another important sign is the way a company is positioned for the years ahead, and whether it is able to anticipate changing customer needs. For example, Deloitte points to personalizing the product offering to capture growth among millennials. IHG adapts to this trend by investing heavily in technology, creating a higher level of interactivity. This includes an Apple watch app, personalized Guest Journey's and creating a Guest Reservation System in cooperation with Amadeus.
These systems allow the customer to more specifically select certain features of a stay (like scheduling an exact time of checkout, or book a room at the end of a hallway). These measures potentially increase margins in three ways. First, they create a product offering that is better aligned with customer demand. Second, they increase the potential revenue that can be obtained from a room. Third and finally, they make direct booking a better relative proposition, as more choices are available.
Valuation
Investors should ignore the current P/E of 6, IHG's price seems too good to be true, and to a certain extent, it is. The absence of heavy disposals in the past year result in a forward P/E of around 18, in line with the broader index. Next year's revenues are expected to remain constant, while capital expenditures will be higher (primarily the result of investments in emerging markets).
Although not the bargain it seems at first sight, that multiple seems reasonable for a strong company that is well positioned to profit from key growth areas. For this purpose, I construct a DCF valuation in line with the parameters depicted in table 2.

I use an upwardly rounded WACC of 8.5%. This is a somewhat smaller adjustment than I normally incorporate, but the strong cash flow generation of the business (and according financial flexibility) strongly reduce the risk of substantial changes in the cost of capital (especially the cost of debt). Instead, I implement caution by taking an average revenue growth of 5%.
Based on the company's strong presence in the US and especially China (the industry's perceived areas of growth), combined with an overall trend of consolidation, revenues will likely grow at a faster pace. Operating margins are taken at the 2014 level, as full year 2015 levels are severely inflated by the high asset disposals. The reinvestment ratio is approached by capital expenditures as a fraction of sales, and is held constant to its 5-year average.
These inputs result in a fair value per share of $50.11. This represents a 27% implied upside at the current price of $39.43. However, I believe the upside is far greater, based on the dynamics that come along with the new business model. Table 3 shows fair value´s sensitivity with respect to the different input parameters.

Observing table 3 clarifies two important aspects that I believe add strength to the underlying investment thesis. First, not surprisingly, fair value increases strongly with operating margins. A quick look at IHG´s annual report reveals that fee margins differ with the level of involvement. Whereas owned and leased hotels generate fee margins below 20%, franchise fee margins are more than four times higher at 85%. As the company shifts more and more towards the latter activity, it becomes more likely that margins will adjust accordingly.
The full effect of the disposals is not yet visible, but underpins why management conveyed as much confidence in margin expansion as it did in the earnings call. Second, it becomes apparent that the current share price reflects no revenue growth for the next 5 years. That provides a strong layer of safety. There is plenty of room for growth, as outlined in the last paragraph. If this growth is acquired, it will be at relatively low multiples, especially in a cycle downturn. This reduces execution risk, while improving diversification potential.
Risks & Competitors
There are several risks associated to IHG's business and its pursuit for continuous growth. As described earlier, the hotel business is fairly cyclical. The asset-light business model mitigates this partially, but indirect exposure to overall demand remains intact.
This model can also be the root for some risks. Although it mitigates the direct exposure to lower visitor rates, it does so at the cost of the full upside in case of a strong market. In that situation, fee upside is limited, whereas fully owned hotel revenues go through the roof. Another risk lies in the geographical spread of the company's revenue realization. Earnings is obtained in multiple foreign currencies, causing fluctuations. Finally, there is the risk of competitors, which is made up of two parts.
Incumbent competitors, such as Hilton (NYSE:HLT) and Marriott, will fight for the same consolidation. While current multiples are attractive, future growth may have to be acquired at higher multiples. The other part is the external threat of Airbnb (Private:AIRB) type businesses, where people offer their homes for rent, often at lower prices. Although this can potentially scoop away some demand, it is mostly the lower range hotels or hostels that will be affected. For family experiences with swimming pools, or business accommodations, this impact is reduced.
Conclusion
At first sight, IHG seems cheap because of special circumstances meeting an unfavorable industry stage. However, looking closer at the company, and its transformation to an asset-light model, reveals a strong value opportunity, with room for both revenue and margin growth. At the same time, obtaining earnings through franchising prevents long-term lease commitments and other fixed costs.
This gives IHG flexibility in times of adversity, while being able to obtain growth more easily. Finally, with its high margins and smaller balance sheet, the group could be an interesting takeover target. It is the combination of these different factors that make IHG a strong value play at this point in time. I consider the company a strong buy, both in absolute terms and compared to its peers.
Disclosure: I/we have no positions in any stocks mentioned, and no plans to initiate any positions within the next 72 hours.
I wrote this article myself, and it expresses my own opinions. I am not receiving compensation for it (other than from Seeking Alpha). I have no business relationship with any company whose stock is mentioned in this article.