Introduction
Sometimes the best way to benefit from an expected increase in the oil and gas prices is when over-levered producers with a high decline rate have been slaughtered by the market. If the turmoil on the energy markets doesn't last for too long, those companies usually catapult back up to where they came from. Alas, the current downturn is taking longer than originally anticipated, and some companies are scrambling to cut costs and stay alive. One of those companies is RMP Energy (OTCPK:OEXFF).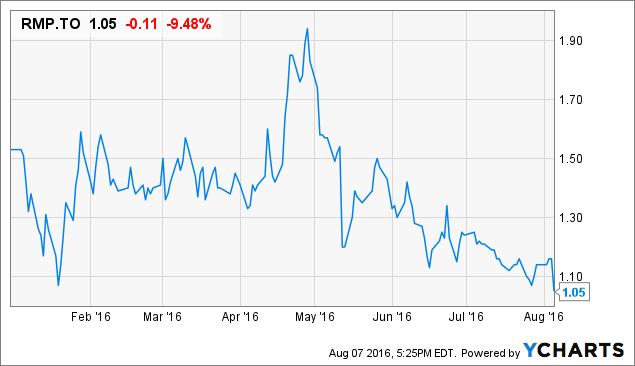 RMP Energy is a Canadian company and the Canadian listing offers you more liquidity. The ticker symbol in the 'True North' is RMP on the Toronto Stock Exchange, and the average daily volume is 1.6M shares, substantially higher than the average volumes in the USA.
The 'for sale' sign has been put in the front yard. Not unexpected at all
"The current macroeconomic commodity price environment continues to beleaguer the North American oil and gas sector." That's how RMP starts its important press release and upon reading that sentence, you immediately know nothing good will follow.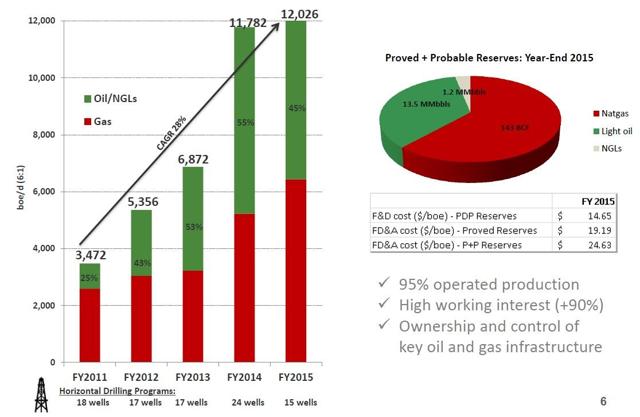 Source: company presentation
Basically, the company is throwing the towel as it seems to be unable to attract a sufficient amount of cash to continue to advance its assets in the Montney zone in Canada and has announced it has now formally initiated a strategic review process in an attempt to monetize its Montney asset base. I do think the assets are quite nice, but the relatively high operating expenditures and the higher-than-average decline rate (in excess of 40%!) make it very difficult for RMP Energy to do well and reward its shareholders.

Source: company presentation
All of RMP's problems could actually be traced back to this high decline rate. Whilst most producers have an average decline rate of 20-32%, RMP's decline rate is the third highest of the oil and gas companies I'm keeping an eye on. This basically means the company has to invest a lot of cash and working capital to drill new wells in order to keep the production rate relatively stable. Should the company 'under-invest' in its assets, the total annualized production would fall off a cliff. These types of assets work perfectly during good times on the gas market, but are the first type of assets to cause companies to be in severe difficulties as the scarcity of capital is really handicapping the access to funds to keep the production rate stable. And unfortunately that's also the position RMP Energy is in right now. Its operating cash flow simply isn't high enough to cover the capex requirements to keep the production rate at a stable level.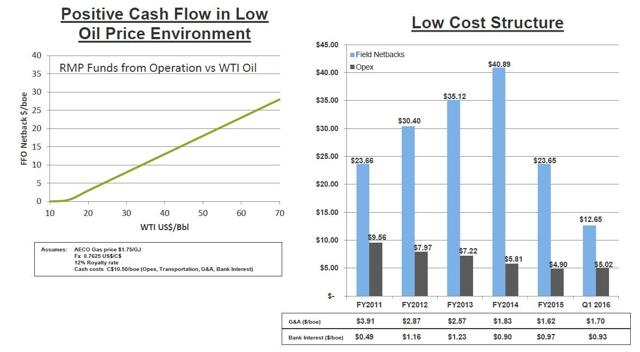 Source: company presentation
At US$43 oil, RMP was expecting to generate C$40M of operating cash flow, but it would need C$50M to cover its planned capital expenditures. That's a shortfall of C$10M and even though this might not be alarming, the devil is in the details. The company's financiers have told the company the line of credit would be reduced from C$150M to C$120M, with an additional step-down to C$100M by the end of October of this year. That's bad news as the company has already drawn down in excess of C$100M of the credit line, so the funds to repay the excess borrowed amount and the capex shortfall would have to be raised in yet another private placement. And this seems to have been the final drop, and RMP's management now wants someone else to deal with it.
So, how much could RMP Energy be sold for?
Well, there are two ways to look at how RMP Energy could be valued in a sale.
The first way is the easiest way, and that's wondering how much a buyer would be willing to pay per flowing barrel of oil equivalent. Past deals in the sector were priced at anywhere between C$25,000 and 45,000/barrel, and using an anticipated production rate of 8,000 boe/day in FY 2017, this would result in a total value of C$200-360M ($150-270M) for the company. After deducting the net debt of C$105M ($80M), approximately C$95-255M ($70M-190M) would be given to the equity holders of RMP Energy. Bellatrix paid just C$16,000 per flowing barrel for its acquisition, but the purchase by Birchcliff Energy (OTCPK:BIREF) might be closer to the real value of RMP's Montney plays. Unfortunately Birchcliff also paid just US$20,000/flowing barrel, and this would value RMP's assets at roughly US$160M, with an equity value of just $80M after repaying the debt. Using this number, the RMP equity has a value of just US$0.53 per share.

Source: press release
A second way to value a company would be based on the NAV of the assets, using the existing reserve calculations and PV10 values. The PV10 of the 2P reserves is approximately C$347M ($261M) and after deducting the net debt of C$105M ($80M), the net value is approximately C$242M ($181M). RMP is also valuing its undeveloped acreage at in excess of US$120M, and I think it's questionable to realize this value when you're almost forced to sell due to liquidity constraints. I think it's best to completely ignore the acreage as a layer of safety, also because I don't think RMP will receive the full PV10 for its 2P reserves.
Based on the net asset value of US$181M, the remaining value of an RMP share is approximately US$1.20.
Investment thesis
If I would use a 50/50 ratio of both options to value the company, RMP Energy's shareholders will very likely see something in the range of US$0.85-0.95 per share. That is, if an agreement can be reached with a prospective buyer. It's not because RMP is now up for sale, it will also be sold (at the right price), and that's also the main reason why I still haven't initiated a long position in the company as there still are a lot of uncertainties that will have to be taken care of.
RMP is up for sale, and I wish the shareholders good luck as I hope they can recoup as much as possible from their original investment in this company but unfortunately I'm not convinced the received price will be substantially higher than the current share price. The best one can hope for is to receive a buyout offer in stock, so RMP's shareholders can continue to benefit from the assets.
Disclosure: I/we have no positions in any stocks mentioned, and no plans to initiate any positions within the next 72 hours.
I wrote this article myself, and it expresses my own opinions. I am not receiving compensation for it (other than from Seeking Alpha). I have no business relationship with any company whose stock is mentioned in this article.
Editor's Note: This article covers one or more stocks trading at less than $1 per share and/or with less than a $100 million market cap. Please be aware of the risks associated with these stocks.