California Resources Corporation (NYSEMKT:CRC) recently announced a massive tender offer contingent on an amending of its existing First Lien Credit Facility as well as the execution of a First Lien Second Out Credit Facility; an extremely rare, extremely complex, and extremely sophisticated product of financial engineering. In an updated screencast session, I breakout the tender offer, the existing First Lien, and the proposed First Lien Second Out. I also breakout what the combined tender offer, amended First Lien, and presumed launch of a First Lien Second Out means to the long-term sustainability of the California Resources Corporation model.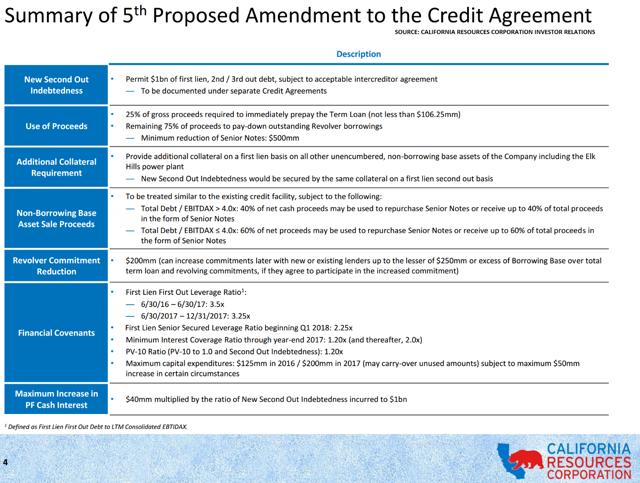 Enjoy:
Screencast Highlights…
0:45: Description of Tender Offer - Terms and Structure
2:30: Capturing an Amendment to the 1L
4:00: Interest Coverage Ratio Covenant Breakout - What Goes Down, Must Come Up
6:00: The 1L2O
7:00: Describing Collateral Packages
8:00: Key Takeaways
Disclosure: I/we have no positions in any stocks mentioned, and no plans to initiate any positions within the next 72 hours.
I wrote this article myself, and it expresses my own opinions. I am not receiving compensation for it (other than from Seeking Alpha). I have no business relationship with any company whose stock is mentioned in this article.