Two Harbors Investment Corp. (NYSE:TWO) had a respectable second quarter. It might not seem like it to shareholders when they see Core EPS of $.22 in the second quarter following Core EPS of $.21 in the first quarter. While a trend higher may seem positive, falling short of the dividend at $.23 is negative. On the other hand, Two Harbors Investment Corp. reported book value of $9.83, up from $9.70 in Q1. All in all this wasn't too bad, but it also wasn't as strong as it could've been.
Starting With Core EPS
The following slide breaks down the core earnings for TWO: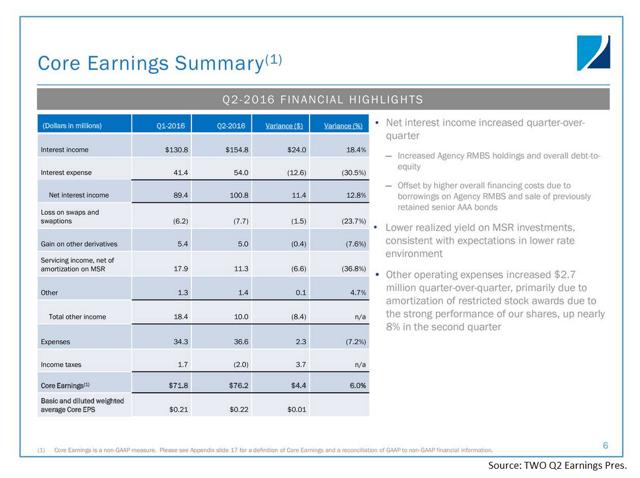 In reaching the core earnings figure, the mREIT declared much higher net interest income. That was a positive sign, but TWO harbors also has higher expenses than some of the other mREITs. The higher expenses can produce a bit of a drag on earnings. Fortunately, Two Harbors Investment Corp. tackled the problem. They announced they were going to end their mortgage loan conduit and securitization business. The expected savings is around $10 to $11 million per year, after a one-time charge for around $3 million.
The interesting thing for TWO goes beyond the expenses issues. They keep a line item for "serving income, net of amortization on MSR". For most mREITs in MSRs that line could just be titled "servicing loss".
TWO has done exceptionally well with creating net servicing income, but they also have a long string of capital losses on the MSR positions. That is going to be very interesting to watch. If the capital losses ended, the performance for TWO would increase substantially.
The Capital Losses
Take a look at the valuation impacts on the portfolio of MSRs:

For the last 3 months the fair value loss is around $59 million. For the first half combined, it is around $143 million. To put that in perspective, operating expenses for the first half of the year came to about $71 million. The fair value loss so far due to changes in the economic situation, such as increased prepayment expectations, doubled the total operating expenses for the mortgage REIT.
If the interest rate environment were to shift and produce a change in the expectations for MSRs, they could see a huge gain in valuation. The big weakness for MSRs came from an expectation for a weighted average prepayment speed of 18.3%. That is brutal.
The difference between Two Harbors Investment Corp. and most mREITs using MSRs in their portfolio is simply that TWO gets to record net servicing income before assigning a valuation. It is a silver lining to the cloud of $143 million in fair value lost over 6 months.
Price to Book Value
The new price to Q2 book value ratio is 91.1%. That is about average for the industry. For comparisons, see my quick and dirty mREIT discounts for 08/07/2016.
Outlook
My outlook on TWO is going to be neutral for now. Because Two Harbors Investment Corp. is one of the larger mortgage REITs, it is rare to find an exceptionally strong buy or sell on their shares. The smaller mortgage REITs tend to have a less efficient market, so I spend more time looking for opportunity there.
Note from the author: Do you want to know more about mortgage REITs and preferred shares? Since the Mortgage REIT Forum is a new exclusive research platform, the first 100 subscribers will be able to lock in their subscription rates at only $240/year. My investment ideas emphasize finding undervalued mortgage REITs, triple net lease REITs, and preferred shares. With the market at relatively high levels, there is also significant work on finding which securities are overvalued to protect investors from losing a chunk of their portfolio.
Disclaimer: Information in this article represents the opinion of the analyst. All statements are represented as opinions, rather than facts, and should not be construed as advice to buy or sell a security. This article is prepared solely for publication on Seeking Alpha and any reproduction of it on other sites is unauthorized. Ratings of "outperform" and "underperform" reflect the analyst's estimation of a divergence between the market value for a security and the price that would be appropriate given the potential for risks and returns relative to other securities. The analyst does not know your particular objectives for returns or constraints upon investing. All investors are encouraged to do their own research before making any investment decision. Information is regularly obtained from Yahoo Finance, Google Finance, and SEC Database. If Yahoo, Google, or the SEC database contained faulty or old information it could be incorporated into my analysis. Tipranks: If a rating is open on TWO, set to neutral.
Disclosure: I am/we are long MTGE, ZFC.
I wrote this article myself, and it expresses my own opinions. I am not receiving compensation for it (other than from Seeking Alpha). I have no business relationship with any company whose stock is mentioned in this article.