Airline stocks have been under pressure recently thanks to falling revenue per passenger mile, concerns around capacity growing too much, increasing terrorist acts in Europe and also on recent worries around the spread of the Zika virus. Some of the major airline stocks have gotten very cheap on an earnings multiple basis and in addition a couple of have seen some significant insider buying of late, always a nice vote of confidence.
I think the environment will start to improve for airlines for the following reasons:
Oil has moved from over $50 a barrel in late June before the Brexit vote to just over $40 a barrel currently. Jet fuel prices are falling as a result and fuel is the second biggest operational cost for airlines.
After posting average GDP growth of one percent over the past three quarters, domestic economic growth is projected to pick up in the second half of the year. GDP Now currently has a projection calling for 3.7% GDP growth in the third quarter. This might be a tad optimistic but 2.5% to 3% seems in the cards which should help domestic air travel.
Worries about the impact of the Zika virus are overblown. It is not a deadly disease for the most part and affects a small subset of population including pregnant women. In fact, 80% of the individuals that carry the virus don't even know they have it as the symptoms are either too mild or non-existent to notice. The airlines survived the Ebola scare a couple of years ago, Zika will be a gnat in comparison.
Thanks to the huge mergers of the past decade, the industry has become somewhat of an oligopoly and has been much more disciplined around growing capacity and avoiding price wars than in previous decades where there were over a dozen players.
I like Delta Air Lines (NYSE:DAL) and Southwest Airlines (NYSE:LUV) here. Both are cheap, significantly under 52 week highs and have seen some substantial insider buying recently. I picked up Delta Air Lines in late July after its CFO bought almost $1 million of shares on July 25th. This has been followed by a director buying over $350,000 in new shares on Aug. 3rd.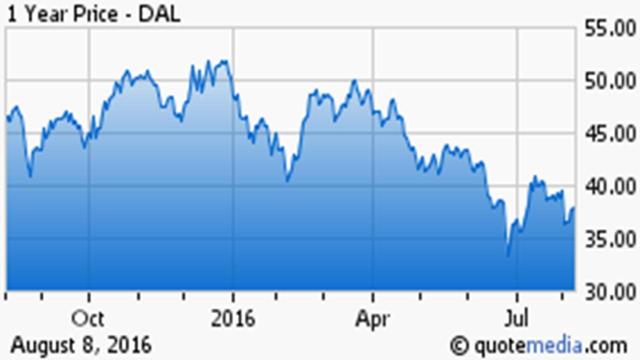 The stock is cheap at six times trailing earnings. The shares are also down 25% from where they began the year as well. The stock sells for just under $38 a share. The median analyst price target currently is $54.50. Over the past month, Morgan Stanley, Deutsche Bank, Credit Suisse and JP Morgan have all reiterated Buy ratings.
Southwest is a little more expensive here at nine times trailing earnings. The airline is generally acknowledged to have the best management in the industry and has better revenue growth than Delta. The company is also less exposed to overseas travel markets. This stock also sells right at $38 a share and is down some 25% from its highs late last year.
Analysts are not as optimistic on Southwest at the moment in comparison to Delta with a median analyst price target of only $47 a share. Insiders seemed to have more faith in the company's prospects. Since early August in multiple transactions the COO, CEO and a director have purchased a cumulative total of more than $1 million in shares.
With the market selling at approximately 19 times forward earnings, the airline stocks seem sufficiently discounted here to have an attractive risk/reward profiles. Insiders certainly seem to hold that view at the moment.
Note: To get these types of articles on attractive small. mid cap and large cap stocks insiders are buying as soon as they are published, just click on my profile and hit the big orange "Follow" button and choose the real-time alerts option.

Thank You & Happy Hunting
Bret Jensen
Founder, Insiders Forum
Disclosure: I am/we are long DAL.
I wrote this article myself, and it expresses my own opinions. I am not receiving compensation for it (other than from Seeking Alpha). I have no business relationship with any company whose stock is mentioned in this article.