Valeant Pharmaceuticals International Inc. (NYSE:VRX) is a busy company as it prepares for its upcoming earnings report scheduled for Tuesday, August 9th, 2016. The company's drug Relistor has come under interest from buyers as an oral form was recently approved by the FDA. The company has to decide if the positives of selling the drug for money now outweigh the positives of keeping the drug for future earnings as it maintains its balance between earnings and its debt load and loan covenants. Finally, Valeant just this morning entered into a licensing agreement with Norgine B.V. for NER1006 in the U.S. and Canada. This small but important step shows the company is still focused on its plan on righting the ship with small steps back to normality.
When Valeant held its last conference call, CEO Joseph Papa gave his game plan for stabilizing the company before a turnaround next year. His report came along with another slash in guidance for the year as he sandbagged earnings after recently taking over as CEO on May 12, 2016. A big movement in the stock tomorrow will primarily depend on whether the company hits analyst estimates of $1.48 a share in earnings and whether Papa reaffirms forward guidance or sandbags it for a second time. The other big areas of interest are how the Walgreens (NASDAQ:WBA) collaboration is progressing (fix negative prescription sales at least) and how the particular areas of the company are doing like the Salix and the Bausch & Lomb business. Finally, analysts will be looking at Valeant's cash position and its debt repayment schedule as it works within the financial maintenance covenants of its $30+ billion debt load.
After the fireworks are done, analysts will be interested in looking at the small steps the company is taking to stabilize itself. The FDA recently approved an oral form of Relistor that is indicated for treatment of opiod-induced constipation in adults with chronic non-cancer pain (article). The injectable form was approved in 2008, and has been successful enough that the new approval has drawn the interest of potential buyers for the whole Relistor package (article). In the company's last conference call Papa stressed the importance of non-core asset sales moving forward instead of looking for ways to monetize core assets like Salix, or Bausch & Lomb. Now Valeant has to figure out if cash in the hand now for Relistor ($400-$500 million potentially) outweigh the earnings of a potential blockbuster drug moving forward.
I would expect a sale of the drug if a buyer is willing to pay around the $500 million mark means cash now is key for Valeant, and it would save the company marketing and commercialization costs moving forward. This would be a nice step towards alleviating the "bankruptcy" fears that have the stock trading around 90% lower from its highs of a year ago.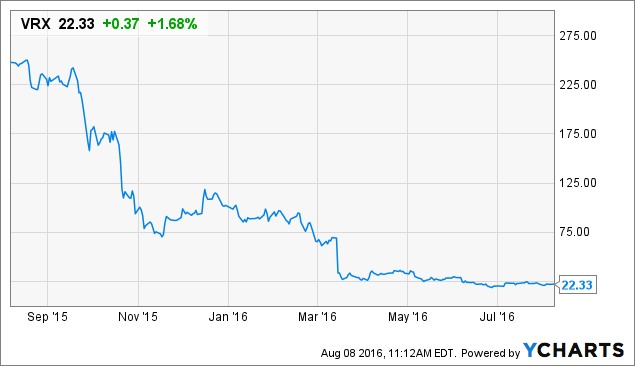 VRX data by YCharts
However, I would also see the company not selling the drug as a positive. To quote Valeant Treasurer Linda LaGorga in the company's last earnings call "We are in compliance with both financial maintenance covenants in the first quarter, and we continue to expect that we will remain in compliance with both financial maintenance covenants throughout 2016." Valeant does not need to sell core assets at this time, and it does not have to divest non-core assets if they do not get a fair price for them. Valeant, I would expect, would be perfectly happy to start selling the Relistor tablets in Q3 of this year to help bolster earnings next year as the company embarks on its turnaround.
Finally, today Valeant and Norgine B.V. announced a licensing agreement to develop and commercialize NER1006 in the U.S. and Canada (article). I have written before on the baby steps the company needs to take that will be so important to getting back into the market's good graces, and this deal is another great small step for the company. The best thing about this deal is that it is an acquisition and not a divestiture. Valeant needs to look to the future as well as dealing with the present as the company turns itself around next year.
NER1006 is a powder for oral solution for colon cleansing before a colonoscopy. The drug should be an excellent strategic fit for Valeant's gastrointestinal business (Salix) as the drug gets marketed and commercialized in the U.S. and Canada now that it has finished its Phase III clinical trial programs while Norgine markets and commercializes the drug in Europe and beyond.
With earnings fireworks coming up tomorrow, the market will be focused on earnings, guidance, and debt. When all is said and done, I expect Valeant to continue to be in compliance with its financial maintenance covenants moving forward and hope to see and hear a lot more about the small deals and baby steps the company is making that will help in its turnaround from a bankruptcy scare to a growing company again.
Disclosure: I am/we are long VRX.
I wrote this article myself, and it expresses my own opinions. I am not receiving compensation for it (other than from Seeking Alpha). I have no business relationship with any company whose stock is mentioned in this article.