Investors may excuse Potash Corp. (NYSE:POT) for cutting its dividend by a whopping $0.15 per share to yield just 2.5 percent. The company benefited from strong product demand, but it still faced weak pricing and sales volume in the second quarter. The stock is stuck in a trading range between $16.00 and $17.50. The key investors should ask is why the stock is not falling sharply after the dividend cut.

Potash suspended activities at the Picadilly Mine in New Brunswick in January and decided not to go ahead with the Prince Rupert Terminal in June. This had a negative, one-time impact on earnings and will lower operational costs. In the second quarter, the cash cost for Potash fell by 15 percent, to $72 per ton. Based on Potash sales volumes of up to 8.8 million tons, the company expects it will earn between $0.40 to $0.55 a share. At a recent share price of $16.25, Potash trades at a forward earnings multiple of between 29.5 and 40.6 times. At this multiple, the market is assuming stable to rising nitrogen and Potash prices.
Potash believes commodity prices may stabilize in the United States. After completing summer fill deliveries, the company increased prices by $20 per ton. The company also enters the next year with lower inventories. Should demand normalize north of 61 million tons, Potash's stock price may trend higher in the months ahead.
Dividend cut
Potash is cutting its dividend despite potentially generating higher cash flow from stable commodity prices. The stock's rebound following the cut suggests markets expect the company restoring the dividend soon.
Historically, Potash's dividend grew by 64.5 percent on average over four years. In that time, adjusted net income fell: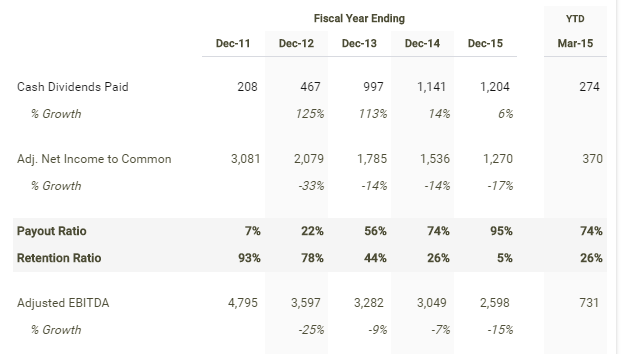 Source: Finbox.io
Valuation by Dividend Discount Model
Potash's consistent drop in adjusted EBITDA makes the expectation for positive growth in the future unrealistic. The company needs positive growth of at least 4 percent to justify its current stock price. Assume a cost of capital of 9 percent and a dividend of $0.40 per share annually. The implied fair value of Potash is $14.24, 11.1 percent below the current price.
Here is a sensitivity analysis around the 9 percent cost of capital assumption: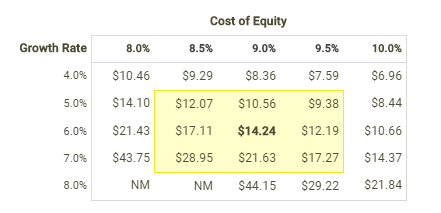 Potash has ongoing negotiations with China for Canpotex, the Potash export terminal. The company assumes stronger demand, based on historical patterns. Per the conference call:
The historic experience that suggests that after a lower year there is a strong year I think it was really meant to demonstrate that, when there is inventory drawdown and the year starts with lower inventory, it's more likely that the consecutive year has a high demand which is really just saying that there has to be some adjustment.
Low inventories and expectations of higher demand give management confidence business will improve in Brazil. Potash also should benefit from strong results in North America. During the quarter, customers responded well to the summer-fill program. Demand in the fall should continue.
Comparable valuation
Potash is not the cheapest stock from a 10x EV/EBITDA standpoint. Its multiple is close to that of CF Industries (NYSE:CF). Agrium (NYSE:AGU) trades at 9.1 times.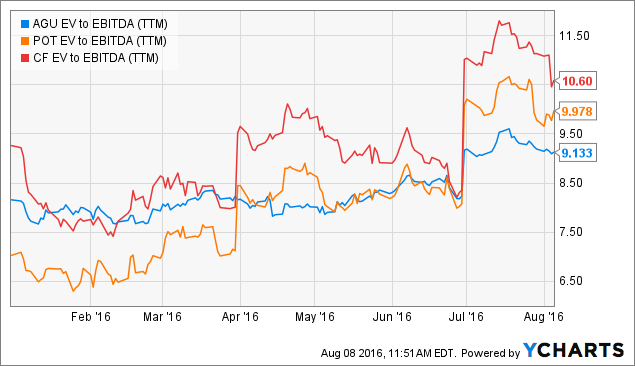 AGU EV to EBITDA (TTM) data by YCharts
The difference between Potash and CF is that CF did not cut its dividend. Its stock yields 5.4 percent.
Takeaway
Markets quickly forgave Potash for cutting its dividend, but this may prove short-lived. Until China finalizes contracts on potash, expect higher volatility for fertilizer stocks, including Potash Corp.
Please [+]Follow me for continued coverage on Potash Corp. and the resource sector. Click on my name next to my avatar at the top of the article. Thank you for reading.
Disclosure: I/we have no positions in any stocks mentioned, and no plans to initiate any positions within the next 72 hours.
I wrote this article myself, and it expresses my own opinions. I am not receiving compensation for it (other than from Seeking Alpha). I have no business relationship with any company whose stock is mentioned in this article.