Lixil Group (OTCPK:JSGRY) is a Japanese firm specialized in building materials and housing tools such as sanitary equipment, as for example shown underneath: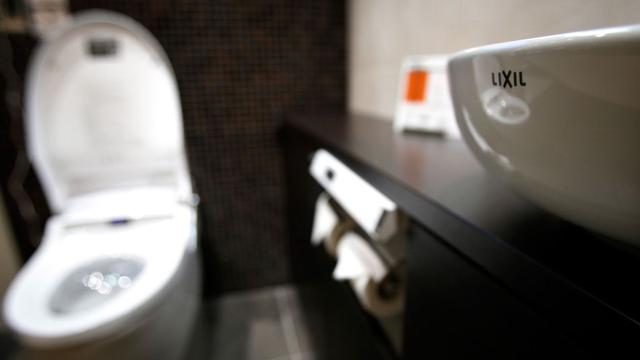 Source: Lixil
Some background to The Lixil Group: The firm is headquartered in Tokyo, Japan. When the economy in Japan continued to slow down over the years, many Japanese construction firms headed towards a financial meltdown as they struggled to remain financially afloat. This did not come as a shock. An interesting idea materialized, where 5 firms decided to merge together and join forces. The five original Japanese companies were Tostem, which made core building materials: Inax, a plumbing specialist: Toyo Exterior, a seller of carports and conservatories: Shin Nikkei, a provider of interior fittings and Sun Wave which made kitchens. All of them are traditional Japanese operations and they agreed to combine in 2011 in pursuit of survival as their market continued to decline. This in order to chase significant synergies which would decrease costs and increase margins allowing for Lixil Group to expand internationally. The core of their previous issue was that their fundamental focus was always geared towards Japan which unfortunately was swinging between recession/recovery for years.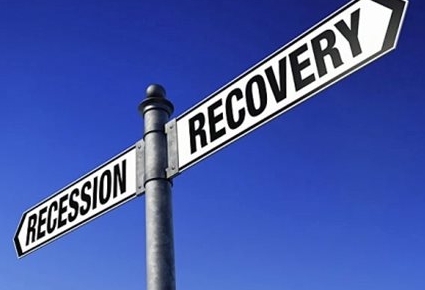 After the noteworthy merger, the Lixil Group went on the hunt for international expansion. One for example was an acquisition in Europe: Grohe, a well-known German brand and one of the most influential brands in the world when it comes to their segment and line of business. Lixil took Grohe over in 2014. Grohe is a competitor with Geberit (OTCPK:GBERY), a Switzerland based manufacturer which I've covered on Seeking Alpha.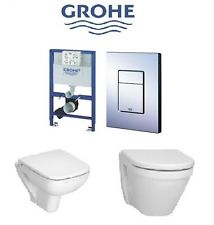 Source: Grohe.com
One of the most important competitors in Japan is Toto (OTCPK:TOTDY), a firm I've also covered on Seeking Alpha. These firms have a large percentage of sanitary products (for example more water efficient toilets) as percentage of their total revenue. This has my interest in particular as I've been covering water related investments for a while.
In the last article regarding Lixil, I concluded that the firm was relatively overvalued. It therefore does not come at a great surprise that now nearly 10 months later the share price has decreased a little bit: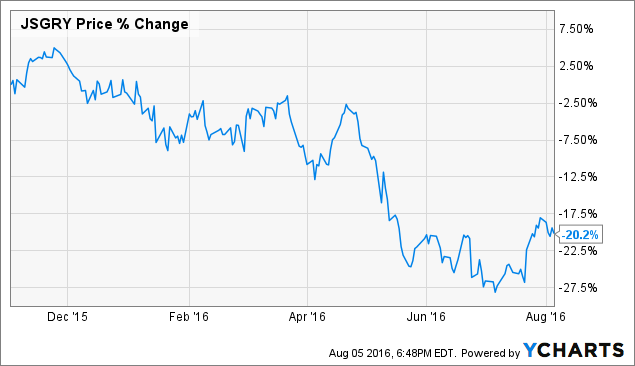 The share price is currently 20% down year to date.
Lixil Group: A Much Needed Update in 2016
Let's start with housing demand in Japan; Lixil's gave notice of weaker housing demand in their last financial statement as well other sources which covered the Japanese housing market: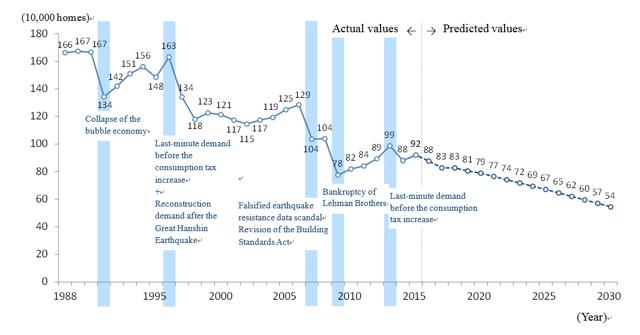 Source: Housing Demand Japan (by Nomura)
Just because there is less demand in the housing market, doesn't mean that Lixil is actually showing a decline in revenue. The last numbers show an increase in revenue: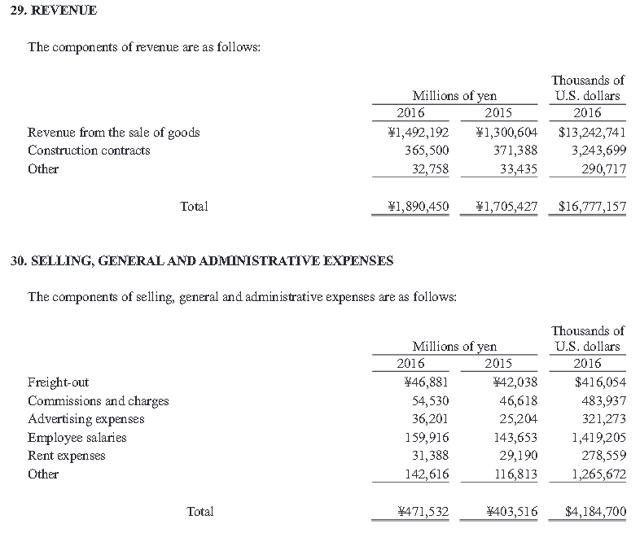 Source: Annual Report Lixil Group
Unfortunately, costs (SG&A) increased at nearly 17% while revenue increased by 11%. The moral of the story here is once again not to just look at the numbers, but to delve in the numbers. Even though Lixil posted an increase in revenue, analysts were expecting much more. Unfortunately, Lixil announced a downwards revision of their numbers: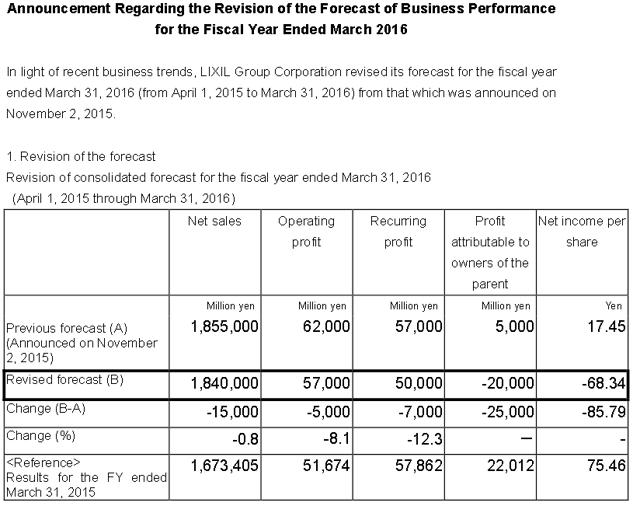 Source: Lixil Downwards Revision
A variety of reasons were given: the main ones being lower than expected housing demands in Japan and an operating loss which was incurred due to the decline in the interest rate as Lixil adopted an accounting method that immediately recognizes actuarial differences from retirement pension benefits of Japanese subsidiaries.
In light of this downwards revision, let's do a comparison of the actual revenue estimates right now in contrast to ones I posted in my earlier article. See underneath for comparison between earlier article (right) and currently up to date figures (left).

Source: 4traders
On the right table it shows that the expected estimates for 2016 were higher than they really were (as shown on the left). Nevertheless, the takeaway here is that the overall expectation for the coming years (2017 and 2018) is positive, regardless of a small bump in lower revenue and earnings right now. Analysts are not changing their overall opinion on Lixil.
Forward P/E has declined in the updated scenario. This as overall earnings anticipation has slightly decreased, but the overall price declined more rapidly. This makes Lixil currently cheaper than 9 months ago when I covered it first.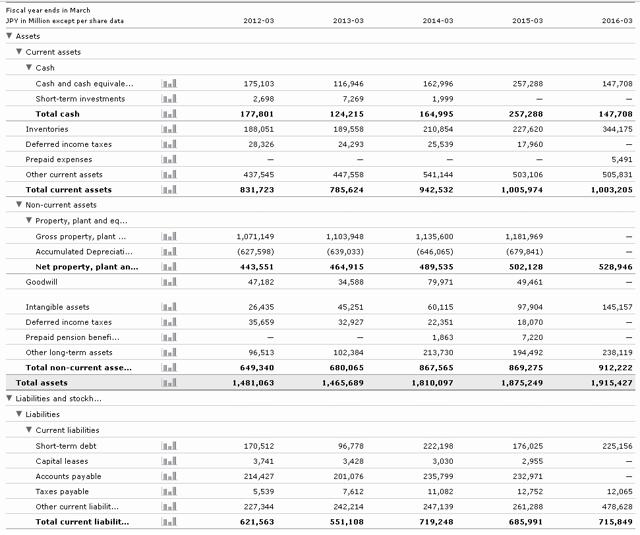 Source: Morningstar
In 5 years, their long and short-term debt position has increased almost three fold. Current liabilities to total current assets have increased from 62% to 71% in 5 years. This ratio is mainly used to give an idea of the company's ability to pay back its liabilities (debt and accounts payable) with its assets (cash, marketable securities, inventory, accounts receivable).
It's therefore also not a surprise that competitors on a larger scale (Toto) and smaller scale (Geberit) have returned more profit to shareholders year to date.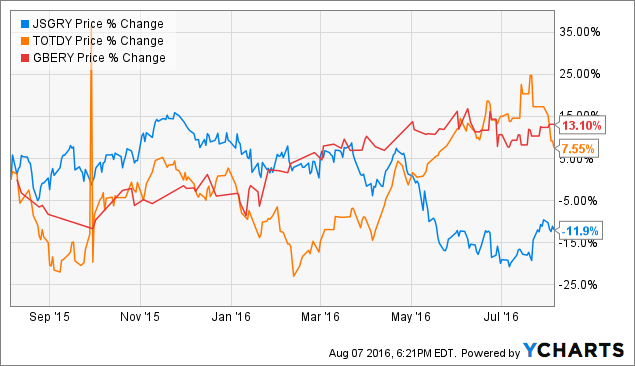 Conclusion
The economy is not doing well. As Lixil is now tapping out of a bigger pool, the actual offset is what will matters most. For example, growth in 1 continent might be offset by another. As the overall construction industry is only growing with a single digit number, Lixil will only be able to marginally increase their profit. I think the question is: will the revenue outside Japan grow quickly enough to offset the decline in Japan? Right now I'm skeptical due to the dire state of the economy around the world.
I believe this will be an interesting buy when the world will witness another financial meltdown with massive contraction in the construction industry. At that point in time, markets worldwide will eventually pull back significantly and Lixil will be positioned to take advantage of each and every one of them as their revenue will be greatly diversified worldwide. Moreover, a topic like water efficiency (due to the current lack of useful water) will only increase in popularity in the future. Lixil is already a large player in this field and this firm might reap benefits of this in the future.
Furthermore, as analysts expect, Lixil is likely to enhance margins the coming years which will only boosts profits the moment a recession occurs.
Disclaimer: I currently do not hold any position in Lixil. This article provides opinions and information, but does not contain recommendations or personal investment advice to any specific person for any particular purpose. Do your own research or obtain suitable personal a device. You are responsible for your own investment decisions. This information is not a recommendation or solicitation to buy or sell securities, nor am I a registered investment advisor.
Disclosure: I/we have no positions in any stocks mentioned, and no plans to initiate any positions within the next 72 hours.
I wrote this article myself, and it expresses my own opinions. I am not receiving compensation for it (other than from Seeking Alpha). I have no business relationship with any company whose stock is mentioned in this article.
Editor's Note: This article covers one or more stocks trading at less than $1 per share and/or with less than a $100 million market cap. Please be aware of the risks associated with these stocks.