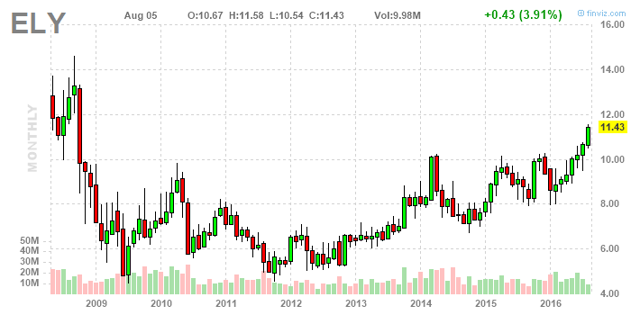 Source: finviz.com
Shares of Callaway Golf (NYSE:ELY) finally look to have busted through resistance just above $10, with Friday's close of $11.43, the stock's highest levels in eight years. The catalyst late last week was Nike's (NYSE:NKE) announcement that it was exiting the golf club and ball business, which led to a two-day, 8% rally for ELY's shares, and took away a bit of the sting of a mixed Q2 report late last month.
I've long questioned whether ELY would break that resistance, and whether there was enough in the business going forward to keep valuation in the low-double digits. The company admittedly has done an impressive job in its turnaround under CEO Chip Brewer; unfortunately, currency impacts have negated Callaway's ability to benefit from those improvements over the past few quarters. With that turnaround now largely complete, Callaway has to get back to the hard slog of incremental improvements in both revenue and margins, but the golf industry as a whole seems likely to be unsettled through at least 1H 2017, and ELY's shares aren't cheap by any measure.
I'm not sure there's an immediate catalyst for a short at the moment, and it's worth pointing out that the short sellers who long have targeted ELY have moved on over the past few quarters. But, to my eye, ELY remains overpriced, and there's reason to expect choppiness - if not worse - over the next few quarters. The reaction to Nike's exit seems to echo investors' attitude toward Callaway: it focuses on the positive, but ignores a dear multiple and what could be substantial near-term risks.
Optimism Reigns
Purely from a sentiment standpoint, it strikes me as interesting that ELY for the most part seems to have ignored the "golf is dying" theme that permeates a lot of coverage of the industry (from both an investing perspective and in general). Dick's Sporting Goods (NYSE:DKS) has seen its Golf Galaxy concept drag on valuation, occasionally taking ELY down with it. adidas (OTCQX:ADDYY) is looking to sell part or all of its TaylorMade unit, but appears to have made little headway over the past three months, with potential buyers worried about the industry as a whole. And ClubCorp (NYSE:MYCC), the only other golf pure-play on the U.S. public markets (admittedly from the course side rather than the equipment side), has seen its shares tumble of late, in part due to pessimism about golf's long-term future: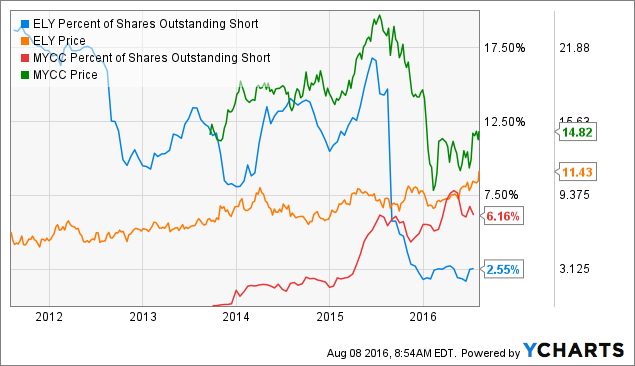 ELY Percent of Shares Outstanding Short data by YCharts
To be sure, MYCC and ELY are far from perfect comparables, and ClubCorp's significant exposure to oil-reliant Texas has been a large part of the more bearish narrative of late. But the broader point, I believe, still holds: ELY has hit an eight-year high at the same time sentiment toward golf appears at or near a multi-year (multi-decade?) low.
The optimism toward Callaway admittedly makes some sense: the company has executed well since Brewer took over in 2012. Gross margins continue to climb despite currency headwinds and minimal sales leverage, thanks largely to manufacturing improvements. Callaway seemingly takes more share every quarter, as it did in both Q1 and Q2 of this year. If you believe in the old saw that valuation alone isn't a reason to short, the mid-2015 plunge in ELY's short interest makes quite a bit of sense: regardless of one's feelings toward the golf industry, Callaway still looks like an awfully good company at the moment.
Still, between Q2 earnings and the Nike announcement, it's starting to look like the optimism may be overdone. ELY's shares actually fell rather sharply the day after the Q2 report was released, opening down 7% and bottoming out around -9% before rebounding to a flat close. The initial catalyst to the downside appears to have been the company's commentary on the market as a whole, with Callaway citing a weaker-than-expected environment in Q2 and seeing some uncertainty in the back half due to possible Brexit risks and a soft U.S. market. Callaway maintained full-year guidance despite the help from the yen, in particular, which as CFO Robert Julian admitted on the Q2 conference call, would have provided some help to revenue and EPS, all else equal.
As far as Nike's exit goes, the initial response too seems a bit overwrought. Nike's hard goods market share appears to be 3% at most, and it's not as if the Swoosh had been a fearsome competitor of late: Nike's overall golf revenues (which include apparel and shoes, two categories NKE is not exiting) have been declining of late while Callaway's have risen on a constant-currency basis. From a share standpoint, the decision seems modestly bullish for ELY longer term - but the emphasis should be on "modestly".
But there's a larger problem as well: everyone in Callaway's industry appears to not want to be there anymore. adidas wants out. Nike is heading out (from clubs, anyway). Golf Galaxy seems to have been more trouble for Dick's than it's been worth. The bull case for ELY more and more looks like it's based on the company taking share in a declining market. That doesn't in and of itself torpedo the bull case, and Callaway's recent success on the margin front implies some reason for optimism. There's an awful lot of optimism priced in, however - and there may be trouble coming.
Market Disruption
Brewer said on the Q2 call that the equipment market wasn't quite as bad as figures from industry data monitor Datatech would suggest, but admitted the U.S., in particular, was "a little softer than we anticipated" in the first half. Asia was better; Europe was decent as well.
Looking forward, even on a relative basis, there's reason to expect potential volatility across the globe. Callaway does have a new apparel joint venture in Japan, which may provide a spark, but it has lost share in that market of late, with hard goods share down 80 bps YOY in Q2. Any macro-exposed business in Europe seems to bear some risk post-Brexit, though Callaway has had a solid first half with local-currency revenue roughly flat despite unfavorable launch timing and share up both in the U.K. and on the Continent.
In the U.S. - which still drives over half of total sales - it's difficult to believe there isn't going to be some choppiness, at least, in the retailer channel. Sports Authority's bankruptcy already has played havoc with inventories in other sports; hockey and baseball manufacturer Performance Sports Group (NYSE:PSG) has pulled down sales guidance repeatedly as retailers step back and wait for the inventory released by the bankruptcy of SA, along with smaller Sport Chalet and City Sports, to hit the market. The sale of TaylorMade may bring its own changes from either a clearance and/or a promotional standpoint; and now Nike seems likely to let loose inventory over the next few quarters as it exits the business.
From this standpoint, the problem isn't just golf participation; the issue is that the sporting goods industry as a whole does not look particularly healthy, whether it's at the big-box level or in terms of independent stores. Brewer did say inventories in the retail channel had improved from a few years ago, but that's also damning with faint praise, and even if levels look OK at the moment, there's likely to be a flood of clubs on the market over the next year-plus.
It just seems a bit complacent to ignore the near-term market-wide risks, even if the argument is that those risks mostly are short term. Callaway is benefiting at the moment from a much more rational promotional environment and normalized inventory levels at its retailers. But, per the 10-Q, promotional activity did increase in Q2 (that may be due more to Callaway's launch schedule than anything else, as the company clears merchandise to make room for new products). And there are myriad catalysts at the moment that can change the relatively calm market conditions. TaylorMade is on the block; Nike's inventories will come to market; Titleist maker Acushnet is planning an IPO. Liquidations seem likely to further pressure supply in the seasonally weak back half, and lower big-box store count should limit channel inventories in 2017 and beyond.
This isn't a small matter for Callaway, given that a majority of its sales still come from the U.S. and that most of its recent improvement has come on the margin side, not from revenue (though currency obviously has been a key factor on the top line). Pricing has been a benefit for Callaway year-to-date, with ASPs up across the board in Q2; that's going to be tough to hold over the next few quarters. It already looks as if Callaway has captured most of its potential margin gains over the past few years through improved efficiency; as the company details in the 10-K, its model remains largely variable-cost, so there aren't quite the scale benefits that could offset pricing pressure and/or increased promotional activity.
All told, there's an argument that Callaway's current position - even it looks a bit challenged - might still be the best it will be for some time. The idea that the golf industry will avoid the disruptions seen in other sports strikes me as far too complacent, given what appears to be lower end demand (even if rounds played are up YTD for the first time since 2012). Internationally, there's significant macro risk in Europe, and the yen is at a near-term high against the dollar. There's a lot that can go wrong here, and almost certainly Callaway will face some sort of headwinds from either industry or macro events over the next few quarters.
Valuation
But ELY certainly isn't priced for any headwinds. The recent gains have pushed ELY's market cap over $1 billion: using the guided year-end share count of 95 million, ELY's market cap is just shy of $1.1 billion at $11.43. Callaway also has $96 million worth of NOL carryforwards (after-tax, per the Q2 call), a 15% stake in Topgolf worth ~$212 million per the Q1 10-Q, and $62 million in cash.
Backing those three assets out, Callaway still has an enterprise value of $726 million, against guided 2016 net income of $21-30 million and EBITDA of $45-$55 million (both ranges exclude the $18 million gain on sale from Topgolf this quarter). That implies a high 20s P/E (and free cash flow) multiple and a mid-teens EV/EBITDA multiple in what appears by all accounts to be a declining business.
From a broader standpoint, that seems like a turnaround-type of multiple, but as Brewer put it on the Q2 call, Callaway already has moved on to the "second stage" of its long-term plan. SG&A is creeping up - both G&A and R&D deleveraged in Q2 - gross margins are being helped by pricing (which seems highly like to get more competitive) and revenue growth is being driven solely by share gains.
Where does the growth come from to close the EPS and EBITDA multiples to more appropriate high-teen/high-single-digit levels? Theoretically, there is some room for improvement, with EBITDA margins still about 6% in 2016, against the 14%+ Acushnet posted in 2015, according to its S-1. But Acushnet's revenue base is tilted more toward higher-margin golf balls (36% of 2015 revenue against 17% for Callaway); Callaway is taking share in that category but still has a long way to go challenge Titleist, the clear #1.
Even if Callaway hits those margins, I'm not sure there's that much upside. The midpoint of 2016 revenue guidance ($867.5 million) at Acushnet's 14.3% margin (up ~800 points) gets Callaway's EBITDA to about $124 million, a 5.85x multiple. An 8-9x multiple to that figure (which appears to be about where Acushnet is expected to price) values ELY at $14.30-15.60, or about 25-37% upside.
That's a lot of effort - again, 800 bps of EBITDA margin expansion in a model where variable costs for clubs are 85-95% of cost of sales - and a lot of time for what truly doesn't look like spectacular upside. Perhaps there are incremental gains if the Topgolf stake is undervalued, but given that Topgolf's implied valuation of ~$1.4 billion already is ~70% of larger (and still fast-growing) Dave & Buster's (NASDAQ:PLAY) enterprise value, that upside doesn't seem immediately apparent or easily achievable (Even a double only adds $2+ to Callaway's equity value).
Meanwhile, there is clear downside risk to back-half projections - which themselves only imply ~5% revenue gains and a modest decline in net loss, despite help from launch timing - and reason to expect that the golf equipment market may see significant oversupply ahead of the 2017 season. That alone seems a potential catalyst as Q3 (and particularly Q4) earnings approach.
And there is a clear short thesis here: optimism toward Callaway's transformation and Brewer's management has led investors to ignore very real end-market risks. A good company in a bad market isn't necessarily a short; a good company in a bad market that is priced for significant revenue growth and margin expansion becomes interesting from the short side very quickly. Even giving Callaway credit for $1 billion in revenue and 10% EBITDA margins in 2019 - a nearly 5% CAGR on the top line and ~125 bps of annual EBITDA margin expansion - an aggressive 10x multiple only gets shares to $14-15. Discounted back, fair value is just above $11 - almost exactly where Callaway trades at the moment.
That's the kind of performance that is priced in, and that strikes me as optimistic, and possibly wildly so. From that standpoint, the bear case is that ELY should see downside if anything goes wrong - including any sort of market disruption. Given all that's going on in the industry right now, and the long-term outlook for golf as a whole, that seems a reasonable bet to take.
Disclosure: I/we have no positions in any stocks mentioned, and no plans to initiate any positions within the next 72 hours.
I wrote this article myself, and it expresses my own opinions. I am not receiving compensation for it (other than from Seeking Alpha). I have no business relationship with any company whose stock is mentioned in this article.