Introduction
This article is my 28th installment in a segment called "Buy on the Drop?" where I choose a stock that recently experienced a large decrease in price and give a recommendation on whether investors should "Buy on the Drop" or not. The recommendations are Sell, Hold, Speculative Buy, Buy, and Strong Buy. This is a recurring segment, so if you enjoy the article, "Follow" me to see more. You can read about my previous installment discussing Bristol-Myers Squibb (NYSE:BMY) here.
Novo Nordisk Gets Battered
Shares in Danish pharmaceutical giant Novo Nordisk (NYSE:NVO) were decimated Friday and are still dropping Monday after reporting second quarter results in which the company lowered full-year 2016 guidance for both sales growth and operating profit growth. With a forward P/E of 20, investors were probably hoping for more robust growth than the company guided for, which sent shares spiraling down: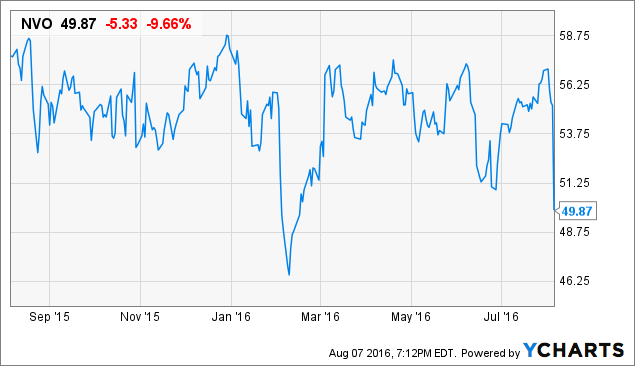 NVO data by YCharts
Even before the Q2 report was released, NVO was already losing value as the shares were down about 4% in the days leading up to Friday despite positive overall performance from the iShares NASDAQ Biotechnology ETF (NASDAQ:IBB). So where do investors go from here? Let's take a look at the second quarter report and see exactly why the market reacted so poorly to the results.
Novo Nordisk reported 7% revenue growth in the first half of 2016 year-over-year both overall and in the U.S., which the company said was a region that fueled 50% of total sales growth. Sales in the International Operations and Region China segment grew 10% in local currencies, demonstrating solid growth yet again. Down at the bottom of the financial statement, results were also strong as operating profit grew 8% and EPS grew 9% year-over-year.
But where the market found fault was within full-year guidance for 2016 where management lowered expectations for annual sales growth and operating profit growth:

Source: NVO Q2 report
As you can see from the above graphic, since original guidance given at the end of 2015, sales guidance has declined a total of 5% and operating profit growth has declined 7%. Certainly not what investors were hoping to see.
In Q2, sales guidance was revised downwards due to "a contract loss in the USA for NovoLog, the loss of exclusivity for products within hormone replacement therapy in the USA, intensifying competition within diabetes and biopharmaceuticals especially in the USA, as well as adverse macroeconomic conditions in several markets in International Operations."
On one hand, nothing in that statement sounds particular reassuring, but on the other hand nothing in it seems particularly damning either as far as long-term investors are concerned. Operating profit growth was revised downwards for what was essentially increased operating expenses, and likely also from the lower sales guidance as well.
Does this warrant a 10% decline in stock price? Novo Nordisk has lost nearly $20 billion in market capitalization in the past 5 trading days. Is this the sign of a shift in investor sentiment or is this a buying opportunity? In my opinion, the evidence points to the latter.
Top line growth, despite perhaps being lower than expectations, is still fairly strong for such a large pharmaceutical company as "new-generation insulin" product Tresiba saw first half 2016 revenue of $240 million, which is a 161% increase YoY. Tresiba is expected to be a primary growth driver moving forward as it competes with Sanofi's (NYSE:SNY) Toujeo for the title of best long-lasting basal insulin offering on the market.
While Toujeo, and formerly Lantus, has had more time to establish itself in the market, Tresiba offers a sizeable advantage that could allow it to steal market share from Toujeo. While Toujeo is a long-lasting insulin, it's effects only last for 24 hours, which was the standard until Tresiba came along and drew the time frame out to a much longer 42 hours. It is still meant to be taken once a day, but the duration allows more flexibility than Toujeo or other long-lasting insulins. Novo Nordisk believes that with this primary benefit, Tresiba could reach annual sales of $1.7 billion by 2020, while some analysts project that figure as high as $2.4 billion.
With Lantus biosimilars on the horizon, Tresiba's favorable hypoglycemic profile and long duration will be important selling points when long-lasting basal insulin ASPs drop due to Lantus copies.
Novo Nordisk specializes in diabetes and obesity care, with the segment generating more than 75% of revenue. The company has a world-class sales force and the industry influence to make Tresiba stick. Novo CEO Lars Rebien Sorensen said back in August 2015 that market share in long-lasting insulin will come down to formulary access and negotiations with pharmacy benefit managers. The medical advantages Tresiba has over Toujeo should aid in these negotiations. I expect Tresiba to continue being an important source of growth for Novo in the coming quarters and years.
Elsewhere in Novo's product portfolio, Victoza continued to show robust growth despite its already substantial contribution to revenue. 1H 2016 sales grew 13% YoY to $1.4 billion and the drug continues to lead the GLP-1 market. According to Novo's Q2 report, the GLP-1 segment's share of the total diabetes care market increased from 7.5% in 2015 to 8.7%, and Victoza's market share of the GLP-1 space stood at 62%. Victoza continues to own the GLP-1 market, and has become Novo's star (high growth, high market share) product.
While Tresiba and Victoza were the highlights, I am very impressed with how stable Novo's overall business has been despite competition. On a local currency basis (DKK, of course), no product sold by the company saw more than a 5% decline in YoY sales. With total 1H 2016 sales of $8.2 billion, that stat is, frankly, spectacular. Despite intense competition, Levemir continues to hold firm as sales increased 4% on local currency basis, and Novo's "modern insulin" offerings on the whole continue to be the cash cows (high market share, low growth) of the company.
Yes, FY2016 guidance was revised downwards, but from looking at the second quarter report, I can find no reason to justify the 10% decline to which NVO investors were subject on Friday. From a valuation perspective, Novo is trading at a premium to some other large-cap pharma names, as this chart depicts: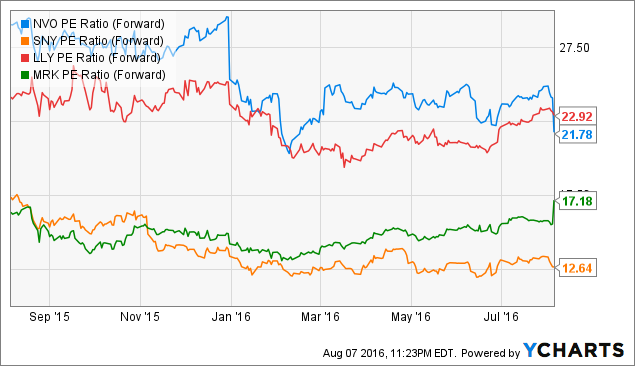 NVO PE Ratio (Forward) data by YCharts
Despite appearances, I think Novo's premium is well-deserved because of the stability of its cash cows, the continued domination of Victoza, and the future prospects for Tresiba. Looking at financial metrics, this advantage becomes quantifiable. Novo generated more than double the trailing twelve month free cash flow of Eli Lilly (NYSE:LLY), has produced positive revenue growth (trailing twelve months) while Merck (NYSE:MRK) and Sanofi have seen mid to high single-digit declines, and has a profit margin that blows the competition out of the water: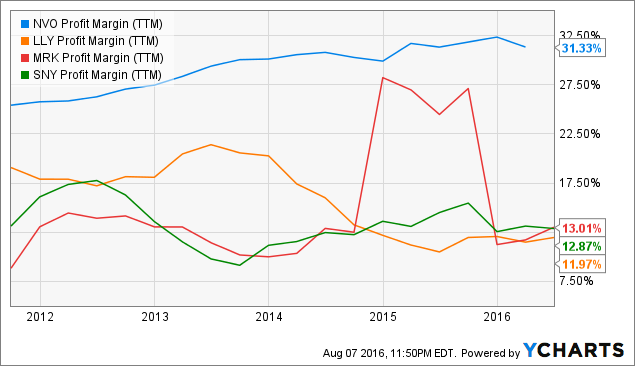 NVO Profit Margin (TTM) data by YCharts
So 2016 guidance is expected to be a few percentage points lower than expected. What's all the fuss about? Novo Nordisk is fueling growth and maintaining market share despite a competitive environment, is raking in free cash flow for shareholders, and has unparalleled profit margins among its direct peers. The 10% drop Friday and 13% drop in the last five days overall appears to be a great buying opportunity for investors that are looking to add NVO to their portfolio or add to an NVO existing position. I rate Novo Nordisk a Buy on the drop.
If you want to stay up-to-date on my articles, you can Follow me by going to my author page or by clicking "Follow" at the top of this page.
Thanks for reading!
Disclosure: I/we have no positions in any stocks mentioned, and no plans to initiate any positions within the next 72 hours.
I wrote this article myself, and it expresses my own opinions. I am not receiving compensation for it (other than from Seeking Alpha). I have no business relationship with any company whose stock is mentioned in this article.