Sometimes management does its homework and looks ahead. All signs point to the proper preparation for that homework done, but Mr. Market's attention is elsewhere. Mr. Market's attention will be focused if and when the projected results come to pass. So now is the time for the investor to do their homework and decide if this is an appropriate opportunity to invest.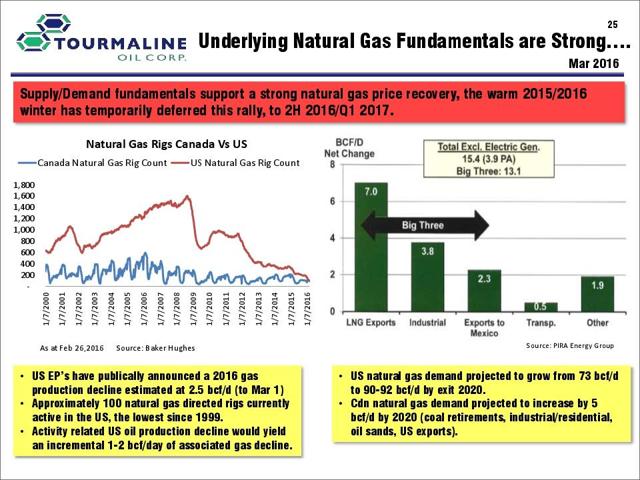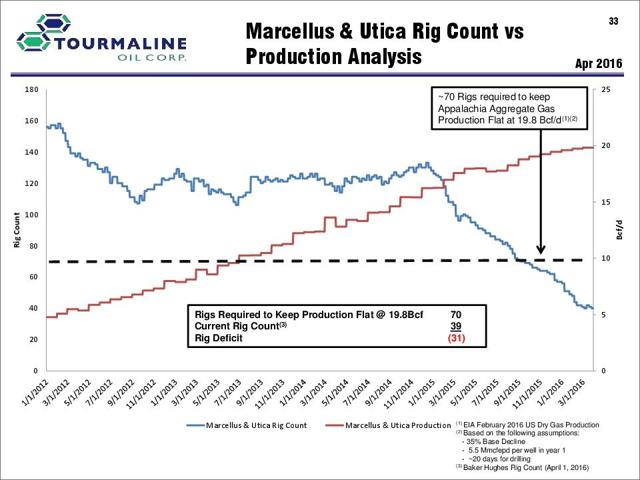 Source: Tourmaline Oil Corporation, August, 2016, Corporate Presentation
Basically Tourmaline Oil Corporation (OTCPK:TRMLF) management is trying to give a high level view that production is going to decline and demand is going to increase. Plus they have some hedging as an insurance policy for this. Now, supposedly we are on our way to a La Nina winter. Those winters tend to be unusually cold, and more than a few readers have been suffering through the La Nina summer that has increased demand for gas to run the air conditioning more than normal. Management is giving some very strong hints that there is a very good possibility for great gas prices this winter and they want to be in a position to take advantage of the situation but will give up some of that advantage by hedging so in case they are wrong, the damage will be manageable.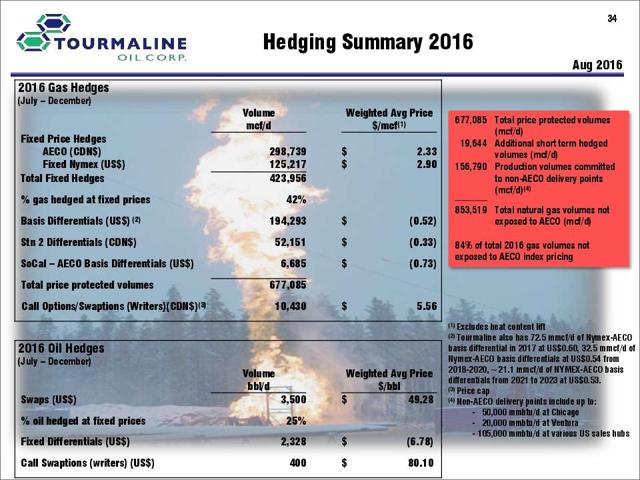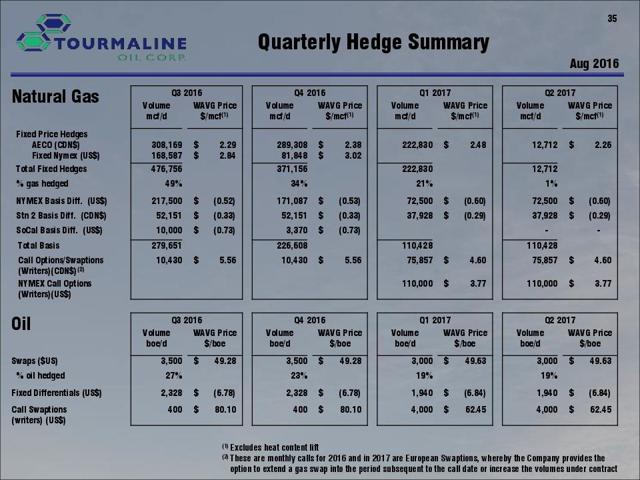 Source: Tourmaline Oil Corporation, August, 2016, Corporate Presentation
The above slides show the hedging program first overall and then by quarter. Of course it is always hard to tell when the "harsh" part of the winter is going to be. So investors will have to decide themselves whether or not the above hedging program provides appropriate protection.
Management first sold 10.35 million shares for gross proceeds of about C$281 million. Since this company does not keep a cash balance, the proceeds will go against the company's line of credit and will be redrawn as needed. This is a fairly conservative way of doing business. By the time the debt reaches the previous level before the offering, there will be more production to ensure payment of the debt. Plus should the winter season not turn out to be quite as profitable as management forecasts, the equity raise provides some cushion just in case there is a cash short-fall. The company also has access by pipeline to the West Coast for possible export of some natural gas, which may also firm up the average prices received for its products.
As with several competitors, the company will not start up many of the wells until the fourth quarter, so the second and third quarters could show production decreases, and some misleading financial progress as well because of the delay in the start-up. But another low cost competitor Peyto (OTCPK:PEYUF) delays the startup until closer to winter in order to increase the IRR for each well drilled. Evidently this practice is fairly common in certain gas projects. So investors can expect a big spurt in production right about the time the management expects much more favorable pricing and demand.
Tourmaline Oil Corporation
Second Quarter, 2016 Results
(All Figures In Canadian Dollars Unless Other Wise Stated)
Gas will be converted from
MCF To BOE using a ratio
All Products Combined
of 6:1.
Total $
$ Per BOE
Total Production (NYSE:BOE)
Natural Gas
14,848,607.00
Natural Gas Liquids
916,925.00
Oil
1,143,335.00
Total
16,908,867.00
Revenue
Natural Gas
132,772,000.00
8.94
Natural Gas Liquids
12,185,933.25
13.29
Oil
61,006,865.85
53.36
Selling Price Revenue
205,964,799.10
12.18
Realized Gains From Hedging
Natural Gas
34,129,000.00
2.30
Natural Gas Liquids
Oil
7,000,000
6.12
Total Realized Hedging Gains
41,129,000
2.43
Total Revenue
247,093,799.10
14.61
Costs Of Production - Cash
Royalties
8,551,000
0.51
Operating Expenses
57,630,000
3.41
Transportation
34,786,000
2.06
Total Operating Costs
100,967,000
5.97
Operating Netback
146,126,799.10
8.64
Cash G&A
8,005,000
0.47
Finance Expenses
11,482,000
0.68
Total Other Cash Expenses
19,487,000
Income Before Non-Cash Expenses
126,639,799.10
Costs Of Production - Non-Cash
Depletion, Depreciation& Amortization
168,386,000
9.96
Unrealized Loss On Financial Instruments
64,070,000
3.79
Share Based Payments
6,098,000
0.36
Total Non-Cash Expenses
238,554,000
13.75
Income Before Other Items
(111,914,200.90)
(6.62)
Other Income
7,169,000
Deferred Income Tax Recovery
23,841,000
Gain On Divestitures
2,621,000
Total Other Income
33,631,000
1.99
Non-Controlling Interest
341,000
Net Income for Shareholders
(77,942,200.90)
Tourmaline Oil Corporation
Second Quarter, 2016 Results
(All Figures In Canadian Dollars Unless Other Wise Stated)
Gas will be converted from
MCF To BOE using a ratio
Gas Only
Liquids
of 6:1.
Total $
$ Per BOE
Total $
$ Per BOE
Total Production
Natural Gas
14,848,607.00
Natural Gas Liquids
916,925.00
Oil
1,143,335.00
Total
14,848,607.00
2,060,260.00
Revenue
Natural Gas
132,772,000.00
8.94
Natural Gas Liquids
12,185,933.25
13.29
Oil
61,006,865.85
53.36
Selling Price Revenue
132,772,000.00
8.94
73,192,799.10
35.53
Realized Gains From Hedging
Natural Gas
34,129,000.00
2.30
Natural Gas Liquids
Oil
7,000,000.00
6.12
Total Realized Hedging Gains
34,129,000.00
2.30
7,000,000
3.40
Total Revenue
166,901,000.00
11.24
80,192,799.10
38.92
Costs Of Production - Cash
Royalties
1,567,000
0.11
6,984,000
3.39
Operating Expenses
37,027,400.00
2.49
20,602,600
10.00
Transportation
25,946,000
1.75
8,840,000
4.29
Total Operating Costs
64,540,400
4.35
36,426,600
17.68
Operating Netback
102,360,600.00
6.89
43,766,199.10
21.24
Source: Tourmaline Second Quarter Earnings Release (With Management Discussion And Analysis) Plus August Corporate Presentation
Shown above on the first worksheet is the total company numbers. Allocating costs when the BOE only has four digits meant that from time to time tens of thousands of dollars had to be put somewhere. So this break-down is a very rough idea with lots of rounding and hopefully reasonable allocations. The second worksheet attempts to break the numbers down into liquids and gas profits using the guidance and actual results provided by management. The company management actually breaks many of the numbers apart into oil and gas in the quarterly results. The biggest exception was operating expenses for which the presentation was used for the $10 BOE expense for the liquids. It should be pointed out that the accounting will be different if a gas field produces some liquid in such a small amount that the liquid is considered a by-product. Then by-product accounting, a part of incremental accounting takes over. So the simplifying assumption is that all the liquids were drilled in a field (Lake Charlie? Spirit River? etc...) where the intended target was liquid and any gas was a by-product of inconsequential amount. At least until management provides an operating expense detail by emphasized area and overall product. Readers can feel free to make their own assumptions and see what happens.
The main point for the all this was that the liquids add a little more than C$3 BOE to the selling price average BOE. Those liquids also raise the average production costs quite materially. In this low price environment that is a big deal. Also notice that operating expenses for just gas are about $1 BOE lower than the corporate average. Because of the pricing differences, a little bit of oil production really distorts the average costs for a gas company and necessitates a whole lot more cost investigation. Total liquids production is very roughly 10% of total production, so it does not take much liquids production to change the company averages and hide any cost progress with the gas projects.
Fixed costs are a little more difficult to allocate for an observer because they do not vary with production but can vary with something distantly related to production. For example selling, general, and administrative, can vary materially from average production volumes. They can be allocated based upon sales volumes, production volumes, but really should be allocated by project by management and reported to shareholders. Administrative costs, should be allocated by time spent on each project where possible.
What makes this so challenging is the cost differences between the two products. For example liquids transportation cost amounts are about one-third of the gas transportation costs on a much lower percentage of production. The operating expense for liquids is several hundred percentage points higher than the gas operating expense. To compare the expense of this company with other gas producers without at least trying to separate out the liquids business could result in some very erroneous decisions about future profitability of the company.
This is what makes it very hard to compare two companies in the oil and gas industry except in some very general, high level terms. But the bottom line is the operating netback appears to be very attractive for both liquids and gas, and the company appears to be efficient in both lines. The oil operating expense is a little high for the industry, but as the company increases production and gains more experience in the project, that figure could easily come down to some very competitive levels. Even with the current costs, the operating netback appears attractive.
Management stated that transportation costs could come down with more company owned infrastructure, but right now only one gas plant is slated to come online in 2017. So much of the planned expansion will use infrastructure already built or third party infrastructure. The latest industry down-turn has freed up some capacity, so evidently the current advantage of company owned infrastructure is not that great (where it might be needed).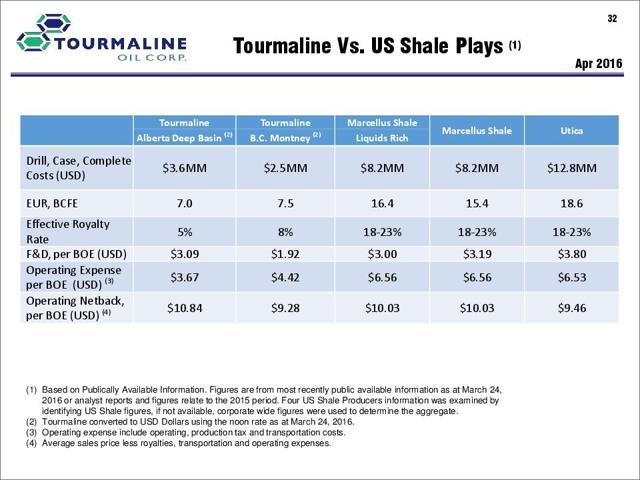 Source: Tourmaline Oil Corporation, August, 2016, Corporate Presentation
The company demonstrated that its costs are among some of the best. However, currently the company is getting a lousy price for its gas at under C$2 MCF. The whole industry, on average is also. That needs to improve and it may well have with the hot summer. So cash flow per MCF could be better in the third quarter. The operating netbacks are subjective and the costs are definitely a moving target with all the operating improvements reported by the industry. Plus results could vary widely with the geology of the lease.
The company reported second quarter cash flow of C$143 million and six month cash flow of C$320 million. For a company that continues to reduce its debt and is aiming for a year end bank debt of C$1.2 billion, that first half cash flow is more than adequate to handle the bank debt. Plus the production expansion that the company has in mind could easily inflate the second half cash flow considerably.
Source: Tourmaline Oil Corporation, August, 2016, Corporate Presentation
The most common question asked is how these costs shown above compare to the reported costs shown on the spreadsheets above. The answer is that many companies have years of wells drilled and producing using older technology. Plus costs climb as wells age and the production declines. Sometimes reworks can "bring a well current". Most of the time as well production decreases with age, the older wells influence on costs decline. So while the slides above show some of the latest costs and will fairly accurately determine whether or not to continue developing a project, reported costs can be very different.
Depreciation is one of the last costs to catch up to the latest costs as it is allocated over time. With the drop in commodity prices, depreciation was under allocated during the boom times which meant a cost ceiling write-off and probably still some over-allocation during the lean times. Projection of well production, product pricing and future costs are a very iffy proposition. So depreciation may be the least accurate cost reported on the income statement right now for a number of reason. The most obvious reason is the rapidly changing industry costs and product recovery rates make allocating future depreciation a nightmare for the accounting department.
Much of the gas industry took writedowns a few years back when gas prices plunged. So gas companies such as this one have not been affected by the cost ceiling writedowns nearly as much that many companies with significant liquids production have had to take. On the other hand, gas prices have not been that high either, so profitability has been hurt by lower gas pricing. Many of this company's projects are in low cost areas which will also minimize writedowns.
If there is really any criticism of management it would be the sales of stock. The company has sold stock to allow production to grow faster. However, maybe the company should have grown slower to enable shareholders to reap more of the benefits of these lower cost projects. Although if management reaps the large profits it expects from the coming great winter, then maybe the stock sales will not be needed for awhile. Many primarily gas company managements have been expecting a recovery in gas prices for years that never happened. In any event production, even with the latest reduced guidance is expected to be up sharply. Management may even revise it higher as more industry improvements are used in operations and new wells exceed expectations.
Source: Tourmaline Oil Corporation, August, 2016, Corporate Presentation
Management did lower the average production rate for 2016 a little below the capacity listed above in the first slide. But then later on they stated that production improvements may cause them to raise the guidance later in the year. Currently additional infrastructure costs are low, so should the company need more infrastructure, there appears to be plenty of supplier capacity to provide the materials needed at bargain pricing. The decision to time the completion and beginning production of the wells drilled this summer will affect average production and exit production rates materially because of the sizeable boost in production projected. So while the capacity above is listed, management could exceed that capacity if the price is right.
So far, the liquids production is not growing as fast as the gas production. That can change the corporate average cost structure favorably. As shown above on the spreadsheets, the liquids production has a very significant effect on overall average corporate costs because of the very different cost structure of the liquids business. However, most of the improvement in average costs is expected to come from operational improvements and continuing cost deflation in the industry for various reasons.
This company does not pay a dividend. But through one of the three projects, it has some exposure to oil and has the ability to increase the amount of oil produces as a percentage of its production. Plus other zones are being tested on its properties for additional liquids production in the future. Right now management is waiting for oil prices to stabilize at $50 barrel WTI for the Charlie Lake and associated liquids projects. But industry improvements could lower that target easily by the end of the year. As shown in the slides above, the projected IRR of future wells drilled in the oil bearing project (Lake Charlie) is attractive, though the company currently has more attractive gas projects (some with liquids) available. The liquids exposure gave the company an advantage in the not to distant past, and could well do the same in the future. A lot depends upon the finding and development costs because the operating netback shown above is more than reasonable. As part of a basket of oil and gas companies, this management has more than proved itself capable all through the current downturn. A well reasoned, and explained bet on the winter could (should?) provide a very material boost to the stock price. Management had indicated that with the decreasing well drilling costs, the savings could be represented by more incremental wells. But the stock is also suitable for long term investors as well. Over the five year period as the industry recovers, this low cost participant should lead the recovery and at least double in price.
Disclaimer: I am not an investment advisor, and this article is not meant to be a recommendation of the purchase or sale of stock. Investors are advised to review all company documents, and press releases to see if the company fits their own investment qualifications.
Disclosure: I/we have no positions in any stocks mentioned, and no plans to initiate any positions within the next 72 hours.
I wrote this article myself, and it expresses my own opinions. I am not receiving compensation for it (other than from Seeking Alpha). I have no business relationship with any company whose stock is mentioned in this article.
Editor's Note: This article discusses one or more securities that do not trade on a major U.S. exchange. Please be aware of the risks associated with these stocks.