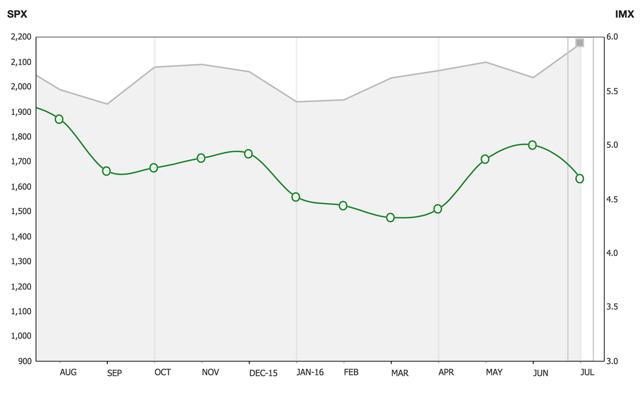 For the first time in months, retail traders stepped back slightly from the stock market in July, apparently taking profits on some of the most high-flying stocks after a big rally that drove indices to new record highs.
Retail traders tracked by TD Ameritrade decreased their stock market exposure in July, according to the Investor Movement Index®, or the IMX SM, marking the first time the index declined since March. The IMX fell to 4.69 in July, down from 5.00 in June, as the market was buffeted by earnings season, a Fed meeting, continued fall-out from the June Brexit vote, and a big decline in volatility.
In fact, falling volatility relative to the overall market in a few widely held stocks like Apple (NASDAQ:AAPL), Facebook (NASDAQ:FB), and Bank of America (NYSE:BAC) also contributed to the decline in the IMX reading. The VIX index, which measures market volatility, fell to its lowest levels of the year in July after surging in late June.
What drove retail investors to reduce their exposure to the stock market even as several indices reached record highs? It seems to be a calculated and healthy decision that with the market looking frothy, it was time to take profit on stocks at high price levels and re-invest in some of the more undervalued names. In fact, if the market's sluggish performance in late July and early August is any indication, retail investors may have done something it's very difficult for anyone (me included) to do: Time the market.
Not that retail investors are always right, and it's way too early to say if moving out of some of the higher-valuation equities in July was the correct idea. But from what I've seen, retail investors are a cautious bunch, and don't often get carried away when markets rally. In the accompanying video, you'll get my take on the July IMX reading, and learn which stocks retail traders were buying and selling during the month.
Which stocks do retail traders seem to like best of late? A couple of sectors get most of the love: Information Technology and Financial. Both of those sectors delivered strong Q2 earnings results, so maybe retail investors liked what they saw. And some of the key financial stocks are trading at rather low valuations, making them attractive to investors looking for bargains. Also, as we've seen for a while now, there's continued interest in dividend stocks, which should come as no surprise considering yields on government bonds haven't recovered much from recent record lows.
Remember, this sophisticated index is a tool that lets you see what hundreds of thousands of actual traders were doing in July across all markets. Retail traders pulled back a little in July from a market that was soaring to all-time highs, and it's hard to blame them after the sharp post-Brexit rally. Will the lower-valuation names they snapped up in place of expensive stocks prove retail investors right? We can only wait and see...
Watch this video to get Nicole's take on the July IMX SM
Past performance of a security, strategy or index is no guarantee of future results or investment success.Investing in stocks involves risks, including loss of principal.
Commentary provided for educational purposes only. Inclusion of specific security names in this commentary does not constitute a recommendation from TD Ameritrade to buy, sell, or hold.
Historical data should not be used alone when making investment decisions. Please consult other sources of information and consider your individual financial position and goals before making an independent investment decision.
The IMX is not a tradable index. The IMX should not be used as an indicator or predictor of future client trading volume or financial performance for TD Ameritrade.
TD Ameritrade® commentary for educational purposes only. Member SIPC.
Disclosure: I/we have no positions in any stocks mentioned, and no plans to initiate any positions within the next 72 hours.
I wrote this article myself, and it expresses my own opinions. I am not receiving compensation for it. I have no business relationship with any company whose stock is mentioned in this article.