Thermo Fisher Scientific
Thermo Fisher Scientific (NYSE:TMO), which announced impressive quarterly results last Thursday, has proven to be one of the strongest performers in the healthcare sector. Falling into the advanced medical equipment and technology industry, the company provides analytical instruments, equipment, and software to aid research and discovery. It operates through four business segments, which are Life Sciences Solutions, Analytical Instruments, Specialty Diagnostics, and Laboratory Products and Services. In taking a closer look at the financials and fundamentals of the company as a whole, it becomes evident that this is certainly a healthy company and in a great position for future growth. Thermo Fisher Scientific's aggressive acquisition strategy has already resulted in sales growth, and we can expect to see the same over the next three years, making TMO a great pick for investors in the long run.
Let's start by taking a closer look at the highlights of the quarterly results that were just released. Sales revenue increased to $4.54 billion, which is a 6% increase compared to the second quarter of 2015. We can attribute such an increase to the research and development of new products, previous acquisition deals, and the growing sales in emerging markets. Though North America still remains the strongest region for TMO, China, South Korea, and India were the leaders in emerging market growth this past quarter. With the expenses holding around the same margins from last year, the operating income margin for this past quarter ended at 14.1%. Thermo Fisher Scientific also announced a diluted EPS of $1.30. The company has now beaten earnings expectations for the two quarters of 2016. Such strong earnings announcements are great for a company that has shown solid revenue growth over the past years. A closer look at the income statement in its last annual report shows that the company's year-over-year percentage increases in revenue are greater than the year-over-year increases (or decreases) in the cost of revenue. Thus, showing that Thermo Fisher Scientific has not only done well in increasing revenue, but also in managing expenses. As an investor, such a strong income statement should be appealing for the long term.
It is important to note that based off of the results of the first six months, the company has lowered its expectations for revenue to a range of $17.84 billion to $18 billion. Despite this adjustment, investors should not worry as it would still result in 5-6% growth compared to last year. The company has also raised its expectations for year-end EPS. It now predicts earnings to be between $8.07 and $8.20 a share. However, in early July, the board of Thermo Fisher Scientific approved a plan to repurchase $1.5 billion worth of shares. This news came following the company's completion of a share repurchase program during the first quarter of 2016. So yes, at first glance, it does appear to be appealing that the company is raising its EPS outlook for year-end, but it should be taken with a grain of salt because the share repurchasing programs are most likely causing the bump in expectations by affecting the EPS calculation.
Acquisitions
Thermo Fisher Scientific has been on quite an aggressive acquisition strategy over the past few years. The company has completed six deals since 2014 and shows no signs of slowing down until 2019 at the earliest. This is when it plans to finish up spending $12 billion in acquisitions. Most recently, Thermo Fisher Scientific closed out a deal in March, purchasing Affymetrix, Inc. for $1.3 billion. The recent acquisitions are certainly starting to pay off, leading to about 3% revenue growth from the last quarter. Expect the aggressive acquisitions to continue to spark growth for the company in the long run.
Thermo Fisher Scientific is currently planning the purchase of FEI Company (NASDAQ:FEIC) that would be at a cost of $4.2 billion in cash. FEI produces microscope technology. The deal is pending, and it is expected to go through in beginning of calendar year 2017. In the most recent quarterly results conference call, CEO Marc Casper addressed the acquisition, stating that it should help enhance the Analytical Instruments segment through direct impact. But he also stated that the company plans to use the technologies to expand into life sciences and applied markets. In analyzing the annual report from last year, it becomes apparent the lowest-performing business segment was the Analytical Instruments segment, only bringing in about 19% of sales revenue in 2015. Another key factor to observe in the deal is that FEI would bring on a balance of zero in long-term debt. This is great for Thermo Fisher Scientific as the acquisition will not tie up future cash flows and will further enhance any ratios involving debt.
The combination of the fit FEI provides in Thermo Fisher Scientific's business segments, the lack of long-term debt, and the track record for previously successful acquisitions show how strategic of a move this is. It should give confidence to investors moving forward as the company continues to aggressively expand. Of course there are some possible pitfalls to the company during this period. TMO does risk overextending and making deals that don't turn out as expected. However, there have been no such signs of pitfalls in the company's acquisition strategy.
Compared to the Industry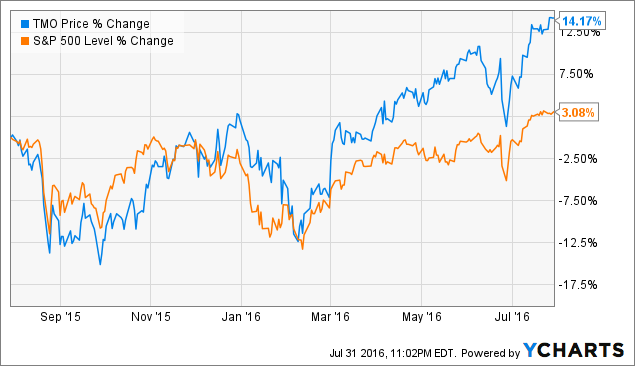 As evidenced by the chart, Thermo Fisher Scientific has outperformed the S&P 500 by about 11% on the year. It is also beating out the Healthcare sector and the Advanced Medical Equipment and Technology industry on the year. Compared to some main competitors, the company's fundamentals also match up fairly evenly. Danaher Corporation (NYSE:DHR), Agilent Technologies, Inc. (NYSE:A), and Becton, Dickinson and Co. (NYSE:BDX) could all be characterized as large-cap stocks along with Thermo Fisher Scientific. The aforementioned companies all have gross margins that fall around 50% and operating income margins around 15% (Becton Dickinson is an exception at 10%). However, none of these close competitors seem to be engaging in such an aggressive acquisition strategy like Thermo Fisher Scientific for the purpose of growth and industry dominance, making TMO a good, long-term buy.
Disclosure: I/we have no positions in any stocks mentioned, and no plans to initiate any positions within the next 72 hours.
I wrote this article myself, and it expresses my own opinions. I am not receiving compensation for it (other than from Seeking Alpha). I have no business relationship with any company whose stock is mentioned in this article.