Keryx Biopharmaceuticals (NASDAQ: KERX) is a Boston, Massachusetts based company whose key product is Auryxia (oral ferric citrate), an absorbable medication which is approved by FDA to control elevated serum phosphorus levels in chronic kidney disease (CKD) patients on dialysis (DD-CKD), as well as those with later stages of CKD (stages 3-5) but not yet dialysis-dependent (non-DD CKD). Currently, increased phosphorus levels in chronic kidney disease are usually treated with medications like PhoLo (oral calcium phosphate) or Sevalamer (Renagel). Auryxia has a key advantage over these existing preparations that it can also treat iron deficiency anemia (IDA), another common disease in CKD and potentially reduce treatment costs by decreasing need for IV iron and erythropoietin stimulating agents (ESAs). The stock price has retreated recently after news of supply interruption of Auryxia (due to a manufacturing issue), thus offering long-term investors an excellent opportunity to establish long positions in this company. We are initiating coverage on Keryx Biopharmaceuticals with Buy rating on common stock and price target (intrinsic value) based on enterprise DCF method= $12.05/share which represents significant upside.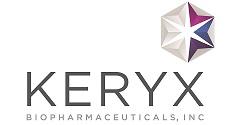 Investment Highlights:
- Common stock rating= Buy
- Common stock price target (intrinsic value)=$12.05
- Current stock price= $4.49
- 52-week stock price range= $2.80 to $7.80
- Market Cap=$475.14 million
- Average daily share volume= 1,619,417
- Cash reserves= $155.8 million (end of Q2, 2016)
- Cash burn=$15.2 million (Q2, 2016)
- Debt=$106.5 million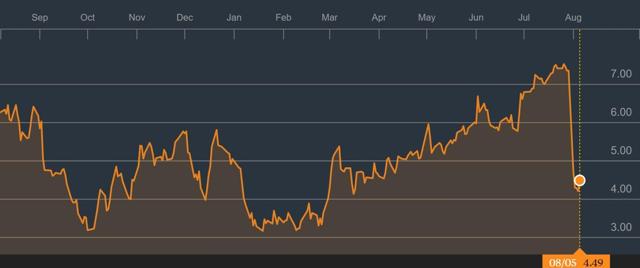 Figure 1: Keryx Biopharmaceuticals, common stock price chart (source: Bloomberg.com).
Extent of the problem and Product:
There are about 450,000, DD-CKD (dialysis-dependent, chronic kidney disease) patients in the U.S. In a phase 3 clinical trial in DD-CKD, ferric citrate met non-inferiority primary endpoint vs. PhoLo and Sevalamer (source: 10-Q). In addition, there was significant increase in serum iron and ferritin level with ferric citrate. Anemia due to iron deficiency is common in CKD patients. In CKD patients on dialysis, IV iron and erythropoietin stimulating agents (ESAs) are commonly used to treat IDA, but are expensive. Ferric citrate can treat elevated phosphorus level and IDA with a single therapy. Treatment with Auryxia was shown to decrease median IV iron use by 51% vs. control in DD-CKD. In addition, there was 24% reduction in median ESA use versus control. Treatment with Auryxia may result in $2101 savings per patient per year ($1585 due to decreased ESA usage and rest due to decreased IV iron usage). Another study estimated that treatment with ferric citrate may decrease CKD treatment costs by 21.2% in the U.S. (annual savings of $1.089 billion).
The prevalence of non-DD, CKD is about 10% of the population in the U.S. High rates of IDA (57.8-58.8% in adult men and 69.9%-72.8% in adult women) were found with CKD stages 3-5 (non-DD) in the NHANES III and 1999-2004 surveys. There are 1.5 million patients with both non-DD, CKD and IDA in the U.S. alone. IV iron and ESAs are not usually used to treat IDA in non-DD, CKD patients. IDA in non-DD, CKD patients is frequently undertreated and currently, no oral iron preparations are approved specifically for this indication. Auryxia is approved to treat elevated phosphorus level in non-DD, CKD and also showed improvement in serum iron, transferrin saturation and ferritin (press release). The proportion of patients achieving the primary end-point of hemoglobin increase > 1 g/dL at any point during the 16-week treatment period was 52% in the drug arm vs. 19% in the placebo (p<0.001). The drug was also well-tolerated and safe. After a successful phase 3 study, Keryx plans to submit a supplemental new drug application (NDA) for Auryxia to treat IDA in non-DD (stage 3-4 CKD) in Q3, 2016.
Management:
Greg Madison, CEO: Formerly, Executive VP and Chief Commercial Officer at AMAG Pharmaceuticals; formerly VP and General Manager of Renal Division at Genzyme/Sanofi (led pre-launch marketing for Renvela).
John Neylan, MD: Chief Medical Officer: Nephrologist/Transplant Specialist. Formerly, Senior VP, Clinical Development at Genzyme; formerly, VP, R&D at Wyeth Research.
Board of Directors: includes the current CEO at Collegium Pharmaceuticals, a former Global General Manager at Renal Division of Genzyme, the current CEO at Akebia Therapeutics, a former Group Director of R&D at Pfizer, the current CEO at Tokai Pharmaceuticals and the current CFO at Acorda Therapeutics.
More details of the Management team and the Board of Directors can be accessed here.
Partnerships and collaborations:
The company has collaboration rights to commercialize ferric citrate in Japan with Torii Pharmaceuticals (Riona brand). Keryx will get $55 million of milestone payments on certain annual net sales milestones and tiered double-digit percentage of net sales till mid-teens. Ferric citrate is also approved in E.U. (as Fexeric brand) and Keryx is seeking partners for commercialization in the E.U.
Ferric citrate was acquired from Panion and Keryx will pay mid single-digit royalties on net sales of ferric citrate in the US and Japan to Panion. Royalties to Panion are included in the cost of revenue in the US and under license expense in Japan.
Intellectual Property:
Various patents protecting ferric citrate in the US extend till 2026, in Japan till 2025, and in the EU till 2025 (after 10-year marketing exclusivity).
Competition:
This includes existing phosphate binders, PhosLo (calcium acetate) by Genzyme/Sanofi, and Sevelamer (Renagel, Renvela). Other potential competitors include Lanthanum-based phosphate binders (Shire) whose long-term safety effects are not known. Velphoro (sucroferric dehydroxide) by Fresenius is another potential competitor. Despite being an iron-based phosphate binder, Velphoro had no significant effect on iron parameters and is not approved to treat IDA.
Institutional support:
The company has succeeded to win a big institutional supporter, Boston-based Baupost group, which owns 24% of the outstanding common stock. Baupost also bought $125 million of convertible senior notes in October 2015 and its stake in the company would increase to approximately 43% if these convertible notes were converted to common stock. Blackrock recently announced 4.5 million share stake in the company.
Issue with Auryxia supply:
On August 1, 2016, the company announced that there was an interruption in the supply of Auryxia due to a production-related issue while converting active pharmaceutical ingredient to the finished product. The company is working with the existing manufacturer to resolve the production-related issue and rebuild adequate supply. In addition, Keryx has been working to bring a secondary manufacturer online to supply a finished product. The company anticipated that the supply of the drug will be back to adequate levels in the Q4, 2016.
We consider this news of supply interruption as a temporary setback and do not anticipate it to affect our peak revenue estimate. The fall in the stock has offered long-term value investors an excellent opportunity to enter long positions in this company, which is a favorite of institutional investors. There has been a strong demand for the product and we expect the revenue growth to resume current trend starting Q4, 2016. In addition, addition of a second manufacturer may help to meet the increasing demand for the product and potentially reduce cost of revenue. The company does not anticipate any change in its plan to file a supplemental NDA with the FDA in Q3, 2016 for IDA in non-DD CKD.
Valuation of the common stock:
Net sales of Auryxia were $10.1 million in the U.S. in 2015 or 1% market share. Net sales in the second quarter of 2016 were $8.3 million in the US, reflecting about 30% growth from Q1 2016. We forecast zero U.S. revenue in August and September 2016 due to supply interruption. We expect Q4, 2016 US revenue to decline to $5.6 million (due to some patients switching back to an alternative phosphate binder). Keryx has assembled an impressive sales organization for Auryxia in 95 territories in the US, targeting about 5,000 nephrologists. We expect the US revenue to increase at about 30% quarterly growth till 2021, and then 5% annual growth till patent expiry in 2026 (then 5% annual decline). Keryx expects the distribution of patients on Auryxia as: 70% (switched from another phosphate binder) and 30% (new phosphate binder initiation).
Cost of PhosLo per month is $76 (brand) and $47 (generic). Per month cost of sevelamar (brand) is $209/month and that for Velphoro is about $970-$1005/month. Per month cost of Auryxia is $909. Using these assumptions, we modeled peak US Auryxia revenue= $1.05 billion in 2026 at patent expiry (4.8% peak U.S. market penetration in CKD, both DD and non-DD, stages 3-5). In comparison, peak annual sales of sevelamer (Renagel and Renvela) were $861 million in 2012. Auryxia has additional benefits like less pills per day and treatment of IDA.
The cost of revenue is expected to range between 20% to 25% according to the management. In our model we input cost of revenue= 25% of revenue. The cost of revenue also includes 5% royalties on sales payable to Panion.
R&D expenses are estimated as $28 million in 2016 and 17.6% of annual revenue after that in line with average for pharmaceuticals. S, G&A expenses were estimated as $80 million in 2016 and growing at 3% annually after that. Depreciation and amortization was estimated as $1.04 million in 2016 and 7.3% of annual revenue after that in line with pharmaceuticals. Income taxes were calculated as 35%. Reinvestment rate of 90% of net income was assumed after 2019. Discount rate of 15% initially for five years and then decreased to 12%, and subsequently 10% was used. McKinsey's NOPLAT formula was used to calculate the terminal value.
In calculating the fair value for equity, we adjusted the accumulated operating loss tax carry-forwards, derivative liability, and employee stock options liability. Using the undiluted share account, we calculated the fair value for each common share =$12.05. This represents significant upside from the current stock price. The calculation does not include royalties received from sales in Japan.
The spreadsheet used in this DCF valuation can be accessed here.
Risks in the investment:
Significant number of patients being treated with Auryxia may switch to alternative medications and may be reluctant to switch back to Auryxia even after the supply is resumed. Physicians may be reluctant to prescribe Auryxia after the supply set-back. Although the drug is approved already, it is expensive compared to PhosLo and sevelamar and insurers may be reluctant to reimburse it. The company may require cash infusion to fund its operations next year (if Auryxia sales do not pick up) and the debt/equity financing may put downward pressure on stock price.
In conclusion, we consider the current fall in stock-price as an excellent opportunity to establish a long-term position in Keryx Biopharmaceuticals and are including it in our firm model portfolio with Buy rating and price target (intrinsic value)= $12.05 (suggested allocation= 1% of portfolio).
The firm model portfolio can be accessed here.
Note: To get more investment ideas like this as soon as they are published, click on my profile and hit the big orange "Follow" button and choose the real-time alerts option.
Supporting Documents
Disclosure: I am/we are long KERX.
I wrote this article myself, and it expresses my own opinions. I am not receiving compensation for it (other than from Seeking Alpha). I have no business relationship with any company whose stock is mentioned in this article.
Additional disclosure: This article represents my own opinion and is not a substitute for professional investment advice. It does not represent solicitation to buy or sell any security. Investors should do their own research and consult their financial advisor before making any investment.