Background
Last week I published a critical article on Rolls Royce Holdings (OTCPK:RYCEF) (OTCPK:RYCEY) in which I sought to illustrate several risks I saw to the company's current valuation.
Following the release of its first half 2016 results on July 28, Rolls' share price sharply rose some 15% to hit a 52 week high of 875 pence. Since then, however, its share price has slipped back to 751 and, based on several risks I see, I believe it will fall further still over the coming 6-9 months or so. You can read the article here.
In suggesting investors with a 6 -12 month investment horizon short Rolls, I was keen to find a suitable long investment in roughly the same sector. That company I believe is Cobham plc (OTCPK:CBHMF).
Introduction
Cobham is a UK incorporated and listed internationally focused company that provides a broad range of products and services primarily to the aerospace and defence sector. It operates in over 100 countries and has strong market positions in air-to-air refueling; aviation services; wireless; audio, video and data communications, including satellite communications; defence electronics; life support and mission equipment.

Source : Cobham
Cobham has a long history, having been founded in 1934 principally as an aircraft refueling company. Today it is a GBP 2.8bn LSE listed company (ticker COB) with OTC listings in US. As with all such companies, investors looking for exposure are advised to seek the LSE listing, where liquidity is multiples of times higher than the US OTC.
Cobham operates in four sectors:
1) Communications and Connectivity : providing aircraft and communication equipment, satellite communication equipment for land, sea, and air applications and test and measurement instrumentation for radio frequency, cellular communications and wireless networking;
2) Mission Systems : providing safety, survival and mission critical systems and sub-systems, including aircraft oxygen and fuel tank inerting systems for extreme environments, nose-to-tail aerial refueling systems and wing-tip to wing-tip mission systems for fast jets, transport aircraft and rotorcraft, including weapon carriage and release systems and missile control actuation sub-systems;
3) Advanced Electronic Solutions : providing solutions for communication on land, at sea, in the air and in space, through off the shelf and customized products including radio frequency, microwave, and high reliability microelectronics, antenna subsystems and motion control solutions. This incorporates defence, wireless/mobile and fixed broadband, X-ray imaging, medical and industrial markets; and
4) Aviation Services : delivering outsourced aviation services for military and commercial customers worldwide, including military training, special mission flight operations, outsourced commercial aviation, fly-in fly-out services to the natural resources industry and aircraft engineering services.

Source : Cobham. Figures relate to full year 2015 information.
With such a diverse range of products and services, the company has a very balanced mix of end use customers from the commercial and defence industries. Indeed, part of the company's strategy is to target businesses with technology that can be applied to both commercial and defence markets, allowing it to benefit from growth in both.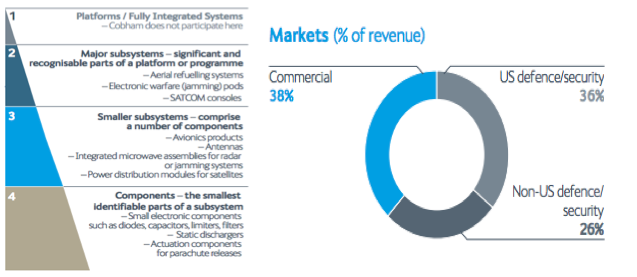 Source : Cobham
A disappointing first half 2016, but expecting a robust second half
Like Rolls, Cobham's performance in the first half was lackluster and driven mostly by issues in the first quarter. These included delays in delivery of its wireless products (and a subsequent GBP 9m charge being booked in that quarter), challenging market conditions in its fly-in-fly-out operations (mainly the result of slowing mining activity in Australia) and increases in the cost of a small number of its Advanced Electronics business' products. This led the company to forecast that its trading profit was likely to be back end loaded towards the end of the year.
The second quarter, however, was very encouraging. A large part of the damage to the Q1 trading profit from the Wireless and the Advanced Electronic Solutions businesses was in fact addressed, and trading profit in Q2 was 5 times greater than Q1 and lifted first half trading profit to GBP 102m - still some GBP 64m below H1 2015.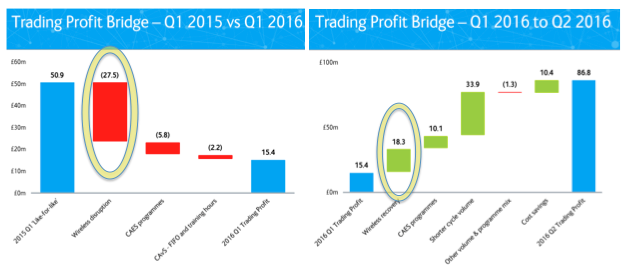 Source : Cobham
The performance over Q116 lead management to lopping GBP 15m off its previous trading profit guidance for the full year, which up until that point stood at GBP 315m. At a trading profit of GBP 300m, this would put 2016 at 10% below 2015.
Another encouraging aspect of Q2 was the uptick in new orders. Like Rolls and many other aerospace and defence companies, the size of the order book is a leading indicator of future revenue. Whilst an order never represents a guarantee of revenue, it does provide a good indication. During the 1H, Cobham took in GBP 1170m in new orders (28% higher than the intake in 1H2015), taking the size of the order book to GBP 2943m, 17% higher than at the end of 2015. This compares to Roll's performance over the 1H16 which saw its order book remain largely unchanged but for an increase which came about from a revaluation at the lower GBP/USD rate.
A well timed rights issue in hindsight
When Cobham announced its April trading update, it also announced a GBP 500m 1 for 2 rights issue. This came as a pretty unwelcome surprise to shareholders, however, given the state of the balance sheet, it perhaps shouldn't have.
Following its decision to diversify away from what was mostly a defence sector company, Cobham acquired Aeroflex, the US communications equipment maker for $1.4bn in 2014. In doing so, the company took on some $1.3bn in USD denominated debt. One of the covenants for this debt was that net debt / EBITDA was not to exceed 3.5x on a rolling 12 month basis. By year end 2015, this had risen from 2.6 at year end 2014 following the acquisition to 2.9. The combination then of a weak Q1 and a decrease in the GBP/USD from 1.47 to 1.43 meant that the company saw significant risk that it would break its 3.5x covenant and thus announced a rights issue late April.
The rights issue has enabled Cobham to bring its net debt / EBITDA convenant back down to 2x and has lead to a much more stable balance sheet going forward. Further, in light of the over 10% depreciation of the GBP, it now in hindsight appears very well timed.
Nevertheless, despite one of the biggest impediments to Cobham being removed, the share price has failed to re rate. Currently it lags behind Rolls' performance YTD by some 70%. Even allowing for the dilution of the rights issue, COB has still underperformed relative to Rolls by some 55% and underperformed the FTSE 100 by some 35%.

Source : Googlefinance
Valuations now in line, but cash is king
When I wrote my Rolls article a week ago, Rolls was trading at 800p. It's since traded down to 751. Based on current management estimates for the full year 2016 (GBP 1652m) , it's now trading on an EV/EBITDA multiple of 9.8x.
COB management initially set a trading profit target of GBP 315m for 2016. Their definition of trading profit is in fact EBITA, before exchange rate movements, acquisition/disposal costs and restructuring costs. During the trading update in April, however management cut its trading profit guidance by GBP 15m - leaving the 2016 forecast at GBP 300m. Adding back 2015 depreciation of GBP 77m gives EBITDA of GBP 377m. As it happens, based on COB's current share price, this implies an EV/EBITDA multiple for COB of 9.6x - more or less identical to Rolls.
On a cash basis, however, which is a key element I always return to in my analyses, Rolls is lagging. This year, consensus analysts estimate Rolls will make a GBP 291m free cash flow loss. This follows the company's 1H 2016 free cash flow loss of GBP 399m and its 2015 full year free cash flow of GBP 179m. COB on the other hand made a free cash flow profit of GBP 52m in 1H 2016 and a full year 2015 profit of GBP 105m. That's a free cash flow yield of 3.9% based on 2015 and 4.0% based on an annualised 1H 2016 result. Given the expected strong second half 2016, it's likely the free cash flow yield for 2016 will be even higher.

This is not to say, however, that I am bearish on Rolls over the longer term. I believe that for investors happy to ride out a volatile short term (up to a year perhaps), a long term investment in Rolls will turn good. However, I am more concerned right now with the short term, 6-9 months. And over that period I believe Rolls will underperform COB owing to the number of short term issues Rolls currently faces. For those interested, I discussed these at some length in my earlier article on Rolls last week.
Pensions and USD/GBP hedging - the sleeping giants
There are principally 2 areas I think that Rolls is more exposed that COB. These are on the size of its foreign exchange hedge book and the size of its pension scheme liabilities.
First, the hedge book. Rolls has some $35bn in GBP/USD hedging; roughly equivalent to 6 years worth of its annual expected USD receipts. The reason for this is clear - as a company that receives so much of its revenue in USD but reports in GBP, the company is obviously, correctly, focused on minimizing short term volatility in its reported earnings arising from exchange rate movements. The issue for Rolls though is that the average rate of its hedge book is 1.57, which is substantially above the current rate of 1.30. It's even further above the rate many economists now believe the GBP will fall to shortly - around 1.20 by year end.
The problem then is the mark to market losses on the hedge book that Rolls must book each time it reports, the most recent of which for the 1H 2016 was GBP 2.2bn - dragging Rolls' reported NPAT for the half to a loss of GBP 1.7bn. With the rate since 30 June dropping from 1.34 (which was the rate Rolls used to calculate the most recent mark to market loss in its H1 2016 accounts) to its current level at 1.30 - and tipped to go lower still - it's likely there will be another, possibly similar sized loss booked at year end. Whilst these losses are indeed non cash as many would point out, they have a very real impact on the net asset value of the company and anything that impacts the net asset value could affect lending covenants, credit ratings, etc; all of which would depress the stock.
COB on the other hand has a very modest FX hedge book, with around GBP 200m or so in GBP/USD cover. In fact, the total book value of all its financial derivatives is a liability of about GBP 50m, compared to Rolls' current GBP 3.7bn.
The other balance sheet factor which pushes me to prefer COB over Rolls right now is the structure and valuation of their respective pension schemes. In Rolls' case, whist its pension scheme is funded right now (i.e., there is no net liability) the issue I have is the assumptions it is using in valuing it liabilities. Currently it is using a discount rate of 3.9% - which is says is based on AA corporate bond yields. COB, on the other hand, was using 3.9% at December 2015, but has since dropped the rate to 2.8% for its 1H 2016 accounts - creating a valuation movement of GBP 23m. When you consider that this was the movement for COB, which has GBP 720m in scheme liabilities, a similar reduction in discount rate on Rolls' GBP 11.6bn in scheme liabilities would likely produce a substantial pension shortfall - further weakening the balance sheet.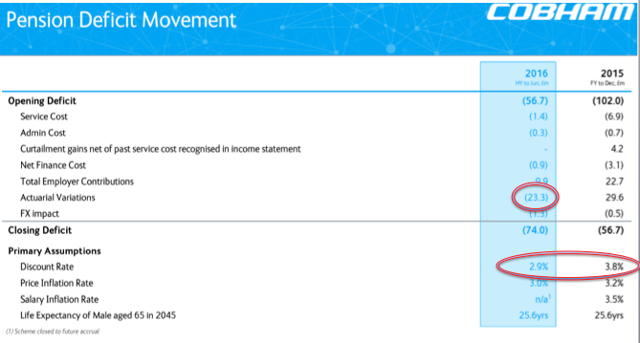 Source : Cobham
Conclusion
Both Rolls and Cobham are significant players in the global aerospace and defence space. Both released lackluster first half 2016 results and both are expecting a much better second half. Both are current trading at much the same EV/EBITDA 2016 multiple.
However, my sense is that there is significantly more balance sheet risk at Rolls at the moment both on the FX front and its pension scheme. Whilst at Cobham, the company's recent equity raise has put it on a much more solid footing going forward.
For investors targeting an attractive short term return (6-9 months) and wanting to maintain some exposure to this sector, I believe shorting Rolls and going long Cobham makes sense.
Disclosure: I am/we are long CBHMF.
I wrote this article myself, and it expresses my own opinions. I am not receiving compensation for it (other than from Seeking Alpha). I have no business relationship with any company whose stock is mentioned in this article.
Editor's Note: This article discusses one or more securities that do not trade on a major U.S. exchange. Please be aware of the risks associated with these stocks.