The fund I want to consider today is RiverNorth Opportunities Fund, Inc. (NYSE:RIV). RIV is a young closed-end fund. Its inception date was 24 Dec 2015, so it's not quite eight months old. As you'd expect from a fund this new, data are scarce.
The Fund employs an opportunistic tactical asset-allocation strategy, investing in closed-end funds and exchange-traded funds. It's a fund of funds. Some of you may tune out right now. I can hear the objections: "Leverage on leverage." "Fees on fees." And, I must say I've voiced those objections myself for other funds of this type.
For RIV right now leverage is unclear. The fund's prospectus states that the fund may use leverage up to 15%, but the current portfolio appears to be unleveraged. So, let's put that first objection on hold.
There is, of course, no getting away from the second objection, and the question becomes: Is the investor getting value from RIV's fees? Well, per the prospectus, those fees have the potential to clock in as high as 2.04%, which includes 0.28% for leverage costs and 0.40% for "other expenses." Now I'm losing some more readers from the ones who stuck around after the fund-of-funds revelation. But before you click off, realize that not all of that expense cost seems to be applied at present. There are no leverage costs and it's not apparent what "other expenses" includes and if those fees are being applied. Cefanalyzer lists total expenses as 1.33%, but there's no indication of where they get that number either. Add to that the 1.68% acquired fees and expenses for the funds held by RIV and we're looking at a potential for total expenses of 3.72%. Ok. go ahead and click off if you find that totally beyond the pale; I'll understand.
Strategy and Objectives. For those of you still here let's look at the fund.
The fund describes its investment strategy as being "designed to capitalize on the inefficiencies in the closed-end fund space while simultaneously providing diversified exposure to several asset classes." I know we're supposed to be skeptical of objective statement boilerplate, but that statement appeals to me. It describes precisely my own investment strategy for this category: Capitalize on inefficiencies? Check. Diversified exposure? Check. Several asset classes? Check. These are the priorities for my own ventures into CEFs (see, for example, A CEF Portfolio for High Current Income with Capital Preservation for discussion). So I thought I'd at least take a look.
Holdings. Probably the best place to start is with the fund's current portfolio. We have some fairly recent data on this from RiverNorth. The asset allocation as of the end of June looks like this: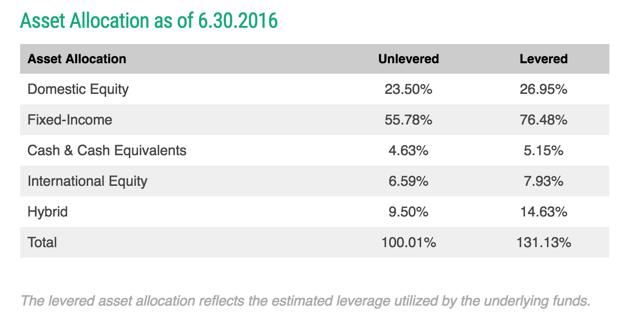 RIV's top 25 holdings include 21 CEFs. These have a median discount of -9.38%, and unlike the other CEF funds-of-funds, not one has a premium. Discounts range from -6.03% (the PIMCO Dynamic Credit Income Fund (NYSE:PCI)) to -17.68% (the General American Investors (NYSE:GAM)). Distribution yield is a median 8.79% and ranges from a low of 1.13% (the Adams Express Company (NYSE:ADX)) to a high of 12.41% (th Clough Global Opportunities Fund (NYSEMKT:GLO)). So far, what we're seeing is fully consistent with the strategy statement I quoted.
Discount. RIV has a -5.61% discount, so when one is considering the fees-on-fees argument, one should also recognize that the fund also provides a discount on discounts. Only one of the other CEF funds of funds is itself a CEF with its own discount on top of the discounts of the holdings themselves.
Performance. From its 24 Dec 2015 inception through the end of July 2016, RIV has a total return on NAV of 14.09%. Year to date NAV total return is 14.15%. These are about twice the return of the S&P 500 Total Return Index which turned in 6.64% since RIV's inception and 7.66% YTD.
Total return at market is only 3.67% since inception, quite the contrast. But that is misleadingly low because, typical of all CEF IPOs, RIV opened at a premium that declined sharply after a few weeks. I've noted before and I'll repeat it here again. Never buy a CEF at IPO. Wait until the dust settles, the commissions are paid and the premium disappears as it inevitably does.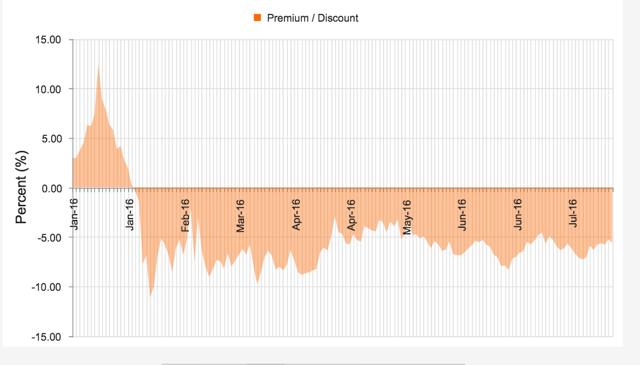 Therefore, to get a more realistic view of market return I've looked at it for the past six months, which eliminates the premium period, although with so little history there's really no ideal look-back choice.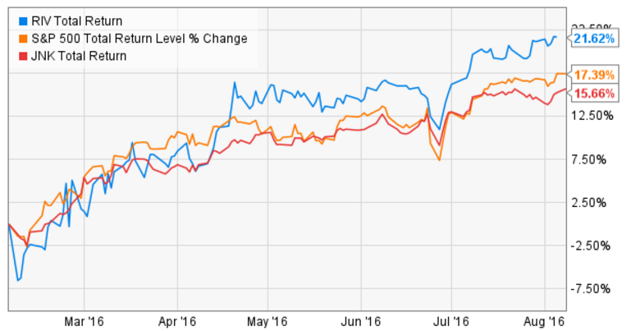 For the past six months, RIV has topped the S&P 500 by more than four points. This is particularly compelling when one considers that only about 25% of the fund is in domestic equity for a bullish period in domestic equity. As such, the S&P Total Return Index is not the most appropriate benchmark. I've added the SPDR Barclays Capital High Yield Bond ETF (NYSEARCA:JNK) as a high-yield bond marker and, as you see, RIV has beaten it as well. Putting the two categories together generates about a five point edge to RIV.
A word of caution is in order in extrapolating the performance results because the market dynamics of the underlying holdings have been complex over these past eight months. CEFs have enjoyed a strong run over the period of RIV's existence. Money has been flowing into CEFs and discounts have compressed across the board. The net result is that CEFs have been uncharacteristically strong i the extent of their outperformance of the broad market at market prices. Of course, NAV is a better criterion than market for measuring performance. RIV has been doing at least as well on a NAV basis which would seem to put aside the case that market returns are not reflective of the typical returns one can expect.
This whole line of thinking gets even more convoluted, however, because RIV's NAV is being driven by the market returns, not NAV returns, of its CEF holdings. It's those market returns that are experiencing the run up described. It's highly probable (a near certainty, I'd say) that the NAV returns of the underlyings are considerably less impressive than their market returns. So at one remove, RIV's impressive performance to date is, in large part, a reflection of a highly and unusually skewed CEF marketplace.
I would counter that with the observation that RIV is doing precisely what it set out to do: Exploit inefficiencies in the CEF market. Those inefficiencies are widespread right now and RIV has been successfully exploiting them.
Distributions. The fund has been paying a $0.14/share monthly distribution since inception. It has enhanced the distribution with two quarterly special distributions of $0.035 in April and $0.54 in July.
Market yield based on the regular distribution is $8.69%. NAV yield is 8.20%. The special distributions have increased market yield by a factor of 1.68 for the first two quarters, but it remains to be seen how consistent such distributions will be.
The source of those special distributions is not clear. I had expected it would have been short-term capital gains from the sale of appreciated assets. But the fund's website lists them as income with no capital gains reported. With median yields for the top 21 CEFs in the mid 8% range, distributions alone would not seem to be able to account for that much extra income.
Cefconnect reports return of capital for RIV's first three monthly distributions, but their numbers breaking down the full distributions don't add up, so it's not clear if they are accurate. The fund's on-line documentation makes no mention of return of capital.
A lot of these fuzzy issues should be cleared up soon as the fund releases its first semi-annual report. I'll be looking for it and hope to have some more clarity once it's released.
Other Choices. If the fund of funds concept appeals to you there are other possibilities you might want to look into: Two ETFs, an ETN, and another closed-end fund.
The ETFs are the PowerShares CEF Income Composite Portfolio ETF (NYSEARCA:PCEF) and the YieldShares High Income ETF (NYSEARCA:YYY). PCEF holds over 100 CEFs. It has an expense ratio of 0.50% plus 1.44% acquired fees from the CEF holdings. YYY is more focused with 30 holdings. It also has a 0.50% management fee and adds 1.32% in acquired fees.
The ETN is the UBS ETRACS Monthly Pay 2xLeveraged Closed - End Fund ETN (NYSEARCA:CEFL). CEFL is a 2x leveraged version of YYY. It is an exchange traded note, not a fund, which has implications that the interested reader will want to look into carefully. Expenses are 0.5% plus acquired fees. The 2x leverage makes it a highly risky choice and any one will want to consider carefully the full impact that leverage can have. CEFL has its staunch supporters; let me just say that I am not among them.
Then there's one other closed-end fund: Cohen & Steers Closed-End Opportunity Fund (NYSE:FOF). FOF holds some 85 funds, charges a 0.95% management fee plus the acquired fees of the underlying holdings. It, too, adds a discount onto the discounts that may characterize its holdings. FOF's current discount is near -10%.
To summarize. RIV is an interesting new closed-end fund. Distribution yield is an attractive 8.8% at regular distribution rates. Plus there have been two quarterly special distributions to shareholders over the fund's first two quarters of life.
Returns have been impressive but that has to be tempered by the realization that this has been an atypical period for CEFs, one particularly well suited to RIV's strategy.
Most interesting to me is RIV's overtly opportunistic approach to the fund of funds strategy, which sets it apart from the alternatives. This brief look at the portfolio components bears out that opportunistic strategy as the holdings tend toward deeper discounts than CEFs generally at this time.
I've opened a small position in RIV. I'll be watching it closely over the coming months as I decide if I want to increase that position. I'm attracted to the fund's strategy, which aligns with mine, and their strong record of shareholder payouts over their early months. I'll likely come back to it for further analysis here once the semi-annual report hits.
Disclosure: I am/we are long PCI, RIV.
I wrote this article myself, and it expresses my own opinions. I am not receiving compensation for it (other than from Seeking Alpha). I have no business relationship with any company whose stock is mentioned in this article.
Additional disclosure: I have no ties to the financial or security industries in any form. My interests are strictly personal. The banker part of the nym has absolutely no relationship to the profession of the same name. Readers should be aware that I am an investing novice. I do not give advice; what I publish is an annotated version of my research notebook. Anyone who finds any securities to be of interest will necessarily want to do his or her complete research and due diligence before acting on that interest. It would be foolish to rely on my conclusions without having done so.